Brian Griffin returns: Cartoon dog back from the dead in Family Guy Christmas episode
Spoiler alert: The much-loved pet was revived with the help of Stewie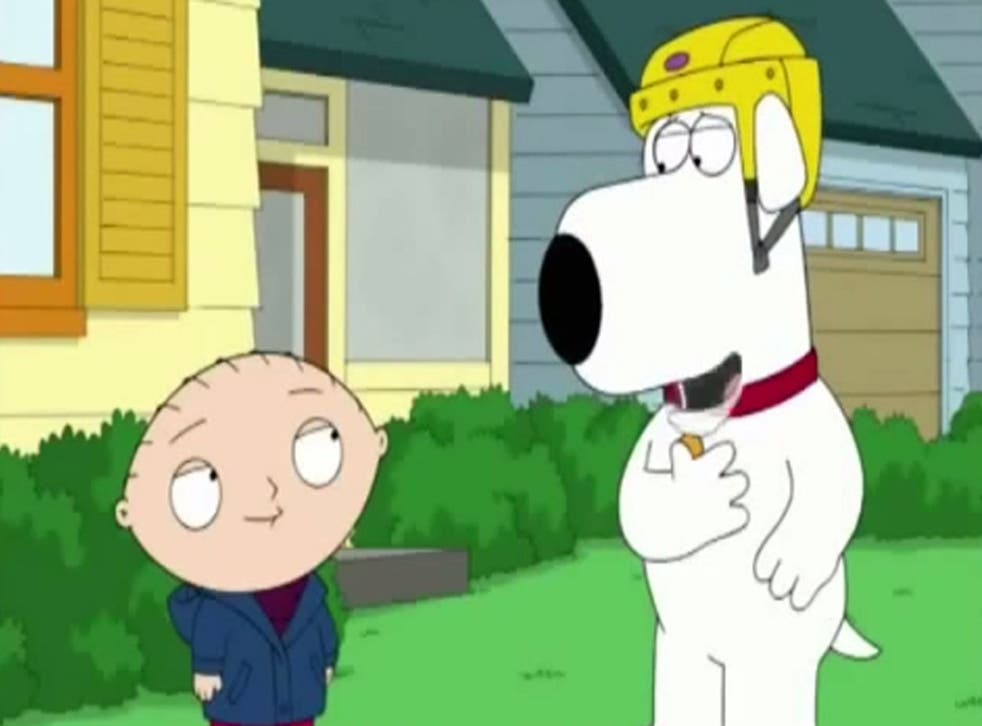 Fans of long-running animated comedy Family Guy were outraged when the Griffins' beloved dog Brian was killed in a car accident last month.
Petitions to bring the pet back were set up online and thousands of angry messages from viewers claiming never to watch the show again were posted on social media.
But now, creator Seth MacFarlane has clearly given in to the overwhelming demand for Brian's return, as he is alive and kicking following a daring rescue by his best friend, baby Stewie.
Last night's episode, "Christmas Guy", saw the one-year-old master up a clever plan involving time travel.
Miserable Stewie visits the local mall with his new dog Vinnie and asks Santa for Brian's return this Christmas.
"I want my friend back," he cries. "My best friend, my dog, Brian, he's dead. It's out first Christmas without him and no one has even mentioned his name.
"I don't care about this stupid carnival or Christmas; I don't care about anything but Brian."
Unsurprisingly, Santa's 'powers' fail to fulfil Stewie's wish so he is left to his own devices after spotting himself from the past in the mall and remembering a time machine was hidden in his backpack.
Vinnie distracts the past-Stewie while the real baby steals his machine and goes back in time to the moment just before Brian is hit.
"You're alive my friend! I couldn't live without you so I came back from the future to save your life," Stewie tells his pet.
Access unlimited streaming of movies and TV shows with Amazon Prime Video Sign up now for a 30-day free trial
Sign up
Brian then replies: "Thank you for saving my life. A lot of other families would have just gotten another dog and moved on."
Urm, awkward.
Despite the Griffins having already replaced Brian with the Tony Sirico-voiced Vinnie, the family is happy to be reunited for the holiday and, as a thank you, Brian presents Stewie with a photo of them together.
Brian Griffin's best moments on Family Guy
Once the show had aired, MacFarlane told his Twitter followers: "You didn't really think we'd kill off Brian, did you? Jesus, we'd have to be f***ing high.
"And thus endeth our warm, fuzzy holiday lesson: Never take those you love for granted, for they can be gone in a flash."
Rumours that Brian Griffin had not left the show for good had been circulating prior to the US broadcast of "Christmas Guy". Perhaps now, Family Guy fans can have a restful festive break, safe in the knowledge that their beloved Brian is back.
Register for free to continue reading
Registration is a free and easy way to support our truly independent journalism
By registering, you will also enjoy limited access to Premium articles, exclusive newsletters, commenting, and virtual events with our leading journalists
Already have an account? sign in
Register for free to continue reading
Registration is a free and easy way to support our truly independent journalism
By registering, you will also enjoy limited access to Premium articles, exclusive newsletters, commenting, and virtual events with our leading journalists
Already have an account? sign in
Join our new commenting forum
Join thought-provoking conversations, follow other Independent readers and see their replies