The Independent's journalism is supported by our readers. When you purchase through links on our site, we may earn commission.
'Call Her Daddy' podcast returns with solo presenter Alex Cooper after bitter feud
The podcast was started in 2018 by Alex Cooper and Sofia Franklyn and was quickly acquired by Barstool Sports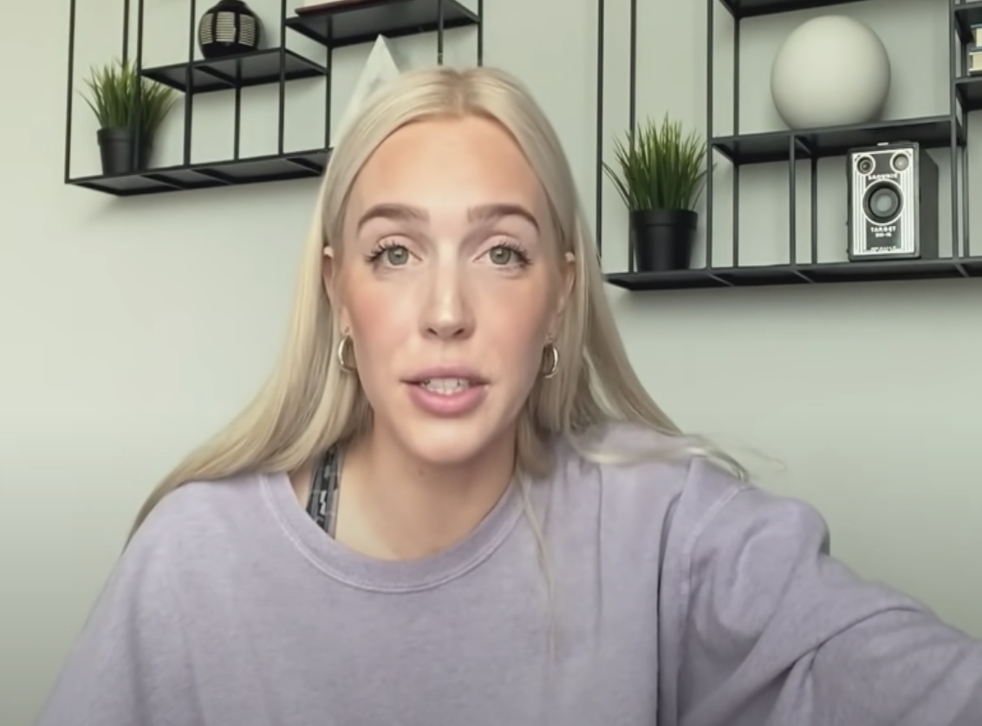 Call Her Daddy, a popular podcast exploring sex and dating culture, has returned with one of its original two hosts after a break and a bitter feud.
Alex Cooper started the podcast with her friend Sofia Franklyn in 2018. The show, which has become a fan favourite, was quickly acquired by Barstool Sports.
In April, the podcast uploaded what turned out to be its final episode hosted by both Cooper and Franklyn.
The following weeks saw Cooper, Franklyn, and Barstool Sports founder Dave Portnoy all share their sides of the story.
According to Franklyn, she and Cooper "wanted to consider some other options" than Barstool Sports but nonetheless entered negotiations with Portnoy.
"I found out that Alex had gone behind my back and done something," Franklyn said in a video shared earlier this month. "And I found out it wasn't the first time. And that's why we're here. I trusted Alex. I feel betrayed, but ultimately she was my best friend and that doesn't change overnight."
Franklyn said at the time that she was "willing to do Call Her Daddy"​, but that she couldn't do it "under the circumstances that [Cooper] wants".
A few days later, Cooper shared a video of her own, in which she said that during the first year of their Barstool Sports contract, she got a pay raise "for editing and doing all the social media and doing all the marketing".
"I chose not to share this raise with Sofia, and I chose to do that because Sofia made me feel uncomfortable that I did more work," Cooper said in her clip.
Access unlimited streaming of movies and TV shows with Amazon Prime Video Sign up now for a 30-day free trial
Sign up
According to Cooper, she and Franklyn eventually began to negotiate for more money from Barstool and, with outside help, put together a "term sheet" which included a number of "outrageous asks", such as a $1m paycheck.
"In a very roundabout way, Dave Portnoy essentially told us to go F ourselves in every single hole possible," Cooper said. "...It was awful."
At this point, according to Cooper, the negotiations stopped but she and Franklyn continued hosting the podcast.
Eventually, Cooper said she and Franklyn decided to have "one more conversation with Dave Portnoy", but that she and Franklyn had "different opinions on what this meeting meant".
"After the fact, Sofia made it clear that she was more so going in as just a courtesy meeting. I was kind of going in praying to f****** God that Dave would be in a really good mood and be like, 'I actually will give you [the intellectual property to Call Her Daddy]," she said.
According to Cooper, Portnoy offered her and Franklyn "what [Cooper] saw as the world", including $500,000 each in pay and the intellectual property of the show.
But Cooper said that while the deal left her bursting with excitement, Franklyn didn't share her position. This is when Call Her Daddy underwent what Cooper called a "ghost period", during which negotiations escalated.
Ultimately, according to Cooper, she and Franklyn had an "infamous two-hour phone call" by the end of which it was clear the two hosts were "on different pages". Cooper then said she went back to Portnoy to sign her own deal.
Cooper ended her video by saying she had "lost a friend" but was looking forward to getting the show back on the air.
According to The New York Times, a deal was extended to Franklyn, possibly to host a competing podcast. No follow-up details have been announced as of yet.
In his own update, Portnoy defended Barstool's approach throughout the negotiations, saying he had offered half a million dollars to each of the hosts with bonuses and an increased cut from merch sales, as well as a reduction in their contract duration and the Call Her Daddy intellectual property.
Cooper's solo episode dated 26 May is titled "The Funeral" and includes an announcement that Cooper will feature a fan appearance in almost every new episode over the coming year.
The Independent has contacted Portnoy, Franklyn, and Cooper for additional comments.
Register for free to continue reading
Registration is a free and easy way to support our truly independent journalism
By registering, you will also enjoy limited access to Premium articles, exclusive newsletters, commenting, and virtual events with our leading journalists
Already have an account? sign in
Register for free to continue reading
Registration is a free and easy way to support our truly independent journalism
By registering, you will also enjoy limited access to Premium articles, exclusive newsletters, commenting, and virtual events with our leading journalists
Already have an account? sign in