Can new Mitchell & Webb comedy help the Foreign Office improve its image?
The producers of Ambassadors on BBC Two were given access to diplomats
Adam Sherwin
Wednesday 09 October 2013 16:28 Comments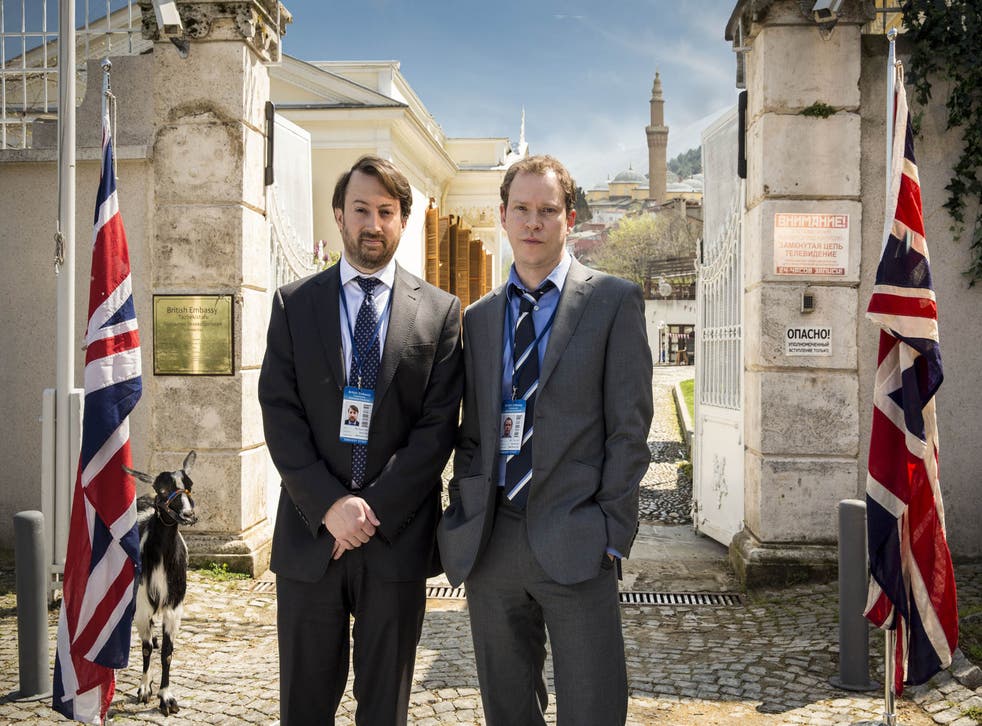 The Foreign Office is turning to satire to improve its image after assisting David Mitchell and Robert Webb to create a new BBC comedy series which portrays the fraught world of the diplomatic service.
Set in the oil-rich, fictional Central Asian Republic of Tazbekistan, Mitchell plays the newly arrived British Ambassador and Robert Webb his seasoned second in command in Ambassadors, screened on BBC Two this month.
Created by the team behind Rev, the series writers were given access to senior Foreign Office officials and spent a week with the British ambassador to Kazakhastan to help add authenticity to the comedy-drama.
However Craig Murray, the former British ambassador to Uzbekistan, who was recalled amid lurid headlines about his tenure and believes the series was inspired by his own downfall, criticised the Foreign Office for participating in the comedy, which he called "state-sponsored satire".
The fictional Tazbekistan is run by the dictatorial President Kairat who presides over a regime with a dubious human rights record. In the opening episode, Mitchell's Ambassador Keith Davis is tasked with securing a £2 billion helicopter contract for the UK but his mission is jeopardised when a British human rights activist is arrested on trumped-up charges.
The Foreign Office opened its doors to the production team and invited the cast to stage a read-through in one of its grandest rooms. James Wood, co-writer, said: "The stories we were told by diplomats were very closely reflected in the series. We ended up with 200 pages of research. We had an amazing week in Kazakhstan with the Ambassador there."
Ambassadors, which reflects the Coalition's rejection of Labour's "ethical foreign policy" in favour of one based on "security and prosperity", is a largely sympathetic portrait of "our man" sent to distant outposts.
"They are quietly impressive people working very hard with absolutely no resources," Mr Wood said. "They have a budget to run the whole world which is the same as Wandsworth Council's."
Mitchell, whose character is forced to undertake a 6-day, vodka-fuelled hunting expedition with the President to help win the helicopter contract, said: "You feel that the future of British foreign policy is driven by what the politicians want and Britain's basic lack of clout rather than the people on the ground being foolish or undiplomatic in any way."
Access unlimited streaming of movies and TV shows with Amazon Prime Video Sign up now for a 30-day free trial
Sign up
The ex-Soviet Tazbekistan is "a little bit Uzbek, a little bit Kazak and a little bit Turkmenistan," said Mr Wood. Ambassador Davis arrives saying he is "trying to put the ship in order" after his predecessor left under a cloud.
However the writers say their story was in no way inspired by Murray, who began an affair with an Uzbek lap-dancer, was accused of "hiring dolly birds" to work in the visa department and was removed from his post by the Foreign Office in 2004, after exposing cases of torture and murder sanctioned by the US-funded regime of Uzbek President, Islam Karimov.
"We were not interested in telling that story," said co-writer Rupert Walters. They did not need to speak to Murray because David Moran, who succeeded Murray as Uzbekistan's Ambassador and then took the Kazakhstan posting, became their chief consultant. That Webb's Deputy Head of Mission has a relationship with a local barmaid was a coincidence.
However Murray said: "The producers, Big Talk, contacted me four years ago trying to buy the rights to my book Murder in Samarkand for a film so I disbelieve then when they say Ambassadors isn't based on me and my book."
Murray, who hasn't seen the series, believes that the Foreign Office has given its backing to the comedy to "defuse the horror of our alliance with Uzbekistan and make it banal, accepted and safe."
Murray said: "It's pro-government propaganda, a state-sponsored satire. It is disgraceful and not based on anything the Foreign Office would do in real life. Human rights always have a very low priority compared to military considerations."
In the opening hour-long episode, which also stars Keeley Hawes and Matthew Macfayden, Mitchell and Webb's characters debate whether the fate of a publicity-seeking human rights activist is worth jeopardising a helicopter contract which will secure jobs back home and deliver the outcome the Foreign Office has demanded.
Future storylines include the chaos caused by a visit from a member of the Royal Family, a scenario based on real-life anecdotes told to the writers.
The wooded, mountainous state of Tazbekistan was created using locations in Turkey and Egham, Surrey.
Ambassadors, Wednesday 23 October, BBC2 at 9pm
Register for free to continue reading
Registration is a free and easy way to support our truly independent journalism
By registering, you will also enjoy limited access to Premium articles, exclusive newsletters, commenting, and virtual events with our leading journalists
Already have an account? sign in
Join our new commenting forum
Join thought-provoking conversations, follow other Independent readers and see their replies