Captain Britain: UK's obscure first superhero could be resurrected for TV series
Real name Brian Braddock, the Seventies character was famed for saving Jim Callaghan from the evil Red Skull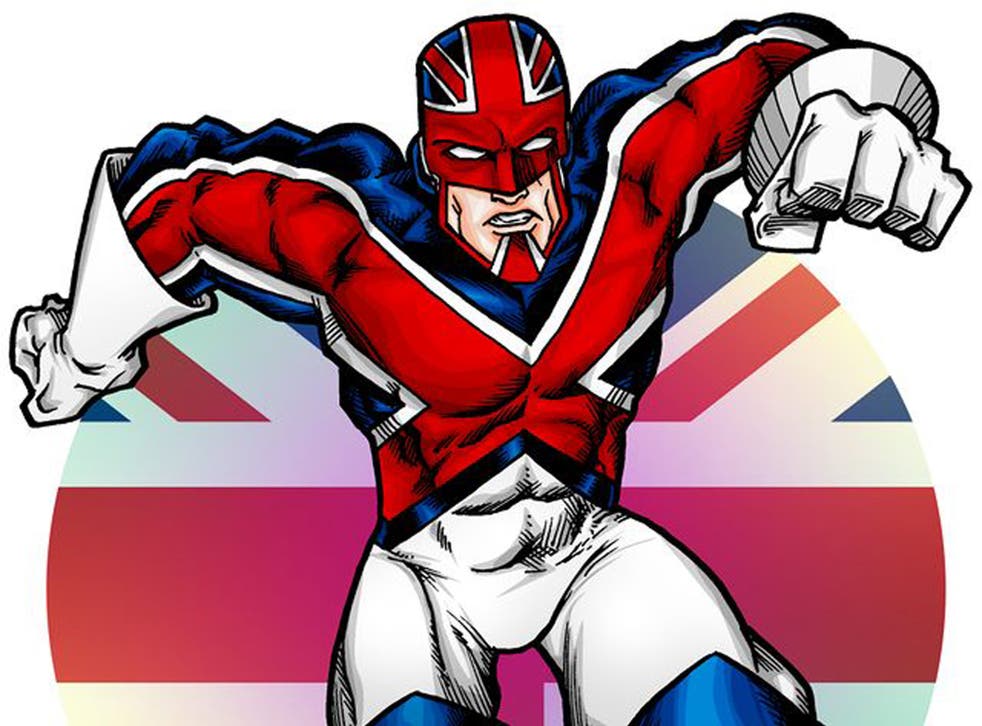 Is it a bird, is it a plane… or Boris Johnson bulging out of Lycra underwear? Captain Britain is here to save the world with a homegrown, Brexit-era superhero set to join Marvel's ranks of caped crusaders.
A leaked image of a suitably patriotic skin-tight outfit, designed for a new television series, has sent comic book fans buzzing with speculation that Britain's first superhero is to be resurrected.
Real name Brian Braddock, Captain Britain was an obscure Seventies character, loosely affiliated to Marvel's Avengers, whose claim to fame was saving Prime Minister Jim Callaghan from the evil Red Skull.
Born in Maldon, Essex, to a vaguely aristocratic family, the UK's answer to Captain America was tasked with "upholding the laws of Britain", after being granted the superpowers of strength, speed and flight from the mystical Merlyn.
Launched in 1976, the Captain Britain weekly comic folded a year later and the character has since appeared in anthologies and team-ups.
However with Marvel's front-rank superheroes doing battle in franchises like The Avengers, while Daredevil, Jessica Jones and Agents of SHIELD entertain millions on the small screen, the vaults are being raided for comic book heroes that could be dusted down for a relaunch.
Ciara McAvoy, an award-winning film poster designer whose portfolio includes X-Men: First Class and Star Wars: Episode III – Revenge of the Sith, posted an image of a new Captain Britain costume, resembling the kind of aerodynamic outfit the GB Winter Olympics team might adopt.
She added the tweet: "Who will be playing Brian Braddock in the upcoming TV series #CaptainBritain? #Marvel"
Asked whether the series was genuine, she replied: "I am being paid to do the promo poster, so yes, I'd say this is really happening."
Access unlimited streaming of movies and TV shows with Amazon Prime Video Sign up now for a 30-day free trial
Sign up
She added: "It might take a while before the announcement. They're making a sizzle reel and it's gonna be awesome. I can't reveal anything yet, but hopefully I'll be able to soon."
Chris Lark, a producer from Albuquerque, New Mexico, and owner of Cool Mint Productions, later confirmed he was guiding the project: "Right now we are in very early stages of development and working on things like the budget."
Comic fans debated whether actors such as Daniel Craig or Tom Hiddleston could portray the lantern-jawed captain. It was suggested that the superhero could take on Isis terrorism in a gritty series set in contemporary Britain.
In his comic book encounters, the character fights to rescue Britain from neo-Nazis.
Register for free to continue reading
Registration is a free and easy way to support our truly independent journalism
By registering, you will also enjoy limited access to Premium articles, exclusive newsletters, commenting, and virtual events with our leading journalists
Already have an account? sign in
Register for free to continue reading
Registration is a free and easy way to support our truly independent journalism
By registering, you will also enjoy limited access to Premium articles, exclusive newsletters, commenting, and virtual events with our leading journalists
Already have an account? sign in
Join our new commenting forum
Join thought-provoking conversations, follow other Independent readers and see their replies