Dave Chappelle's Netflix stand-up comedy specials have sparked a homophobia debate
He discusses the proposal to scrap the terms 'husband' and wife', the term LGBTQ and Caitlyn Jenner.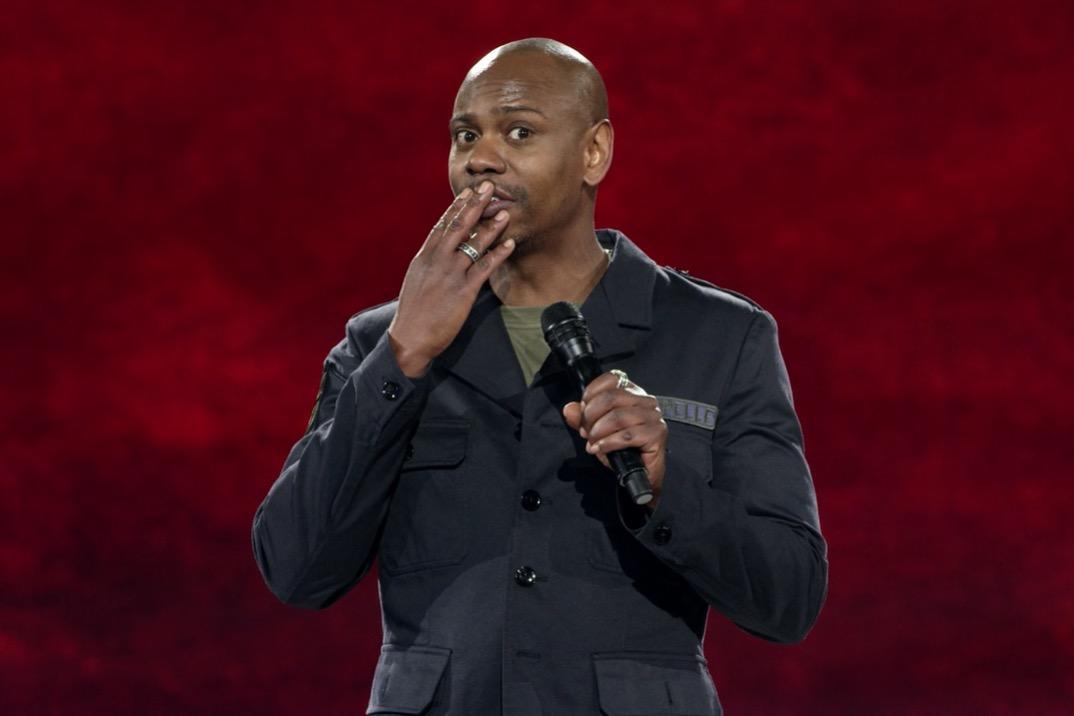 "Ladies and gentleman, man the fuck up or you're not going to make it through this show," Dave Chappelle says early on in the first of his two new Netflix specials, responding to some wincing in the crowd over an O.J. Simpson joke he'd just made. It's fitting that it's a gendered warning, as his set at The Hollywood Palladium does go on to make some pretty controversial jokes about identity.
On gay rights:
"Y'all always have some kind of gay political argument; the last one was about a petition in federal court to take the words 'husband' and 'wife' out of the law, and I said "Why would you want those words out the law?" He said "Because it discriminates against same-sex couples," I was like "N****a please save me the semantics, take your chips out of the casino you're about to crap out. Go outside, talk it over amongst yourselves, and whichever one of you is gayer, that's the wife [audience laughs].""
On the term LGBTQ:
"L. G. B. T. Q?! I was like what the fuck is the Q? Does that even make sense, Q? Turns out Q is like the vowels, that shit is sometimes 'Y'. It's for gay dudes that don't really know they're gay. you know what I mean. like prison fags who are like: "What I'm not gay n***a I'm just sucking these dicks to pass the time."
On Caitlyn Jenner:
"Whenever I see one of them Ts on the street I'm like "I don't mind them but man I miss Bruce. [audience laughs]
"I knew before you guys knew. I heard things on the street in Hollywood, you know you used to be out, see people: "Hey what's up Kanye, why the long face?" [audience laugh] "N***a you'll see, I've got two mother in laws now."
It should be noted he ties this into a bit about 'competing' discriminations:
"I was shocked. Is this happening? Wait a minute, is this a time in American history when an American can make a decision for themselves, and even though other Americans don't understand it they'll support it, and let this person live a happy life? Is this what's happening? If it is then good for America. [audience cheers] That's Dave Chappelle, the American.
"Although Dave Chappelle the black American, he was a little jealous, I was like "How the fuck are transgender people beating black people in the discrimination Olympics? If the police shot half as many transgenders as they did n****s last year there'd be a fucking war in L.A. I know black dudes in Brooklyn, hard, street motherfuckers, who wear high heels just to feel safe."
Over on Twitter, some were appalled:
Others didn't see a problem, or suggested people should know what kind of humour to expect from a Chappelle set:
Given Chappelle also makes some astute/funny observations about being black in America during the show, people wound up arguing about whether it's possible to like certain parts of his routine and not others:
The controversy is only the latest in a continuing debate about what can and can't be joked about.
Chappelle's career took something of a dive in in the mid-2000s (something he jokes about in the specials), though he has returned to comedy recently, hosting SNL a few weeks back.
Netflix's never-before-seen specials were filmed at Austin City Limits Live in April 2015 and at the Hollywood Palladium in March 2016.
Join our commenting forum
Join thought-provoking conversations, follow other Independent readers and see their replies