David Cameron pig allegations: Black Mirror episode in which a prime minister has sex with pig sees sudden spike in interest
Creator Charlie Brooker quipped that his dark comedy might in fact have been a documentary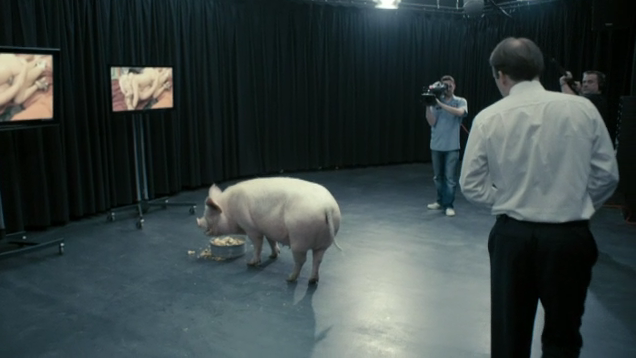 When the nation awoke to find "Black Mirror" trending on Twitter, most assumed it was in relation to the announcement of a new season of the show.
To its surprise however, it was down to similarities between the first ever episode "The National Anthem" and extraordinary allegations made in a new book by former Tory treasurer Lord Ashcroft that claim David Cameron put a 'private part of his anatomy' into the mouth of a dead pig as part of a society initiation during his time at Oxford University.
People were amazed that while in Charlie Brooker's dystopian drama the prime minister had only gone through with the act to save the life of a princess, in real life it had allegedly taken place purely for the banter.
"S**t, turns out Black Mirror is a documentary series," creator Charlie Brooker joked on Twitter.
"I hope Jeremy Corbyn is going to read out questions from members of the public again this Wednesday."
The claims led Brooker to look back over the script for the pilot episode, tweeting its "perhaps least prescient line": 'Well I'm not f*****g a pig. Page one, that's not happening.'
The purported initiation act for the Piers Gaveston Society was tucked away in Lord Ashcroft's "Call Me Dave" biography of the prime minister, and saw him caution that the story may just have been hearsay.
"Perhaps it is a case of mistaken identity. Yet it is an elaborate story for an otherwise credible figure to invent," he wrote.
"Furthermore, there are a number of accounts of pigs' heads at debauched parties in Cameron's day."
A spokesperson for the Prime Minister told The Independent: "It's a no comment from us. On any of it."
The bizarre story brings to mind comments Kevin Spacey made last week when asked if he thought certain elements of his political drama House of Cards were implausible.
"There are times when I'll leave the set and, you know, we'll have shot a particular storyline, and I'll think, man, this is really pushing it," Spacey admitted to the Daily Show.
"And then I get back to the hotel and I turn on the news."
Join our commenting forum
Join thought-provoking conversations, follow other Independent readers and see their replies