Deutschland 83: Scandinavian TV takes a backseat as new show ushers in golden age for German TV dramas
Deutschland 83 is the tip of the iceberg - suddenly the whole world seems to want German TV
Adam Lusher Comments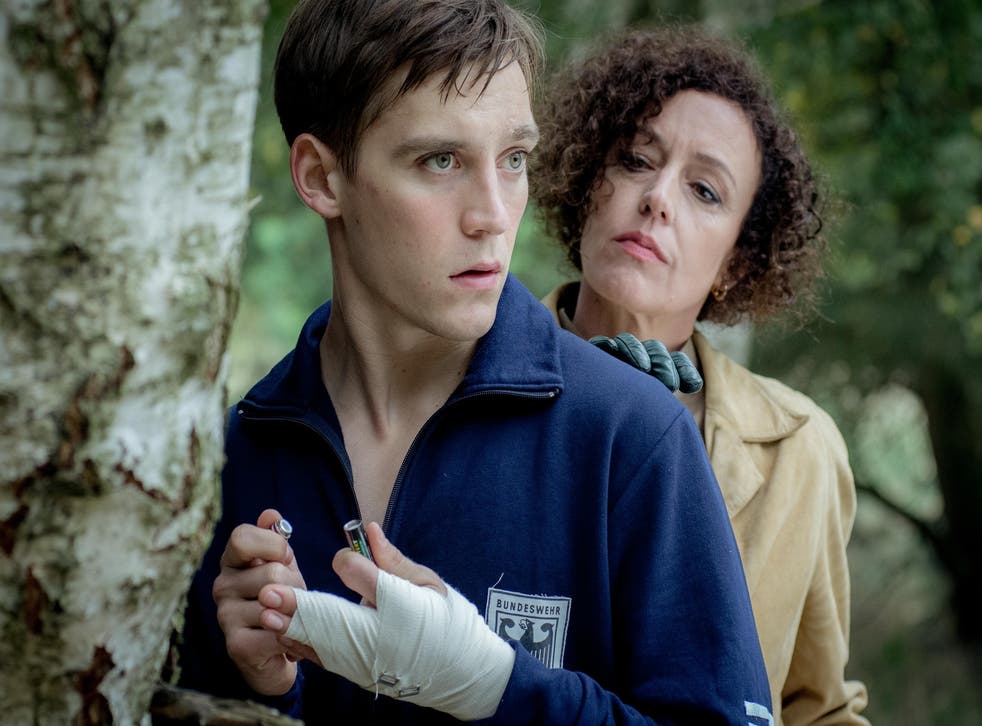 It is the unlikeliest of television triumphs.
For decades, German TV drama was seen as reflecting the kind of cultural tastes that made David Hasselhoff a nation's rock god: trite, unadventurous, psychologically challenging only when the lead actor of one particularly long-running detective show was outed as a former SS member.
Even the Germans, with impressive honesty, admitted their TV was boring. At the 2008 German television awards, the revered critic Marcel Reich-Ranicki refused a lifetime achievement award, protesting: "I don't belong here among all this rubbish." The gathered media luminaries applauded him.
Which makes what is happening now even stranger than Britain's love affair with Nordic noir Scandinavian drama series such as The Killing, The Bridge and Borgen – because suddenly the whole world seems to want German TV drama.
Deutschland 83, about a Stasi spy in 1980s West Germany, is currently thought to be the target of a bidding war between three British broadcasters, after being the subject of a similar three-way battle in France.
It's even breaking America. Having been acquired by SundanceTV, the eight-part drama is also due to become the first German-language drama to be aired on a major US network, and is being backed by a heavily financed publicity drive ahead of its first airing next month.
International excitement is also growing about Babylon Berlin, a 12-part series set in the days of the Weimar Republic being directed by Tom Tykwer, whose cinematic credits include Perfume and Cloud Atlas.
In October he signalled something pretty new for German TV drama by promising "multifaceted characters, epic breadth and innovative narrative form".
Some have even suggested foreign buyers are enjoying the humour in the new shows.
One British source at FremantleMedia International, the worldwide distributor of Deutschland 83, said: "It is so different from almost anything else Germany has produced. There are bits of humour in it. It's quite unusual to see this kind of humour in a German drama, and that's one of the reasons why everyone is so excited about it."
It has left Nico Hofmann, the chairman of UFA Fiction, the German company that produced Deutschland 83, predicting a rosy future for German television.
Access unlimited streaming of movies and TV shows with Amazon Prime Video Sign up now for a 30-day free trial
Sign up
Speaking yesterday before boarding a flight to LA for a meeting with Netflix executives to discuss Killing Berlin, another forthcoming drama series, he said the new wave of German drama was ushering in a golden age.
"I definitely think we are in the middle of it. Because there is a younger generation now, that is digging up a lot of interesting, complex historical topics."
Despite isolated classics like (the wartime U-boat drama) Das Boot, broadcast to huge acclaim on BBC2 in 1984, Mr Hofmann, 55, showed no great desire to defend his country's previous TV drama achievements.
"In the last 30 years," he said, "There was a very boring, stiff, didactic way of television making – very German, very narrow-minded.
"Especially in the field of historical topics, there was an anxiety about discussing issues emotionally. You didn't get the inner emotional feelings and psychological complexity you are getting now."
Adjust your sets: The worst of German TV?
Derrick
Detective show made from 1974 to 1998. Usually wrapped things up at the end by having the murderer confess to Stephan Derrick. Less easily tidied up was the 2013 revelation that actor Horst Tappert, made an honorary detective of the Bavarian police for playing Derrick, had served in an SS tank regiment on the Russian Front. Broadcasters stopped showing reruns.
Tatort
Still being produced with the 1970 opening credits. A source of local pride and rivalry, with German regional TV companies taking turns to show their detectives solving crime while speaking in local accents. Watched by about seven million people on Sunday evening, some of them in their favourite Tatort bars.
Der Bulle von Tölz
A German Midsomer Murders set in the bucolic surroundings of Bad Tölz, Bavaria. Crimes solved by police kommissar Benno Berghammer, who still lives with his mother.
Register for free to continue reading
Registration is a free and easy way to support our truly independent journalism
By registering, you will also enjoy limited access to Premium articles, exclusive newsletters, commenting, and virtual events with our leading journalists
Already have an account? sign in
Join our new commenting forum
Join thought-provoking conversations, follow other Independent readers and see their replies