Doctor Who: First photo of Peter Capaldi's new costume released
Capaldi cuts a cool and stylish figure in his new costume
Neela Debnath
Monday 27 January 2014 22:31 Comments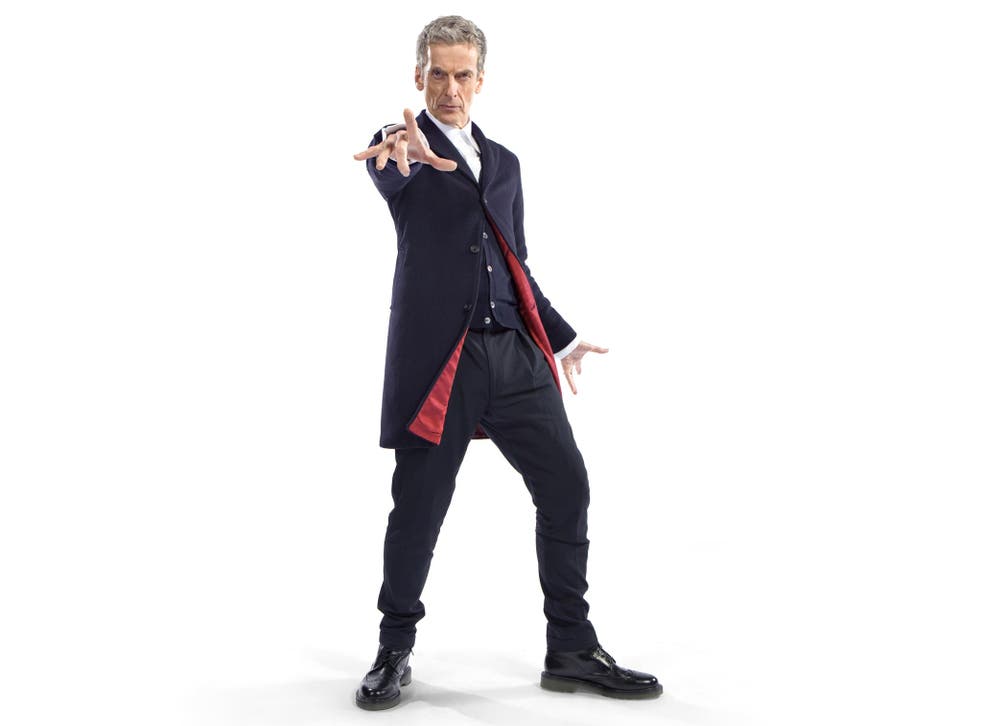 It's been just over a month since Peter Capaldi made his Doctor Who debut but finally fans have been given their first real taste of the twelfth Doctor.
The BBC has released an image of Capaldi in his Doctor Who costume, showing the star sporting a slick and stylish new look. Capaldi appears dressed in a navy Crombie coat with a red lining, dark blue trousers and a plain white shirt, paired with black Dr Marten shoes.
While his predecessor Matt Smith opted for a tweed jacket and bow tie to create a 'mad professor' look, Capaldi's Doctor appears to have gone for a more demure and contemporary outfit. The costume comes across as a toned down version of Jon Pertwee's costume, gone are the cape and ruffles but there is still an edge to it.
Speaking about his new costume Capaldi said: "He's woven the future from the cloth of the past. Simple, stark, and back to basics. No frills, no scarf, no messing, just 100 per cent Rebel Time Lord."
Through the years Doctor Who costumes have been an integral part of the Time Lord's identity and have helped to define each incarnation.
Some of the most iconic pieces of Doctor Who costumes include Tom Baker's overly-long striped scarf and a stick of celery pinned to the lapel of Peter Davison's cricketing outfit. Meanwhile Colin Baker's garish clown outfit from the Eighties left many bemused and was generally considered a low point in the Doctor's sartorial choices.
Since the show returned in 2005, the Doctor's costumes have been toned down somewhat. Christopher Eccleston's Doctor wore a black leather jacket over a T-shirt and black trousers, while David Tennant's incarnation went for a suit. Capaldi's outfit follows this mould and is much more stripped back.
Although very little is known about the new incarnation, Doctor Who producer and head writer Steven Moffat has described Capaldi's Doctor as an "old beast" compared to Smith's more youthful Doctor. But he is quick to say that Capaldi will be nothing like his Thick of It character Malcolm Tucker.
On the Doctor's new look, Moffat said "New Doctor, new era, and of course new clothes. Monsters of the universe, the vacation is over - Capaldi is suited and booted and coming to get you!"
Access unlimited streaming of movies and TV shows with Amazon Prime Video Sign up now for a 30-day free trial
Sign up
Capaldi made his debut as the twelfth Doctor on Christmas Day in The Time of the Doctor when he officially took over Time Lord duties from Smith. In his fleeting appearance Capaldi seemed to be confused after his regeneration and asked his companion Clara if she knew how to fly the Tardis, the Doctor's time travelling machine.
However, audiences were given a glimpse of Capaldi's Doctor back in November, when his eyes was seen for a split-second in the 50th anniversary special The Day of the Doctor.
It was announced that the Scottish actor would be taking on the role of the Doctor back in August. He has admitted that he was a lifelong fan of the long-running Science Fiction show which celebrated its 50th anniversary last year.
Capaldi is currently starring as Cardinal Richelieu in the BBC's period drama series The Musketeers and was on set when he was told by his agent he would be playing the next Doctor.
Filming on the eighth series began earlier this month in Cardiff and the show will be returning later this year.
Register for free to continue reading
Registration is a free and easy way to support our truly independent journalism
By registering, you will also enjoy limited access to Premium articles, exclusive newsletters, commenting, and virtual events with our leading journalists
Already have an account? sign in
Join our new commenting forum
Join thought-provoking conversations, follow other Independent readers and see their replies