HBO accuses Donald Trump of 'trademark misuse' after he co-opted Game of Thrones branding
'How do you say trademark misuse in Dothraki?'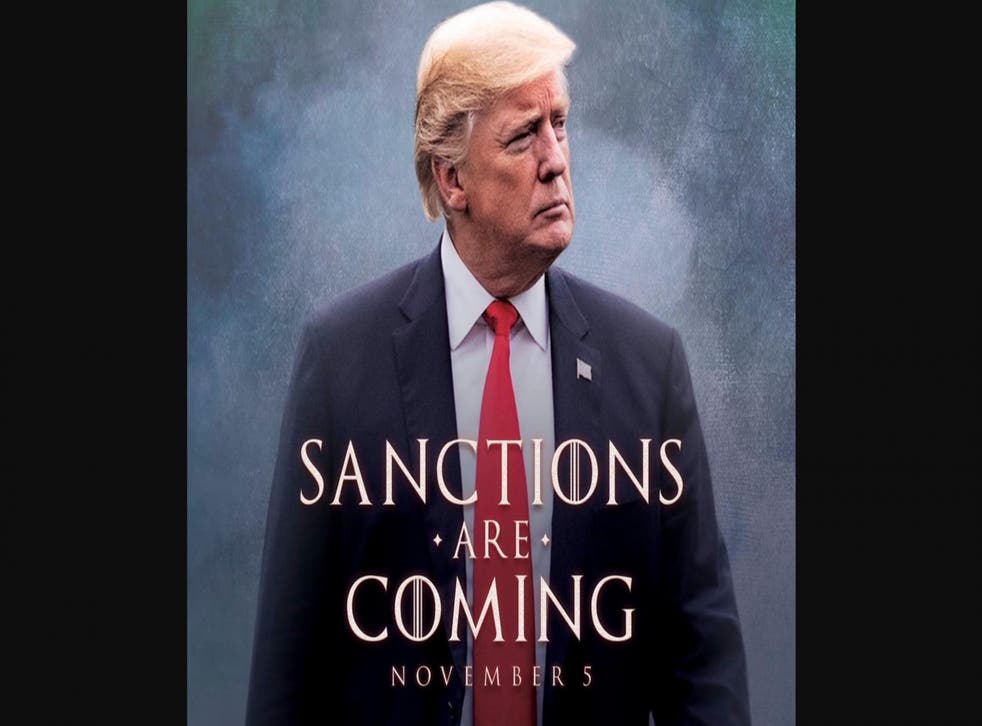 Donald Trump's social media team decided to try and piggyback on the success of Game of Thrones on Friday, tweeting a poster of the president styled like one for Game of Thrones.
Complete with the show's recognisable font, it read: "SANCTIONS ARE COMING", a play on the iconic "winter is coming" phrase from GoT.
"NOVEMBER 5" was added below it, aping a release date but referring to the day on which sanctions on Iran will come back into effect after Trump pulled out of a deal suspending them in May.
HBO was clearly less than impressed, tweeting from its official Twitter account: "How do you say trademark misuse in Dothraki?"
The Dothraki are a powerful tribe in Game of Thrones, and a violent one at that.
Trump's tweet came as he goes on a PR offensive ahead of the crucial US mid-term elections, which will be held across America on Tuesday and decide which party controls the Senate and the House of Representatives.
HBO added in a statement to NBC: "We were not aware of this messaging and would prefer our trademark not be misappropriated for political purposes."
Register for free to continue reading
Registration is a free and easy way to support our truly independent journalism
By registering, you will also enjoy limited access to Premium articles, exclusive newsletters, commenting, and virtual events with our leading journalists
Already have an account? sign in
Register for free to continue reading
Registration is a free and easy way to support our truly independent journalism
By registering, you will also enjoy limited access to Premium articles, exclusive newsletters, commenting, and virtual events with our leading journalists
Already have an account? sign in
Join our new commenting forum
Join thought-provoking conversations, follow other Independent readers and see their replies