Ellen DeGeneres breaks silence on allegations of toxic show environment as new sexual harassment claims emerge
TV host was not personally involved in any allegations made by former staff members, but was urged to address reports of rampant bullying on her show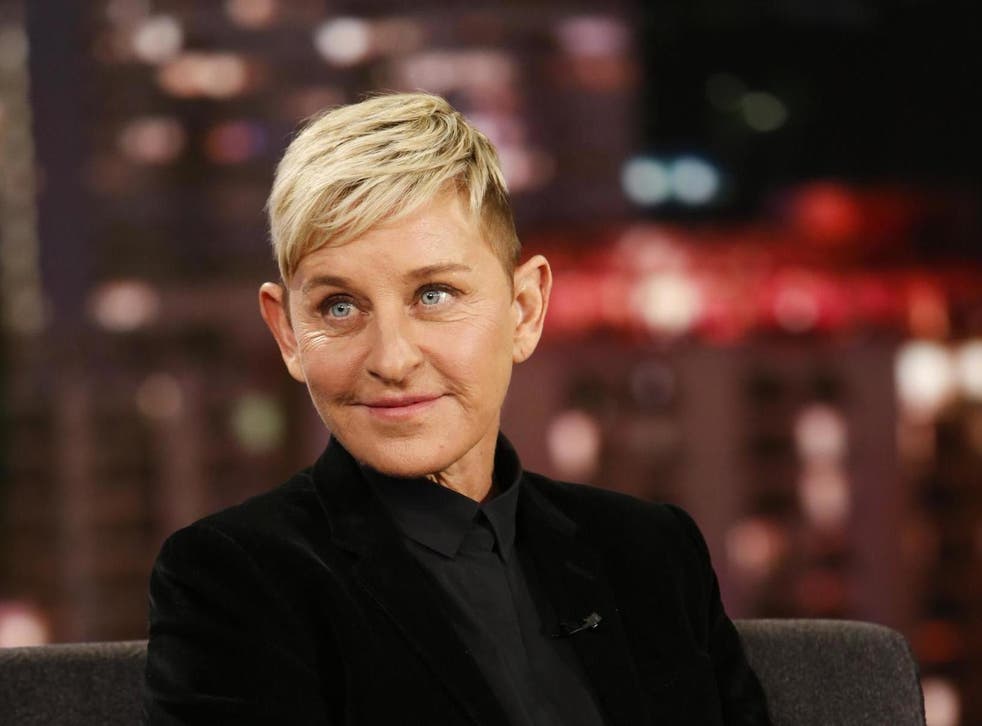 Ellen DeGeneres has issued an apology to former staff members after an investigation by WarnerMedia found "deficiencies in day-today management" on the set of her popular chat show.
The investigation was sparked after a number of ex-staff members shared anonymous accounts of their negative experiences working on The Ellen DeGeneres Show.
Ten former crew members initially came forward to make allegations of mistreatment by producers and other staff members, which were published in a Buzzfeed News report.
Many of the accusers claimed that the show's production environment was "dominated by fear", and claimed that employees who did not complain about work hours or microaggressions were rewarded.
A source claimed: "They feel that everybody who works at The Ellen Show is lucky to work there – 'So if you have a problem, you should leave because we'll hire someone else because everybody wants to work here.'"
While DeGeneres was not personally involved in any of the alleged incidents, she was urged to comment on rumours surrounding the work environment on her show.
In a letter acquired by The Hollywood Reporter, DeGeneres apologised to ex-staff members and vowed to ensure better treatment of workers in future.
"I told everyone in our first meeting that The Ellen DeGeneres Show would be a place of happiness – no one would ever raise their voice, and everyone would be treated with respect,' the note reads.
"Obviously, something changed, and I am disappointed to learn that this has not been the case. And for that, I am sorry."
Access unlimited streaming of movies and TV shows with Amazon Prime Video Sign up now for a 30-day free trial
Sign up
DeGeneres appeared to deny knowledge of any negativity behind-the-scenes, claiming that people who work with her were "speaking on my behalf and that has to stop".
"As someone who was judged and nearly lost everything for just being who I am, I truly understand and have deep compassion for those being looked at differently, or treated unfairly, not equal, or – worse – disregarded," she wrote.
"To think that any one of you felt that way is awful to me."
Shortly before DeGeneres's letter emerged, a new Buzzfeed report cited allegations of rampant sexual misconduct and harassment by executive producers on the show.
Among the accusations were that head writer and executive producer Kevin Leman made a number of inappropriate comments about junior employees in the workplace, and was seen in May 2017 groping a production assistant in his car and kissing his neck.
Leman issued a statement after the Buzzfeed article was published to categorically deny "any kind of sexual impropriety".
"I started at The Ellen Show as a PA more than 17 years ago and have devoted my career to work my way to the position I now hold," he said.
"While my job as head writer is to come up with jokes — and, during that process, we can occasionally push the envelope — I'm horrified that some of my attempts at humour may have caused offence."
He continued: "I have always aimed to treat everyone on the staff with kindness, inclusivity and respect. In my whole time on the show, to my knowledge, I've never had a single HR or inter-personal complaint made about me, and I am devastated beyond belief that this kind of malicious and misleading article could be published."
A Warner Bros statement said: "It was important to both Warner Bros and Ellen that as many people as possible attached to the program could be heard. The Ellen DeGeneres Show is, and has always strived to be, a place that brings positivity to the world.
"And though not all of the allegations were corroborated, we are disappointed that the primary findings of the investigation indicated some deficiencies related to the show's day-to-day management. We have identified several staffing changes, along with appropriate measures to address the issues that have been raised, and are taking the first steps to implement them."
The statement concluded: "We are confident this course of action will lead us to the right way forward for the show."
Register for free to continue reading
Registration is a free and easy way to support our truly independent journalism
By registering, you will also enjoy limited access to Premium articles, exclusive newsletters, commenting, and virtual events with our leading journalists
Already have an account? sign in
Register for free to continue reading
Registration is a free and easy way to support our truly independent journalism
By registering, you will also enjoy limited access to Premium articles, exclusive newsletters, commenting, and virtual events with our leading journalists
Already have an account? sign in