Emmy Awards 2020: Who will win and who should win
The ceremony will look different this year – but there's still room for predictions and strongly held opinions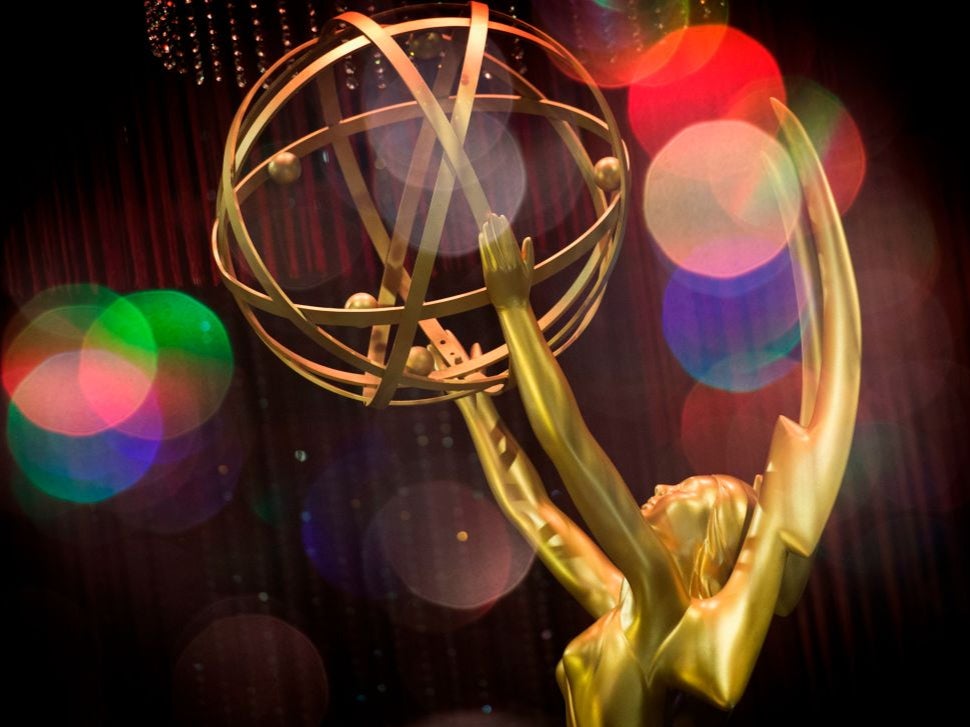 This year's Emmys serve as a blissful reminder of our recent past, and a bizarre reflection of where we stand today. Broadcasting this Sunday, it's certainly an awards show, but not as we know them to be. Due to the pandemic, it will be live streamed from hundreds of different locations, with cameras rigged in the homes of the nominees. Host Jimmy Kimmel will be in-studio, and probably slightly crestfallen – he's already declared that this year's show will likely be "the lowest-rated Emmys of all time".
So it will be weird. It'll also be sort of fascinating. Will Best Actress nominee Jennifer Aniston be sat alone in her kitchen? Will we see stars with their housekeepers just so they can have someone to hug if they win? Will people still be dressing up to sit around in their living room?
At least most of the nominees are sound. It's been a great year of television, with series like Watchmen, Normal People, Unorthodox and Unbelievable wowing audiences, and fan favourites such as Schitt's Creek and The Good Place bowing out on a high.
Still, there are some clunkers that have been recognised. And, yes, we do mean Ryan Murphy's self-satisfied revisionist Netflix car crash Hollywood. To sort the genius from the heinous, Clémence Michallon and Adam White have sifted through the major categories to determine what should win on the night, and what (sometimes unfortunately) will win.
Best Comedy
Curb Your Enthusiasm (HBO)
Dead to Me (Netflix)
The Good Place (NBC)
Insecure (HBO)
The Kominsky Method (Netflix)
The Marvelous Mrs Maisel (Amazon)
Schitt's Creek (Pop)
What We Do in the Shadows (FX)
Will Win: This feels like one of the more wide-open categories this year, primarily because the vacated Fleabag seemed like such an obvious winner at 2019's ceremony. Nothing really pops here as a result – most of the nominees this year are cult favourites with small if fiercely devoted fanbases. Which means it'll likely be something entirely anonymous that will swoop in and take the trophy. Looking at you, Kominsky Method.
Should Win: 2020 is terrible, so why not reward Schitt's Creek? It's a rare show that feels pure, small and good in its intentions, and seems to have only flourished in its reach amid a year of such outward horror. Let's celebrate that! (AW)
Best Drama Series
Better Call Saul (AMC)
The Crown (Netflix)
The Handmaid's Tale (Hulu)
Killing Eve (BBC America)
The Mandalorian (Disney+)
Ozark (Netflix)
Stranger Things (Netflix)
Succession (HBO)
Will win: Succession, already an Emmy darling last year, is once again a frontrunner. Better Call Saul, with an acclaimed fifth season, is also a solid bet.
Should win: Several contenders in this category – The Handmaid's Tale and especially Stranger Things – have struggled to recreate the excitement of the beginnings with their later seasons. Succession, meanwhile, outdid itself in season two, after an already excellent first chapter. Jesse Armstrong's masterful satire will be a deserving winner. (CM)
Best Limited Series
Little Fires Everywhere (Hulu)
Mrs America (FX)
Unbelievable (Netflix)
Unorthodox (Netflix)
Watchmen (HBO)
Will Win: Based on its critical kudos, there's a chance Unorthodox may sweep in here. This resonant tale of a young and unhappily married Jewish-Orthodox woman fleeing to Berlin was one of the surprise successes of early 2020. On the other hand, this seems to be Watchmen's category to lose. Star Regina King is an industry darling, and its themes of systemic racism, oppression and conspiracy has only deepened in the year since it aired.
Access unlimited streaming of movies and TV shows with Amazon Prime Video
Sign up now for a 30-day free trial
Sign up
Access unlimited streaming of movies and TV shows with Amazon Prime Video
Sign up now for a 30-day free trial
Sign up
Should Win: Watchmen was the best thing on television last year. (AW)
Best Actress, Comedy
Christina Applegate, Dead to Me
Rachel Brosnahan, The Marvelous Mrs Maisel
Linda Cardellini, Dead to Me
Tracee Ellis Ross, Black-ish
Catherine O'Hara, Schitt's Creek
Issa Rae, Insecure
Will Win: Why does it feel like Rachel Brosnahan will surface again to take this? She's arguably the least interesting of all six nominees here, and The Marvelous Mrs Maisel is more of an eternal question mark than a series anyone actually watches. That said, it does seem to have its industry fans all the same. She did win in 2018, after all.
Should Win: This may only be true of those who spend too long online, but Catherine O'Hara feels so important to the culture, courtesy of memes and Twitter discourse, that it would be lovely to see her take home the trophy. (AW)
Best Actor, Comedy
Anthony Anderson, Black-ish
Don Cheadle, Black Monday
Ted Danson, The Good Place
Michael Douglas, The Kominsky Method
Eugene Levy, Schitt's Creek
Ramy Youssef, Ramy
Will win: Ted Danson,? He's been nominated for his work on The Good Place before but has yet to win. Or Michael Douglas, for the oft-nominated The Kominsky Method.
Should win: Ramy Youssef, without whom Ramy, one of the best comedies currently on TV, would not exist. And with Schitt's Creek on its way out, the clock is ticking to give Dan Levy the trophy, so there's that option too. (CM)
Best Actress, Drama
Jennifer Aniston, The Morning Show
Olivia Colman, The Crown
Jodie Comer, Killing Eve
Laura Linney, Ozark
Sandra Oh, Killing Eve
Zendaya, Euphoria
Will win: With The Morning Show, Jennifer Aniston scored her first TV Emmy nomination since Friends. The show itself was met with mixed reviews, but critics liked Aniston's performance. This could be her year.
Should win: Seeing Aniston take home that trophy would be exciting, nostalgic, and a testament to the hard work she has put in for 16 years to nurture her post-Friends career. But Zendaya's performance in Euphoria was so novel, so skillful, and so vulnerable that it turned the HBO show into a phenomenon in its own right. At just 24, the actor has shown an impressive range and an ever-increasing mastery of her craft. Give her an Emmy already. (CM)
Best Actor, Drama
Jason Bateman, Ozark
Sterling K. Brown, This Is Us
Steve Carell, The Morning Show
Brian Cox, Succession
Billy Porter, Pose
Jeremy Strong, Succession
Will win: Probably Brian Cox, the glue that holds Succession together.
Should win: Anyone who can pull off the supremely cringeworthy "L to the OG" rap in Succession's season two deserves a trophy of some sort. More to the point, Jeremy Strong has consistently delivered a layered, tragi-comic performance as Kendall Roy, the supremely annoying, entitled, and not especially competent second son of Logan Roy. Cox, of course, has served up a strong portrayal of the patriarch, and he wouldn't be an undeserving winner – but his performance has evolved less over the course of the series than Strong's, who's had to reinvent his character several times over. A note to the jury: it would also be wonderful to give Billy Porter his second Emmy in a row in this category, following up on his win last year for Pose. (CM)
Best Actress, Limited Series or TV Movie
Cate Blanchett, Mrs America
Shira Haas, Unorthodox
Regina King, Watchmen
Octavia Spencer, Self Made
Kerry Washington, Little Fires Everywhere
Will Win: In any other year, Cate Blanchett's performance as conservative anti-feminist Phyllis Schlafly would be a shoo-in. But Mrs America faced backlash from the real Gloria Steinem, played in the series by Rose Byrne, and seemed to come and go with a bit of a whimper. Therefore, Regina King, an Oscar winner in 2019, looks set to pull rank. 
Should Win: Because it needs reiterating, Watchmen was the best thing on television last year. (AW)
Best Actor, Limited Series or TV Movie
Jeremy Irons, Watchmen
Hugh Jackman, Bad Education
Paul Mescal, Normal People
Jeremy Pope, Hollywood
Mark Ruffalo, I Know This Much Is True
Will Win: While Normal People was otherwise entirely snubbed by the Emmys this year, there's something intriguingly possible about a Paul Mescal victory here. He delivered a truly star-is-born performance, was eagerly crowned Pandemic Dreamboat earlier this summer, and has already lined up a starring role in a big Olivia Colman movie due to film soon. An Emmy wouldn't hurt, either.
Should Win: If Bad Education had been picked up by a film studio, and not US cable channel HBO, it may have been the film to land Hugh Jackman his elusive first Oscar. It would be deserved, too. This little-seen true-life drama features a slippery, layered performance from Jackman as a high school principal with a litany of personal secrets. It's just a shame more people didn't see it. (AW)
Supporting Actress, Comedy
Alex Borstein, The Marvelous Mrs Maisel
Betty Gilpin, GLOW
D'Arcy Carden, The Good Place
Marin Hinkle, The Marvelous Mrs Maisel
Kate McKinnon, Saturday Night Live
Annie Murphy, Schitt's Creek
Yvonne Orji, Insecure
Cecily Strong, Saturday Night Live
Will win: If The Marvelous Mrs Maisel makes a comeback, then Marin Hinkle. If not, Kate McKinnon, a perpetual breakout star on SNL, has a good chance. 
Should win: Yvonne Orji, who spent four seasons brilliantly playing Molly on Insecure before nailing her own comedy special.  (CM)
Supporting Actor, Comedy
Mahershala Ali, Ramy
Alan Arkin, The Kominsky Method
Andre Braugher, Brooklyn Nine-Nine
Sterling K Brown, The Marvelous Mrs Maisel
William Jackson Harper, The Good Place
Dan Levy, Schitt's Creek
Tony Shalhoub, The Marvelous Mrs Maisel
Kenan Thompson, Saturday Night Live
Will Win: Because the Emmys will probably want to reward The Good Place's final season in one way or another, William Jackson Harper seems most likely to be the recipient of such goodwill. He's also one of the most reliably entertaining and non-annoying cast members on the high-concept comedy, which will likely work in his favour.
Should Win: Few are watching Ramy to appreciate the glorious work in it by Mahershala Ali, and Andre Braugher's comedy cop on Brooklyn Nine-Nine is a bit too sketchy to reward in 2020, which leaves us with Dan Levy, the beating heart of Schitt's Creek, and a deserved would-be winner. (AW)
Supporting Actress, Drama
Helena Bonham Carter, The Crown
Laura Dern, Big Little Lies
Julia Garner, Ozark
Thandie Newton, Westworld
Sarah Snook, Succession
Fiona Shaw, Killing Eve
Meryl Streep, Big Little Lies
Samira Wiley, The Handmaid's Tale
Will win: Helena Bonham Carter had a headline-making turn as Princess Margaret on season three of The Crown. Meryl Streep's oft-memed dinnertime scream in Big Little Lies, which has become the essence of 2020, could have been a contender, but Streep's overall performance wasn't enough to rescue the show's lacklustre second season. Carter's performance, on the other end, is exactly the kind of flashy, edgy work the Emmys tend to reward, making her the favourite in her category.
Should win: Julia Garner, Samira Wiley, and Thandie Newton, have already won in their respective categories – leaving Fiona Shaw and Sarah Snook as two strong contenders and possible first-time winners. Snook's performance, which has seen her take her character Shiv Roy from reluctant heiress to the family fortune to power-hungry would-be successor, is the deserving winner.  (CM)
Supporting Actor, Drama
Nicholas Braun, Succession
Kieran Culkin, Succession
Billy Crudup, The Morning Show
Mark Duplass, The Morning Show
Giancarlo Esposito, Better Call Saul
Matthew Macfadyen, Succession
Bradley Whitford, The Handmaid's Tale
Jeffrey Wright, Westworld
Will win: Giancarlo Esposito, for his remarkable as Gus Fring in Better Call Saul.
Should win: Jeffrey Wright. Westworld has become a confusing, overly plotted maze, but Wright's performance is the light that guides us through the darkness. This is his third nomination for his performance as Bernard. Wright – who won in the same category in 2004 for Angels in America  –  is overdue for a win. (CM)
Supporting Actress, Limited Series or a Movie
Uzo Aduba, Mrs America
Toni Collette, Unbelievable
Margo Martindale, Mrs America
Jean Smart, Watchmen
Holland Taylor, Hollywood
Tracey Ullman, Mrs America
Will Win: It feels like it premiered a million years ago, but Unbelievable was a galvanising and harrowing watch. Toni Collette is probably the least deserving of awards attention of the show's central trio (Merrit Wever and Kaitlyn Dever were the others), but it seems likely that the Emmys will want to show Unbelievable some love in one way or another.
Should Win: Jean Smart deserved an Emmy for sourcing both pathos and humour in an infamous Watchmen scene involving an enormous blue dildo. That she was so brilliant everywhere else on the show was the icing on the cake. (AW)
Supporting Actor, Limited Series or Movie
Yahya Abdul-Mateen II, Watchmen
Jovan Adepo, Watchmen
Tituss Burgess, Unbreakable Kimmy Schmidt: Kimmy vs The Reverend
Louis Gossett Jr, Watchmen
Dylan McDermott, Hollywood
Jim Parsons, Hollywood
Will Win: Because we usually can't have nice things, and the equally stunning performances from those three Watchmen stars may cancel each other out, this category smells of "horrifying surprise Jim Parsons win".
Should Win: Adepo and Gossett Jr, as young and old versions of the same man, provided Watchmen with some of its richest emotion. But considering how Yahya Abdul-Mateen II seemed to be merely playing the show's "nurturing stay-at-home husband" character for much of the show's run, before delivering one of the year's great performances thanks to an extraordinary plot twist, this category really ought to be his. (AW)
Television Movie
American Son (Netflix)
Bad Education (HBO)
Dolly Parton's Heartstrings (Netflix)
El Camino: A Breaking Bad Movie (Netflix)
Unbreakable Kimmy Schmidt: Kimmy vs The Reverend (Netflix)
Will win: El Camino: A Breaking Bad Movie. Critics didn't exactly rave about the Breaking Bad film, but El Camino certainly brought prestige to the nebulous "movie-spinoff-of-a-TV-show" category. And Breaking Bad holds such a prominent place in contemporary TV history, the Emmys are likely to be swayed by any work reviving the world of Walter White et al.
Should win: American Son. There is no contest here. Kenny Leon's adaptation of Christopher Demos-Brown's play of the same name is a tense, powerful, indispensable watch. Kerry Washington's performance is everything you'd hope it would be, and some. In fact, if you haven't seen it, stop reading this piece and go watch American Son right now. (CM)
Join our commenting forum
Join thought-provoking conversations, follow other Independent readers and see their replies