Fewer TVs, but more television in British homes
Rise of on-demand web services increases viewing hours on PCs and other devices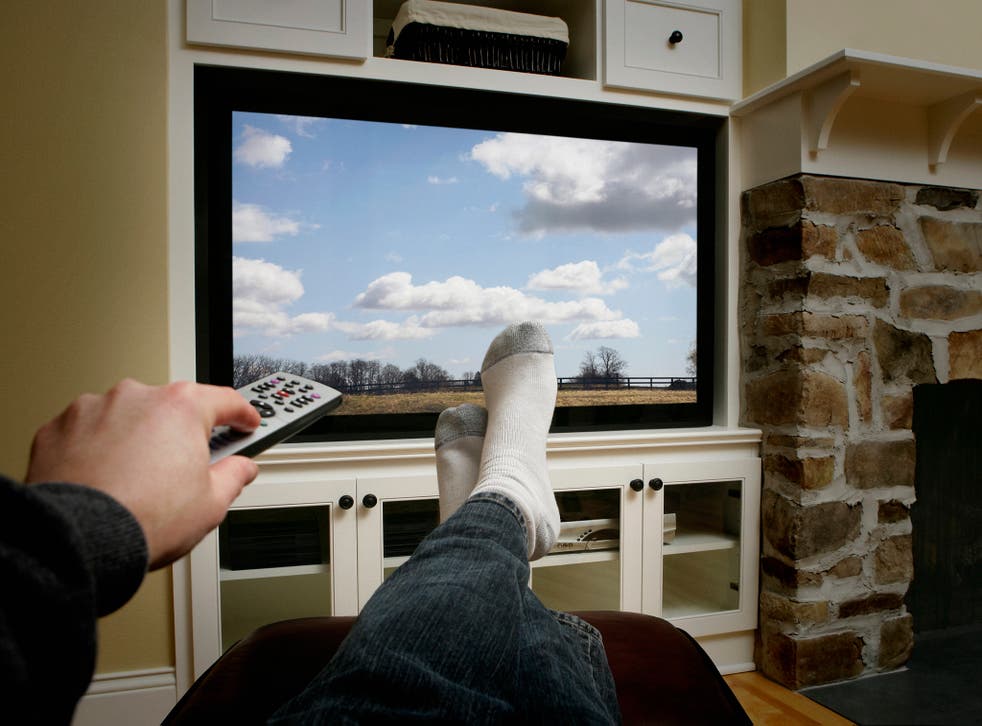 The average Briton now watches more than four hours of television a day, as the rise of catch-up services encourages us to spend longer slumped on the sofa, according to a new report.
While the average number of television sets per home has fallen in the past decade, from 2.3 to 1.8, the amount of programming we watch has risen from three hours and 36 minutes in 2006 to four hours and two minutes per day, the BBC TV Licensing study found. The changes reflect the rise of on-demand services such as iPlayer and 4oD, which allow viewers to watch shows whenever they like on computers.
The research shows many viewers now use a hybrid of live television and catch-up services, with less than 1 per cent of viewers restricting themselves solely to "time-shifted" television.
In addition, 5 per cent of households own a smart TV, capable of combining internet and television, but some 35 per cent of those have yet to connect their appliances to the internet.
The report also found that some 26.9 million viewers tuned in to the Olympics Opening Ceremony last year, while Felix Baumgartner's jump from the edge of space smashed online viewing records with more than eight million live concurrent views on YouTube during the fall. The Jeremy Kyle Show was last year's most-tweeted programme, ahead of Game of Thrones, American Dad! and EastEnders.
The report was launched alongside the first "TeleHappiness Index", which maps viewers' emotional responses to particular types of programming.
It revealed comedy programming makes 95 per cent of the population happy, though it is watched for an average of only four hours a week. Viewers spend significantly more time watching news, dramas, films and music.
Music programmes rate highly in the survey's "happiness stakes" with 92 per cent of women and 94 per cent of all adults aged 45 to 64 saying they make them smile. More than three-quarters of men said televised sport makes them happy, while only 57 per cent of women agreed.
Dr Mark Williamson, director of Action for Happiness, which describes itself as a movement for social change, warned that the increasing time we spend watching television brought about "challenges for our well-being".
Access unlimited streaming of movies and TV shows with Amazon Prime Video Sign up now for a 30-day free trial
Sign up
In addition to the well-documented health consequences of sedentary lifestyles, people who spend several hours watching negative news stories risked suffering emotional damage, he warned. "It leaves many of us assuming the world is a much worse place than it really is," Dr Williamson said.
Those in the West Midlands are the most "inquisitive viewers" and at 5.58 hours a week watch more learning programming than anywhere else in Britain.
And bizarrely it is pensioners who take the most enjoyment from children's television, with 80 per cent of over-65s saying toddlers' television makes them most happy.
The North-east watches the most music videos per week at 11.23 hours, while the region also watches twice as much comedy – 8.1 hours a week – than the rest of the UK.
Register for free to continue reading
Registration is a free and easy way to support our truly independent journalism
By registering, you will also enjoy limited access to Premium articles, exclusive newsletters, commenting, and virtual events with our leading journalists
Already have an account? sign in
Register for free to continue reading
Registration is a free and easy way to support our truly independent journalism
By registering, you will also enjoy limited access to Premium articles, exclusive newsletters, commenting, and virtual events with our leading journalists
Already have an account? sign in
Join our new commenting forum
Join thought-provoking conversations, follow other Independent readers and see their replies