Fun Kids: National radio station for children to launch – with DJs from The Beano
Sation offering mix of 'music, games and silliness for 6-12 year olds' began broadcasting digitally in London five years ago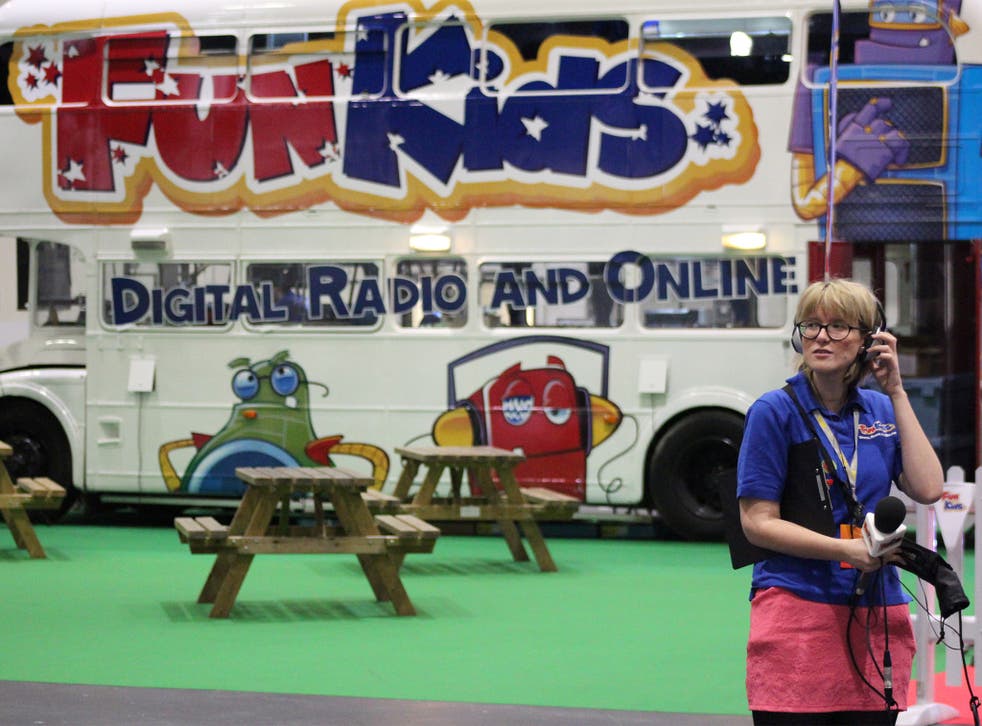 Children are to get their own national radio station with the launch of Fun Kids, an entertainment service which promises to fill the gap left by the BBC after it dropped daily scheduled broadcasts for a young audience.
A mix of "music, games and silliness for 6 to 12 year olds", Fun Kids will begin broadcasting nationwide on February 29, when a new UK digital multiplex launches, bringing 18 stations to listeners.
Fun Kids has attracted a weekly audience of 250,000 young listeners since it began broadcasting digitally across London five years ago. Its owners, Folder Media, describe children as "radio's biggest unserved audience."
The BBC, which broadcast the famous Listen With Mother programme for 32 years until 1982, axed its last remaining dedicated children's radio slot, The 4 O'Clock Show, which aired on the 4 Extra station, in 2014.
Audience figures had dropped below 6,000 10-14 year-olds for the slot and funding was reallocated to CBeebies Radio, a daily web-based radio show for pre-school children. The BBC had previously implemented a 75% cut in the hours of children's radio, with funding switched to adult programmes.
Matt Deegan, Station Manager of Fun Kids: "Up until now children have been abandoned by the radio industry - both by commercial radio and the BBC. Fun Kids has built a large audience by catering for their tastes and interests, but we've been limited by just broadcasting digitally in London."
Deegan added: "The launch of Fun Kids across the UK will allow more children to have a radio station that they can call their own. Many radio stations talk about the need to bring young listeners to radio, but we're the only ones actually doing it."
Access unlimited streaming of movies and TV shows with Amazon Prime VideoSign up now for a 30-day free trial
Sign up
Fun Kids will launch with a 6.30am Breakfast show presented by Sean Thorne and his "trusty sidekick" Robot. The 4pm post-school show, hosted by Bex Lindsay, will mix music from artists like Rita Ora with Horrid Henry stories. The weekday schedule ends at 9pm with the conclusion of the Pop 7 at 7 show.
Weekend presenters include Dennis and Gnasher from The Beano, delivering "two hours of mayhem with the rest of the Beanotown crew."
The commercially funded-station will run short ad breaks totalling four minutes per hour and run sponsorships and promotions around competitions.
Fun Kids will also broadcast programmes with an educational aspect, including a "mini-drama" series The Great War - Life Through a London Child's and a series about Life in the Armed Forces.
With its target audience unlikely to own a digital radio set, Fun Kids programmes will be available across its website, as well as podcast and YouTube channels.
Deegan, who advises digital companies on how to develop their businesses, said: "Kids are natively multi-platform. Whether it's TV, the radio, tablets or hand-me-down iPhones, kids love content made for them. Growing our digital radio reach means that we'll be reaching more radios and unlocking the 1.9m cars that came with DAB as standard last year."
Fun Kids will audio provide competition for the CBBC television channel, also aimed at 6-12 year olds, whose audience reach fell last year, partly due to the migration of young viewers to the iPlayer and competition from commercial rivals like the Disney Channel.
Fun Kids will also challenge the CBeebies channel. The radio station promises "sing-a-longs, stories and learning for pre-schoolers with Fun Kids Junior, on-air when older brothers and sisters are at school."
Capital Disney, a digital radio station aimed at 8-to-16 year olds broadcast in selected areas across the UK closed in 2007.
Join our new commenting forum
Join thought-provoking conversations, follow other Independent readers and see their replies