Game of Thrones: Lena Headey on why she used a body double instead of going naked
The actor hits back at fans who criticised her for not utilising her own body in season 5's Walk of Shame sequence
Clarisse Loughrey
Wednesday 20 April 2016 08:02 Comments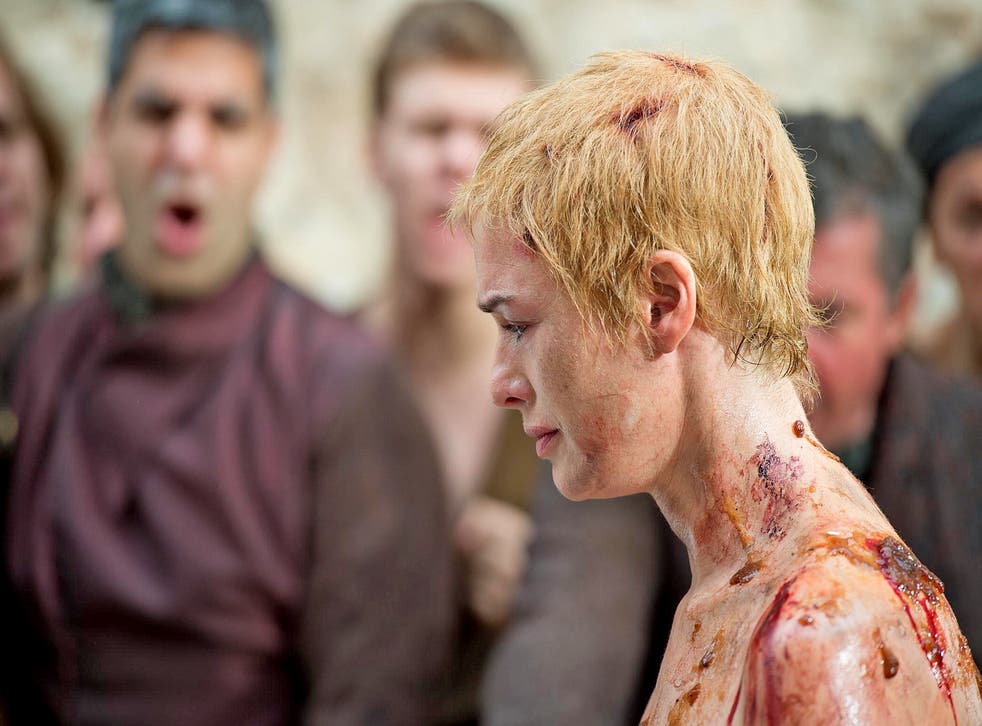 Cersei Lannister's Walk of Shame: one of the most memorable, emotionally reverberant scenes of Game of Thrones' season 5. Lena Headey's Cersei; this power-driven woman, seemingly unconquerable in her ruthlessness, despicable in her amorality. Yet, when forced under the punishment of adultery to walk naked through the streets of King's Landing, a new side was unveiled.
Suddenly, she became vulnerable; pride was her throne, and to be so brutally robbed of it found so many viewers discovering a new empathy for the brutal queen. And, then there were the viewers seemingly more invested in whether Headey's body onscreen was her own; with the swift realisation the actor had utilised a body double for the sequence's complete nudity.
Headey has now addressed complaints from a small sector of fans over her use of a body double for the scene, telling Entertainment Weekly; "Some people thought I was less of an actress because I didn't get my tits out. You know what? It was really a bit shocking. I've done nudity. I'm not averse to it. But I know I'm a very emotional actor and I get really driven by that. In order to do my job, I allow myself to be really vulnerable."
"I don't know any other way to do my job. Things really affect me. And the thought of being naked for three days and trying to contain her in the way she would be I think I would feel very angry. I didn't want to be angry. I don't think Cersei would be angry. I did what I thought she would do, emotionally. And wonderful Rebecca [Van Cleave, Headey's stand-in] was able to contain herself and be naked."
"She found it very difficult, obviously. It's not a natural thing to do. I film every year and I have kids and they know me now and [being naked in the scene] was just too much on top of that. So yeah, people that get it thought it was great. I didn't phone it in; I was actually there for three days with Rebecca."
Game of Thrones Season 6 Final Trailer
Indeed, the actor expressed how the scene was a key turning point for the character, though not necessarily in a move towards humility; "She's even more self-preservatory. She can't believe that happened to her, of all people. It's fueled her desire for power and her desperation to prove that she's somebody worth considering."
Headey also elaborated on what's in store for Cersei in the upcoming season 6. "It's probably her most interesting season," she stated. "Because now she really has nothing to lose and she has everything to gain from a horrible position she finds herself in. Her relationship with Jaime is at an all-time weird level. Even though they're back together, a part of her must f**king hate him. He let Tyrion go. He failed to protect Myrcella... she's also super emotionally vulnerable in a way she's never been before."
Game of Thrones season 6 stills

Show all 26
"It just keep getting better," she further teased. "It's so juicy, and it's so f**king dark, and so emotionally clever, in this landscape. It sounds so cheesy, but I'm really grateful to be part of something so cherished."
Game of Thrones season 6 premieres on Sunday 24 April at 9pm in the US, and will be simulcast at 2am in the UK. You can learn everything we know so far about the season here.
Register for free to continue reading
Registration is a free and easy way to support our truly independent journalism
By registering, you will also enjoy limited access to Premium articles, exclusive newsletters, commenting, and virtual events with our leading journalists
Already have an account? sign in
Join our new commenting forum
Join thought-provoking conversations, follow other Independent readers and see their replies