Game of Thrones season 6: Cersei prophecy may reveal her eventual murderer, could it be Tyrion or Jaime?
Maggy the Frog's words have haunted her since childhood
Jack Shepherd
Thursday 28 April 2016 12:48 Comments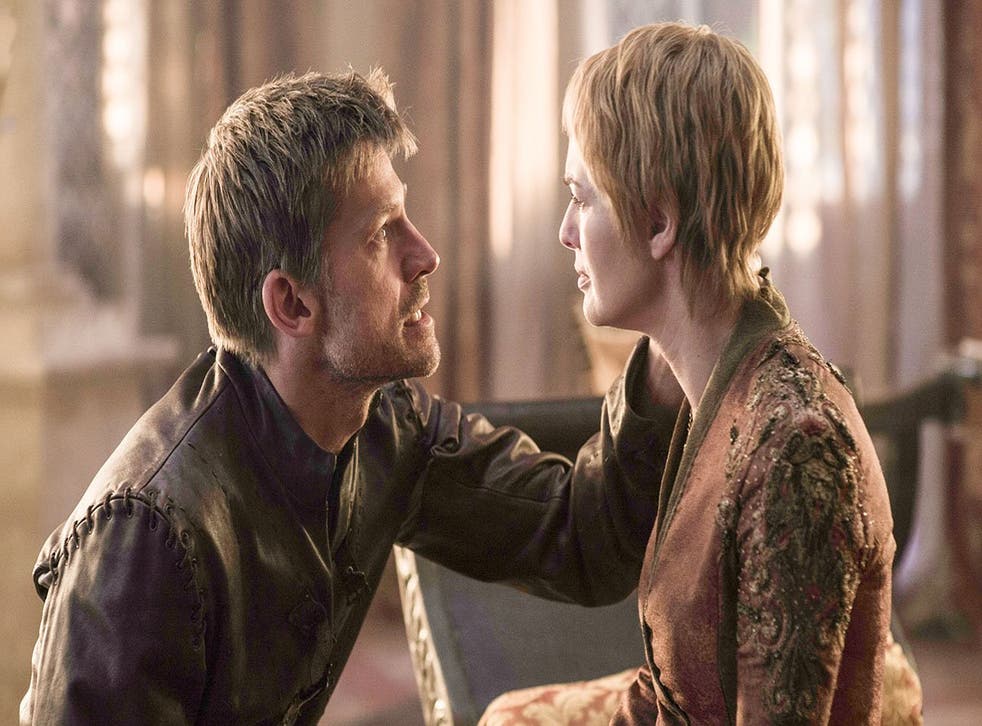 After almost a season apart, Jaime and Cersei Lannister were reunited in season six's premiere. The Kingslayer was in Dorne last season, attempting to rescue their daughter, Myrcella, who died on the ship home, marking the second time a Lannister child has been poisoned in Game of Thrones.
As noted by Cersei in the premiere, the prophecy - that her three children would die, foretold to her by 'Maggy the Frog' when she was a child - is seemingly coming true.
While Jaime dismissed such nonsense, it did little to comfort the Queen Mother, leaving her fragile and with an empty wine glass (always).
A quick recap: Maggy featured in the first episode of season five during a flashback. In the opening segment, the Witch allowed a young Cersei to ask three questions in exchange for some blood.
With the first, the Lannister asked whether she would marry a prince, with Maggy revealing she would one day marry 'the king'. Cersei believed this to mean Rhaegar Targaryen, but it turned out to be Robert Baratheon.
Cersei used her second question to confirm that she would one day be queen, to which Maggy said yes, but only "for a time" until a "younger, more beautiful" person would take all she held dear.
This person, we are led to believe, is Margaery Tyrell, who is engaged to Cersei's last remaining child, Tommen (Margaery is currently locked in a cell thanks to Cersei).
With her third question - the one we're mainly concerned with here - Cersei asked whether she would have children. This is when Maggy reveals she will have three children and each shall likely die while Cersei lives:
"Six-and-ten for [the King], and three for you. Gold shall be their crowns and gold their shrouds," reads the prophecy in the book.
Access unlimited streaming of movies and TV shows with Amazon Prime Video Sign up now for a 30-day free trial
Sign up
Unfortunately, in the show, this is where the flashback cuts off. Yet, in the books, the sinister witch reveals even more.
"And when your tears have drowned you, the valonqar shall wrap his hands about your pale white throat and choke the life from you."
Game of Thrones season 6 stills

Show all 26
This is the more interesting part, and something show watchers won't be aware of. A 'valonqar' is High Valyrian for "little brother", therefore, the prophecy implies that one of Cersei's younger siblings will strangle her to death some time after Tommen dies.
This leaves us with two options for Cersei's killer: Tyrion or Jaime (although Jaime is Cersei's twin, it is asserted numerous times she was born a little before him). Throughout her life, Cersei has always hated Tyrion, not only for killing her mother in childbirth but also because of the prophecy.
With Jaime and Cersei so close, Tyrion seems the obvious choice: having been beaten down by Cersei his whole life, imprisoned by her, surely he has the most reason to want to kill her? Yet, many readers believe this is too obvious, and that Jaime will be her eventual killer.
A couple of things to quickly point out: Tyrion is miles away in Mereen, with the premiere even featuring a somewhat hamfisted scene in which Peter Dinklage's character says "Looks like we won't be going back to Westeros any time soon". Even if he does get to the country, everyone in King's Landing is after him for the murder of Tywin Lannister, so how would he ever get close to Cersei again?
With that in mind, the only person who can really get close to Cersei is Jaime. With the Queen Mother going mad with depression and power (or lack thereof), could it be possible that she puts Jaime in a situation where he must kill her? For instance, when the Mad King - Aerys II Targaryen - was in power, the reason Jaime betrayed his oath to the king and murdered him was because the entire population of King's Landing was under threat. Could we see a similar situation play out?
There's also Jaime's famous words to Cersei: "We came into this world together, we'll leave it together." If he does strangle her, the chances of him also dying, whether by Cersei's hand or by his own within minutes of her death, are very high. It could be Game of Thrones' twisted Romeo and Juliet moment.
Game of Thrones Season 6- Episode #2 Preview (HBO)
So, with the prophecy having already been mentioned this season, and Tyrion across the ocean in Meereen, could we be getting close to Cersei's death at the hands of Jaime? For now, this seems unlikely to happen, but there's a chance it forms season six's big twist. Perhaps this will happen a long way in the future. Even so, if Jaime does eventually turn on his sister to save King's Landing, it would fit in perfectly with Maggy the Frog's prophecy and arguably be the final redemption of Jaime.
Other theories to have been brought forward since season six's premiere include one in which Melisandre's big reveal is seen to fit perfectly with Jon Snow being 'the chosen one'.
Register for free to continue reading
Registration is a free and easy way to support our truly independent journalism
By registering, you will also enjoy limited access to Premium articles, exclusive newsletters, commenting, and virtual events with our leading journalists
Already have an account? sign in
Join our new commenting forum
Join thought-provoking conversations, follow other Independent readers and see their replies