Gayle King interviews Lisa Leslie about Kobe Bryant
Snoop Dogg threatens to 'come get' Gayle King for mentioning Kobe Bryant rape case in interview
King has responded to backlash after discussing Bryant's legacy with former WNBA player Lisa Leslie
Snoop Dogg has threatened to "come get" Gayle King after the TV host mentioned Kobe Bryant's rape case in an interview.
King spoke to former WNBA player Lisa Leslie for a segment about Bryant's life and his legacy on CBS This Morning.
During the conversation, King brought up the rape accusations faced by Kobe in 2003. That year, the athlete was charged with felony sexual assault after a 19-year-old woman accused him of raping her at a Colorado hotel.
The case was dismissed the following year after prosecutors said the woman didn't want to testify in court. A civil case was settled in 2005 and Bryant publicly apologised, stating in part: "Although I truly believe this encounter between us was consensual, I recognise now that she did not and does not view this incident the same way that I did."
After discussing Bryant's admiration for Michael Jordan as well as his work with the WNBA, King asked Leslie: "It's been said that his legacy is complicated because of a sexual assault charge, which was dismissed in 2003, 2004. Is it complicated for you as a woman, as a WNBA player?"
World news in pictures

Show all 50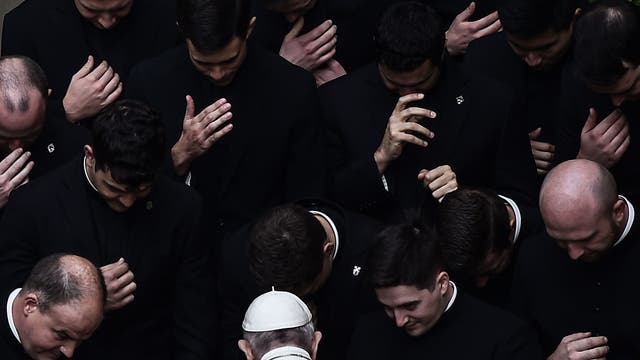 Leslie said Bryant's legacy is "not complicated for me at all", adding in part: "I just never, have ever seen him being the kind of person that would do something to violate a woman or be aggressive in that way."
King responded: "But Lisa, you wouldn't see it, though. As his friend, you wouldn't see it." Leslie, in turn, told the host: "And that's possible.I just don't believe that. And I'm not saying things didn't happen. I just don't believe that things didn't happen with force."
King then questioned whether it's "even a fair question" to bring up, with Leslie stating that she believes "the media should be more respectful at this time".
The segment was met with a backlash, including from artists such as Snoop Dogg, who reacted in an Instagram video addressing King.
"What do you gain from that?" he asked, asking: "Don't you hang out with Oprah? Why are you all attacking us?"
He then called King a "b****", adding: "How dare you try to tarnish my motherf****** homeboy's reputation? ...Respect the family and bag off, b**** before we come get you."
50 Cent was among those who criticised the interview, sharing a clip of it on his Instagram account in which he can be heard commenting that Bryant's legacy "is not complicated" and calling King a "b****".
King responded to the backlash in a long Instagram video on Thursday, telling the public: "I've been up reading the comments about the interview I did with Lisa Leslie about Kobe Bryant, and I know that if I had only seen the clip that you saw, I'd be extremely angry with me too.
"I am mortified. I am embarrassed and I am very angry. Unbeknownst to me, my network put up a clip from a very wide-ranging interview — totally taken out of context — and when you see it that way, it's very jarring. It's jarring to me. I didn't even know anything about it."
She added about the interview: "We had a really wide-ranging interview, talked about many things: his career, his passion, his sense of humour, the way he was mentoring other people, how he was starting his next chapter, it was wide-ranging. And yes, we talked about that court case because that court case has also come up. And I wanted to get Lisa's take on it as a friend who knew him well, what she thought, where that should stand."
The Independent has contacted CBS for comment.