Grimes gets 'tortured' with electric shocks, cheese and feathers on The Eric Andre Show
Adult Swim series is known for its unpredictable stunts and bizarre skits
Grimes gets 'cheeseboarded' on 'The Eric Andre Show'
Grimes was "tortured" during her appearance on The Eric Andre Show.
The "Kill v Maim" singer featured in the latest episode of the Adult Swim series, starring in a segment titled "Grimes and Punishment".
The skit sees the 32-year-old tied up to a medieval torture rack and tormented in a series of bizarre ways, including being tickled with a feather, undergoing minor electric shocks to her feet, and having a bucket of nacho cheese dumped over her head – all while she continues to sing.
Andre's show, now in its fifth season, is notorious for pulling unpredictable and sometimes painful stunts on its guest stars. In the past, guests have included Seth Rogen, Jack Black, James Van Der Beek and Lizzo.
In an interview with Complex, Andre revealed that he had invited Grimes on the show after she had noted its lack of female musical guests. He said: "I explained to her, it's because we always torture the musical guest."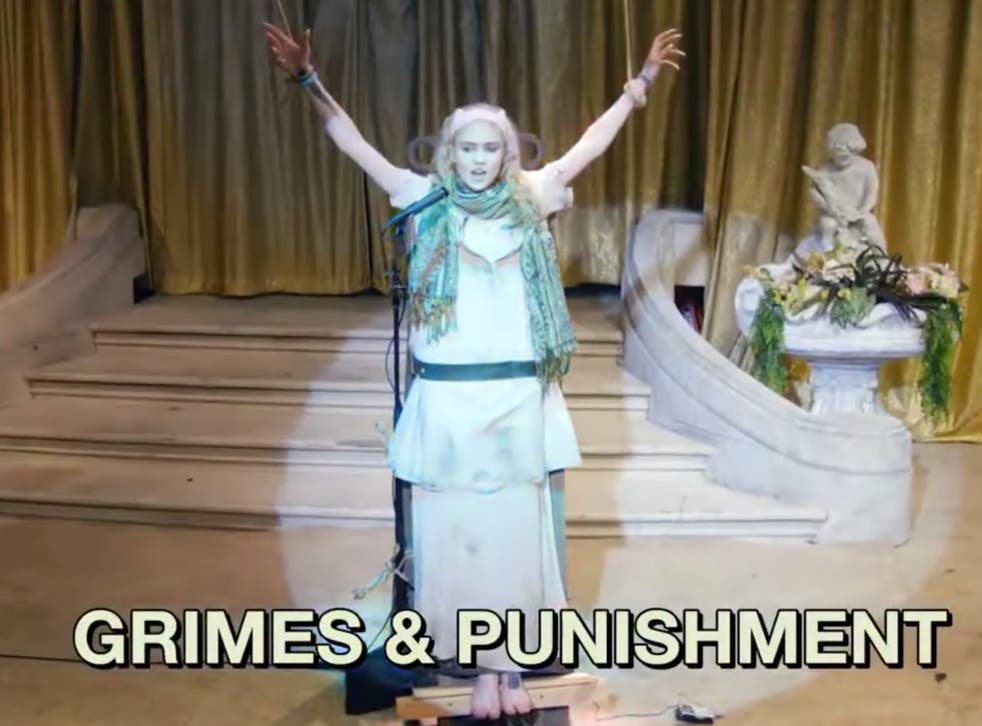 Andre continued: "I'm always beating them with bats or electrocuting them, so it's not a good look if I'm like torturing a woman."
In response, he recalled Grimes replying: "Yeah, that makes sense but I wanna do the show. F*** it, you can torture me!'
The comedian added that he had not known that the Canadian singer was pregnant at the time of filming.
"I was like, 'You just talked me into torturing a pregnant woman,'" he said. "And she was like, 'Yeah, but it was f***ing awesome!'"
Last month, Grimes – real name Claire Elise Boucher – claimed that her five-month-old baby with Elon Musk enjoys watching "radical art" and the surreal war film Apocalypse Now.
Join our new commenting forum
Join thought-provoking conversations, follow other Independent readers and see their replies