Jeremy Paxman's last Newsnight to see tandem bicycle ride with Boris Johnson
Pair gave some of the show's most memorable interviews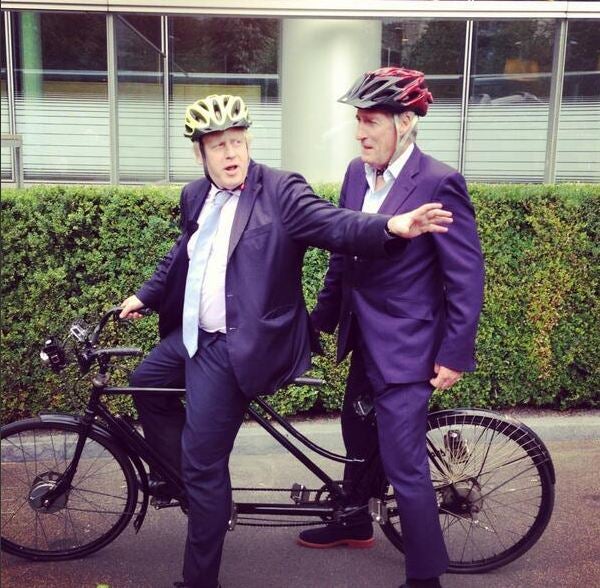 After 25 years of fiery debates, Jeremy Paxman's time on BBC Newsnight is to end in a rather serene, bucolic fashion as he pedals into the sunset with Mayor of London Boris Johnson.
The pair, both keen cyclists, have enjoyed/endured some of the programme's most memorable and spiky interviews, but will show there are no hard feelings in tonight's instalment.
Back in 2009, Johnson brought into question Paxman's "elephantine" salary, asking him: "Why don't you get yourself a proper job instead of just sitting around telling politicians what to do all the time?"
"The usual convention, Boris, is that I ask the questions," Paxman fired back.
Other notable squabbles include Johnson being asked what the difference is between him and David Cameron and replying: "Well, I'm Mayor of London and he's Prime Minister. I'm older than him and considerably heavier. I beat him at tennis the other day," and assessing his chances of leading the Tories, saying: "I think my chances of leading the Conservative Party are slightly less good than your chances, Jeremy. What about it? Down the line, Dave's eventually going to pack it in."
Paxman will continue to host University Challenge and work on other BBC projects, but is departing Newsnight as he "should rather like to go to bed at much the same time as most people".
A BBC spokesperson said tonight's edition would not turn into a tribute show, but would include "a nod" to Paxman's exit.
Join our commenting forum
Join thought-provoking conversations, follow other Independent readers and see their replies