John Cleese criticises the British press, Brexit and the BBC: 'Corruption here is far, far worse than people know'
'If people are stroppy with me, I get stroppy back'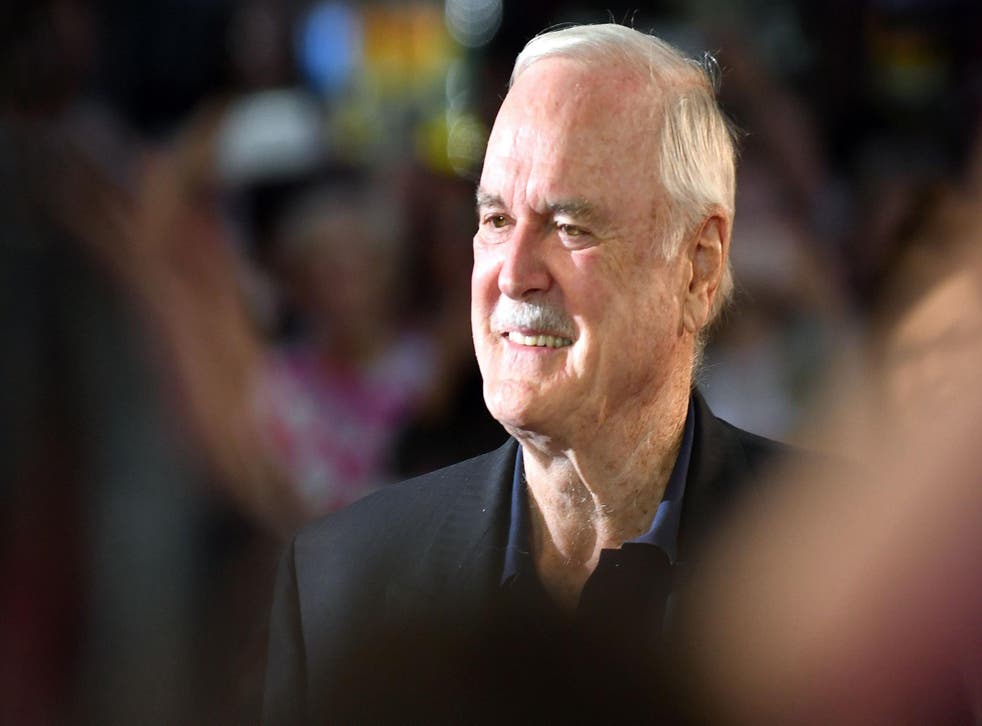 John Cleese has criticised the British press, Brexit and the BBC.
The Monty Python comic began by telling Radio 4's Today programme why he's decided to leave the United Kingdom, claiming that "corruption here is far, far worse than people know".
"There's rather a lot in this country that needs to be improved and I don't like it when people pretend there isn't a problem," Cleese told Nick Robinson.
"I do think we have the worst press in Europe: the European Broadcasting Union poll said we were 33 out of 33 European countries in trust for printed media for four years in a row – that suggests there might need some improvement."
Cleese claimed the "press censors stuff", alleging: "That's a large reason why I'm leaving the country.
"Well, I'm just fed up with it and c, otherwise they wouldn't put up with it. And I think the underhand arrangements that are made between [Rupert] Murdoch and [Paul] Dacre and Theresa May are absolutely disgraceful."
In pictures: Monty Python Live (Mostly)

Show all 10
Asked if he was protesting a little too much, Cleese said: "[People] will find some discreditable reason, other people will say 'Well, he's fed up, he tried to get proportional representation', that was buried by the right-wing press, the need... to get press reform, that was buried.
"Those are the two things that, if we set those right, this country would become a much better place, so if I sound grumpy, then I think... any kind of critic is grumpy."
Cleese went on to discuss recent comments made by the BBC's comedy controller Shane Allen, who said the Pythons would struggle to get on TV today because they were "six Oxbridge white blokes".
The comedian initially called the comments "unfair" on Twitter, adding that the group "were remarkably diverse for our time."
Access unlimited streaming of movies and TV shows with Amazon Prime Video Sign up now for a 30-day free trial
Sign up
Questioned about the response, Cleese answered: "If people are stroppy with me, I get stroppy back, I think that is a pretty fair thing.
"Most of the time, like on Twitter and things like that, people are affectionate when they point things out. But if somebody weighs in rudely I don't see that I'm under any moral obligation to be exceptionally polite to them."
Claiming that Michael Palin had noticed that the BBC had not shown their sketch show for 17 years, Cleese reasoned that the absence of Monty Python on our screens could be because the show's "too funny".
"It might not contrast well with some of the comedy they are doing now, you see what I mean?" he said.
"People might not laugh at modern comedy. Do you remember during [former BBC director-general] John Birt's reign they had a show called Men Behaving Badly?
"They had a poll to show the funniest comedies of all time, and that, which was made under John Birt's tutelage, was voted number one. Have you ever heard of it since?"
Additional reporting by agencies.
Register for free to continue reading
Registration is a free and easy way to support our truly independent journalism
By registering, you will also enjoy limited access to Premium articles, exclusive newsletters, commenting, and virtual events with our leading journalists
Already have an account? sign in
Register for free to continue reading
Registration is a free and easy way to support our truly independent journalism
By registering, you will also enjoy limited access to Premium articles, exclusive newsletters, commenting, and virtual events with our leading journalists
Already have an account? sign in
Join our new commenting forum
Join thought-provoking conversations, follow other Independent readers and see their replies