John Oliver offers Donald Trump his Emmy if he accepts Presidential election result
'You don't even have to take her furniture shopping. Take the bet, Donald'
Jack Shepherd
Monday 24 October 2016 10:59 Comments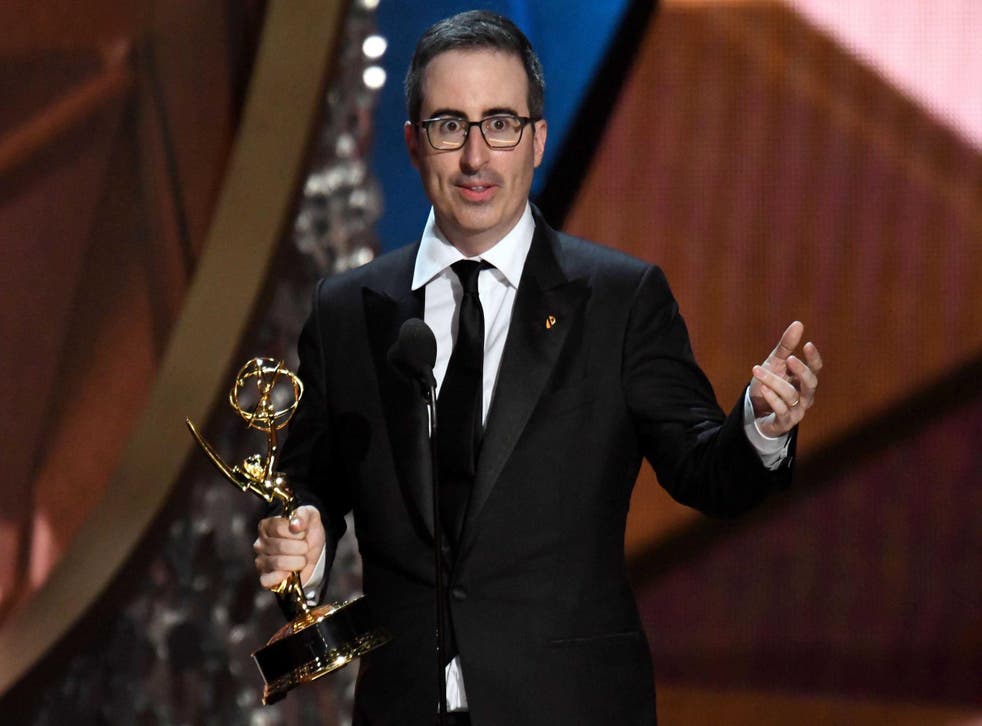 Ever since Donald Trump announced he would be running for President of the United States, late night hosts have been mocking the business mogul.
Despite the naysayers, Trump eventually won the Republican party nomination and has since been winning over certain voters from across the country, hoping to become the most powerful man in the Western World.
However, even if Trump democratically doesn't win, there's a chance he won't accept the result, saying during the third Presidential debate he would leave everyone 'in suspense' over whether he would peacefully allow Hilary Clinton become President.
Also brought up during that debate was Trump's insistence the world is rigged against him, Clinton recalling the time Trump called the Emmys rigged after he failed to win an award for his The Apprentice series three years running. "I should have gotten it," he responded to Clinton, live on TV.
Never one to miss a beat, John Oliver offered Trump his recently won Emmy award if he accepts the election result on 8 November.
What did Donald Trump say during the third presidential debate?

Show all 9
"Of course he wants an Emmy! It's a woman, it's gold, and its proportionate to his tiny hands, It's basically Trump's ideal mate," Oliver said on his show The Last Week Tonight.
"Here's the problem. It increasingly seems like, if Donald Trump loses, we are not going to get the concession speech that the country badly needs, because he is medically incapable of accepting that he is a loser. So we need to find a way for him to give a concession speech, while he's still able to claim that he won something. And I think I might have the answer here. Because I have a proposition for Donald Trump.
"Let's bet on the outcome of this election. I will take the side that you win. I will take the side that you win. You will take the side that you lose. That way, if you lose, you still win and, as for the stakes in the bet, I have something that I know you want."
Oliver then grabbed his Emmy trophy, won just last month after his HBO show was named best variety talk series, and said: "You don't even have to take her furniture shopping. Take the bet, Donald. Take the f*cking bet!"
Access unlimited streaming of movies and TV shows with Amazon Prime Video Sign up now for a 30-day free trial
Sign up
Other late night hosts to mock the third Presidential debate include Stephen Colbert and Trevor Noah, while Saturday Night Live employed the help of Tom Hanks and Alec Baldwin to mock the event.
Register for free to continue reading
Registration is a free and easy way to support our truly independent journalism
By registering, you will also enjoy limited access to Premium articles, exclusive newsletters, commenting, and virtual events with our leading journalists
Already have an account? sign in
Join our new commenting forum
Join thought-provoking conversations, follow other Independent readers and see their replies