Kanye West and Kim Kardashian spoofed by South Park creators
The rapper has been mocked by the hit show for a second time
Jess Denham
Friday 13 December 2013 12:58 Comments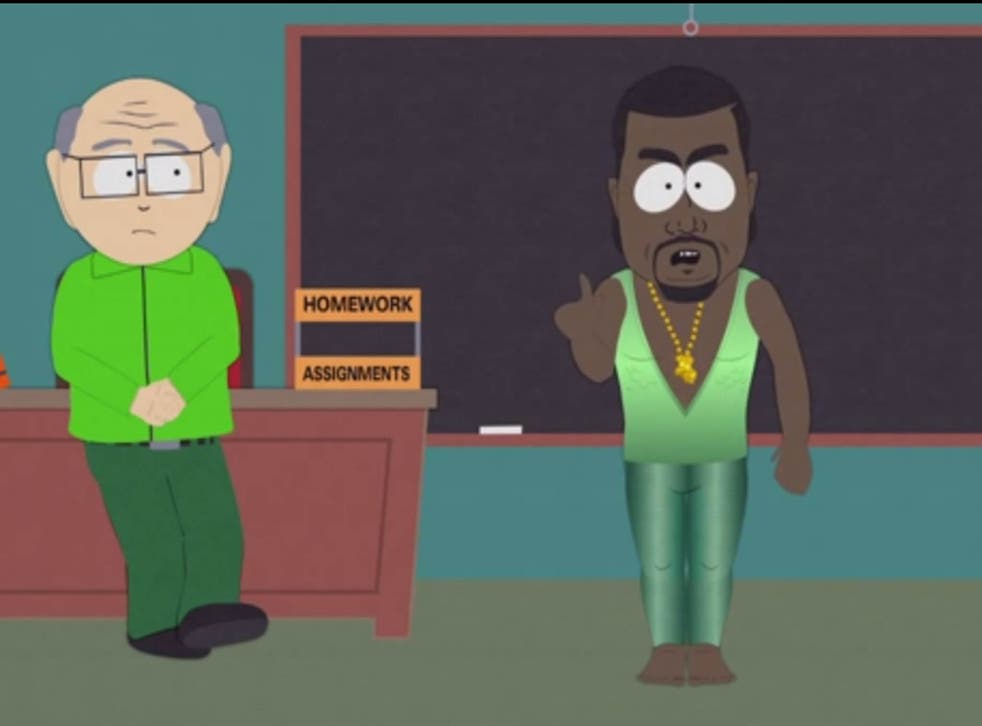 US rapper Kanye West has appeared on South Park as a "recovering gay fish", after first being mocked on the show in 2009.
Click here for Kanye West in quotes
The "Fishsticks" episode took aim at him for his apparent lack of a sense of humour when he failed to understand a joke about how liking fishsticks made him a gay fish.
Now, the "Bound 2" star has returned to lecture a class on how he is a "recovering gay fish" in new episode "The Hobbit".
In the wake of "Fishsticks", West wrote on his blog that he was "hurt" but thanked creators Matt Stone and Trey Parker for featuring him and prompting self-analysis.
However, he later released the song "Gorgeous", with its lyric "choke a South Park writer with a fishstick".
In "The Hobbit", West is seen denying that his fiancé Kim Kardashian is a "hobbit" (cue Kanye rage), viewers are treated to a recreation of his "Bound 2" video and that awkward time when the rapper interrupted Taylor Swift as she accepted an MTV award also receives a nod.
The new episode also appears to reference the famous Zane Lowe interview, in which West declared himself "the number one rock star on the planet". "We the real rock stars and I'm the biggest of them all," he told the BBC Radio 1 DJ.
It remains to be seen how West will respond to the new South Park episode, but if his reaction to a spoof on Jimmy Kimmel Live is anything to go my, Stone and Parker had better run for the hills.
West lashed out at TV host Kimmel after his late-night show parodied the interview with Lowe. A child actor re-enacted the rapper's bizarre radio spiel, proclaiming himself the "number one rock star on the planet" while drinking a chocolate milkshake.
Access unlimited streaming of movies and TV shows with Amazon Prime Video Sign up now for a 30-day free trial
Sign up
In response, West tweeted that Kimmel is "out of line to try and spoofy in any way the first piece of honest media in years" and called him a "manipulative media motherf***er.
The rapper did, however, praise James Franco and Seth Rogan's impressive parody of the "Bound 2" video, with Kardashian tweeting "Kanye says what's up! He loves u guys! He laughed so hard at this".
More recently, West complained about not appearing in the Grammy Awards 2014 nominations for Album of the Year. "Do they think that I don't have the power to completely diminish all of their credibility at this moment?" he told fans at an Arizona gig on Tuesday night.
Register for free to continue reading
Registration is a free and easy way to support our truly independent journalism
By registering, you will also enjoy limited access to Premium articles, exclusive newsletters, commenting, and virtual events with our leading journalists
Already have an account? sign in
Join our new commenting forum
Join thought-provoking conversations, follow other Independent readers and see their replies