Kit Harington is barely recognisable in this very young photograph of the Game of Thrones cast
The image was apparently taken back in 2009 by George R.R. Martin super-fan Adam Whitehead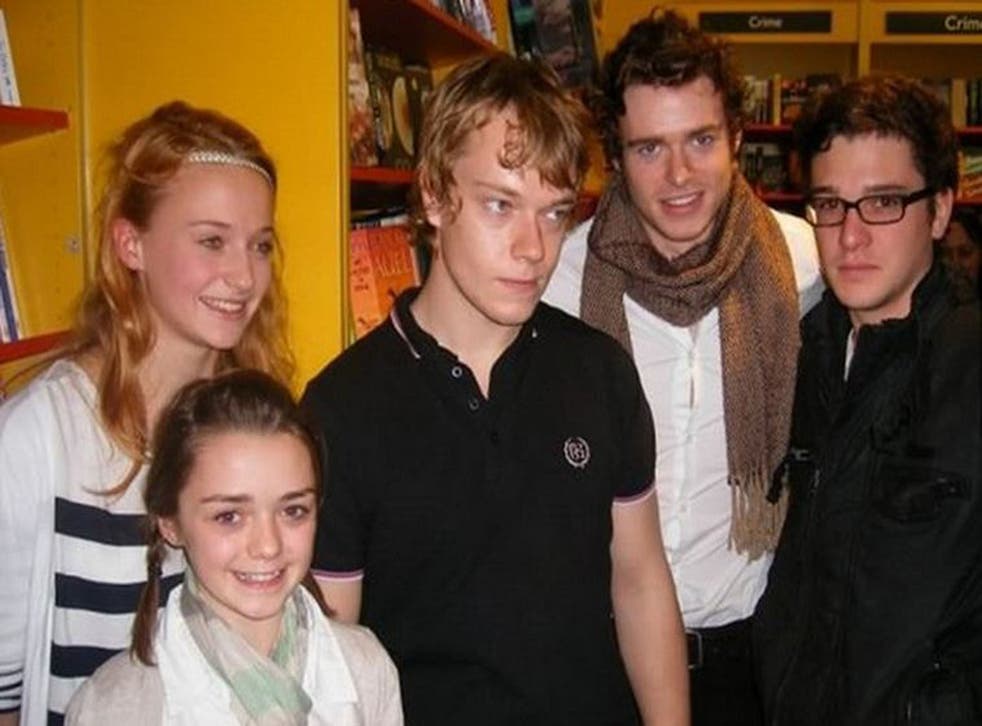 A startlingly young photograph of the Game of Thrones cast has surfaced online.
It was apparently taken back in 2009 at a George RR Martin book signing in Belfast by super-fan Adam Whitehead as the first series of the HBO show was midway through production.
Fully recognisable and hardly changed at all are Maisie Williams (Arya Stark), Sophie Turner (Sansa Stark), Alfie Allen (Theon Greyjoy) and Richard Madden (Rob Stark), but anyone would be hard-pressed to pick Kit Harington (Jon Snow) out of the line-up.
Yes, that slightly awkward-looking bespectacled lad on the right there is, in fact, Jon Snow, who was "exhausted after shooting three 17-hour days on the trot," Whitehead added in his blog post.
Don't believe us? Take a closer look at this picture of the cast posing with author Martin – he's standing directly behind him:
The images emerged just as Martin set fans abuzz with excitement with a teaser for his forthcoming novel, Winds of Winter.
The sixth instalment in the A Song of Ice and Fire series, upon which the hit HBO series Game of Thrones is based, is set to feature "more weddings", "more betrayals" and, of course, "more deaths".
Speaking to Entertainment Weekly, the 65-year-old author said: "I think we're gonna start out with a big smash with the two enormous battles.
"We have more deaths, and we have more betrayals. We have more marriages."
He also added that the Dothraki will return to the narrative "in a big way" and that " a lot of stuff is happening at The Wall".
Read more from Martin about Winds of Winter here.
Register for free to continue reading
Registration is a free and easy way to support our truly independent journalism
By registering, you will also enjoy limited access to Premium articles, exclusive newsletters, commenting, and virtual events with our leading journalists
Already have an account? sign in
Register for free to continue reading
Registration is a free and easy way to support our truly independent journalism
By registering, you will also enjoy limited access to Premium articles, exclusive newsletters, commenting, and virtual events with our leading journalists
Already have an account? sign in
Join our new commenting forum
Join thought-provoking conversations, follow other Independent readers and see their replies