Las Vegas shooting: Stephen Colbert, Jimmy Kimmel and Conan O'Brien speak out about gun violence in the US
Following the attack in Las Vegas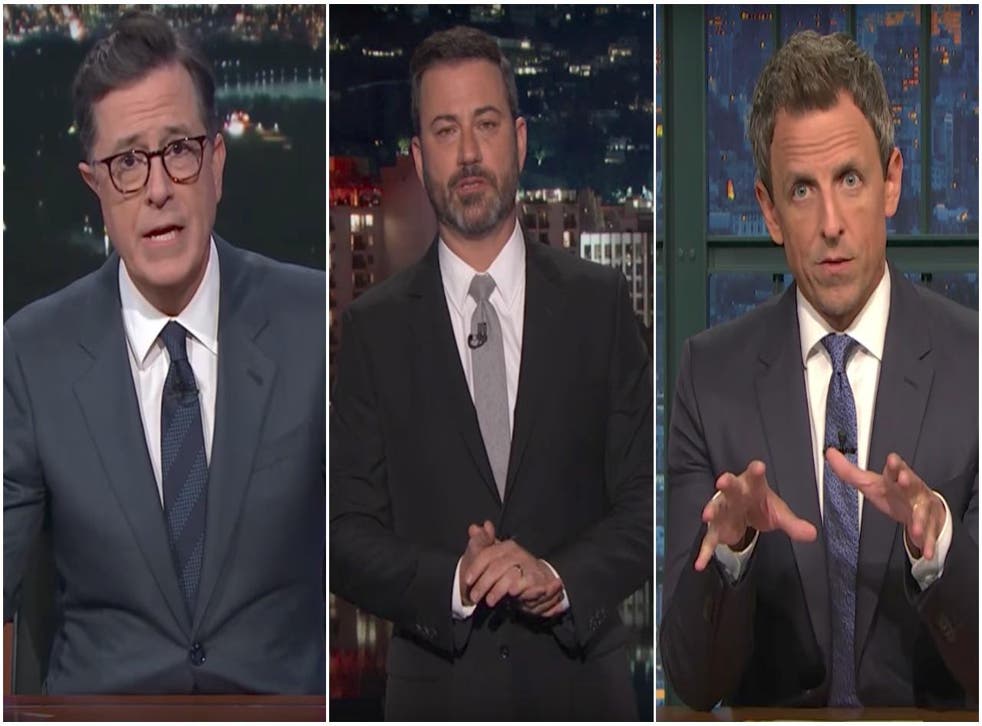 Following Sunday night's devastating terrorist attack in Las Vegas, late-night hosts from across various networks dedicated their Monday shows to discussing gun violence.
At least 59 people have been confirmed dead and another 500 injured after a gunman fired into Route 91 Harvest country music festival, based near the Mandalay Bay Hotel.
Jimmy Kimmel opened his show with a touching monologue, choking up as speaking: "Here we are again in the aftermath of another terrible, inexplicable, shocking and painful tragedy — this time in Las Vegas, which happens to be my hometown."
After offering prayers to the victims and families, Kimmel said: "As a result of that this morning, we have children are without parents and fathers are without sons, mothers without daughters... It's the kind of thing that makes you want to throw up. Or give up. It's too much to even process."
Las Vegas shooting – in pictures

Show all 15
Questioning why the leaders of a country wouldn't do something to prevent someone being able to own a weapon capable of such destruction, the host urged viewers to take action.
Kimmel continued: "Tell your Congresspeople to do something. It's not enough to send your love and prayers."
Stephen Colbert also addressed the shooting. "This afternoon the president called [the mass shooting] an act of pure evil. And I think he's right," he said.
"Doing nothing is cowardice. Doing something will take courage. Now, President Trump, you said you want to be a transformative president, who doesn't care about the way things have always been done in Washington DC."
"This is your chance to prove it. And I mean this sincerely. You do not owe the Republicans anything. You know the Republicans tried to stop you from being president. Well, screw 'em!"
Access unlimited streaming of movies and TV shows with Amazon Prime Video Sign up now for a 30-day free trial
Sign up
Colbert called on Trump to pass "any kind of common sense gun legislation" that would save American lives and that the people want. "Think about what you ought to do, and then pray for the courage to do it."
On The Daily Show, Trevor Noah addressed gun control. "I've never been to a country where people are as afraid to speak about guns. Every time there's a shooting you got to look at something else. Is it Muslims? Is it there religion? Is that what it is? Is it the blacks? Is it mentally ill people? Is it White Nationalists? Every time it's a different question. Now after this incident in Las Vegas we're asking a new question. Is it hotels?"
After offering "thoughts and prayers" to the victims, Noah concluded: "I can only say that I'm sorry. I'm sorry we live in a world where people will put a gun before your lives."
Seth Meyers also questioned what can be done to prevent gun crime: "Are there no steps we can take as a nation to prevent gun violence? Or is this just how it is, and how it's going to continue to be?"
The host of NBC's Late Night pointed to Congress members who say "now is not the time to talk about gun violence", saying: What you really mean is, there is never a time to talk about it."
Meyers concluded: "If you're not willing to do anything, just be honest and tell us. If it's going to be thoughts and prayers from here on out, the least you can do is be honest about that."
Conan O'Brien was perhaps less talkative on the subject, admitting "I'm not the most political of our comics" but saying: I will repeat what I said not long ago after Orlando — I don't think it should be so easy for one demented person to kill so many people so quickly."
For all the latest on the LAs Vegas shooting, follow our live-blog here.
Join our new commenting forum
Join thought-provoking conversations, follow other Independent readers and see their replies