MasterChef: The Professionals 2013 - Steven Edwards, Adam Handling and Scott Davies are the final three
We know their names but where do they come from?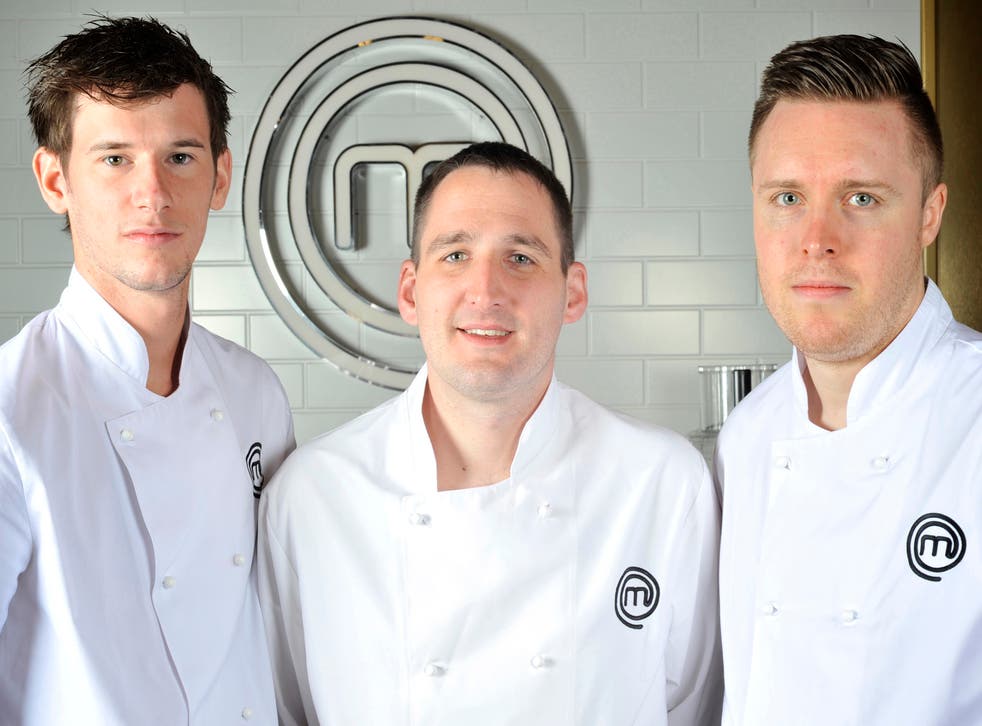 In the grand finale tonight, the last three chefs left standing on MasterChef: The Professionals will battle it out under the judges' discerning eyes to decide who will take the coveted title of 2013 champion.
Click here to see who was crowned winner
In just three hours, Adam Handling, Scott Davies and Steven Edwards must prepare three flawless courses for double Michelin-starred chef Michel Roux Jr, Monica Galetti and Gregg Wallace.
See here for five things you never knew about Monica Galetti
After five intense weeks of cooking, a starting line-up of 32 chefs from British kitchens has been whittled down to three.
Past winners of the competition have experience huge career boosts, with last series champions Anton Piotrowski and Keri Moss now both running their own highly-acclaimed restaurants.
The current series of MasterChef: The Professionals has been the best-performing to date, with an average audience of 3.5 million viewers tuning in to watch.
Introducing (properly) this year's finalists:
Name: Adam Handling
From: London, but born in Dundee
Age: 25
Profession: Head Chef
Background: Grew up "all over the place" as his dad was in the military and has loved food, particularly pastry, all his life. He would help his mum bake and make bread from scratch and experienced high-end food at a young age. Adam trained as a classical chef at Gleneagles hotel.
Influences: Tom Aikens. Adam enjoys using "modern gadgets and twists on classical dishes" and is a "big believed in precise cooking".
Ambitions: He wants to win the Roux scholarship for 2014, go back to Australia to cook there for two years and then, in five years' time, open his own place in London or Edinburgh where he believes food is "up and coming".
He says: "My girlfriend Victoria entered me into the competition, I had no idea until she mentioned it when I got home from work one day. Getting to the final was a fantastic achievement. I'm very competitive…if you don't get the gold it's a fail."
Access unlimited streaming of movies and TV shows with Amazon Prime Video Sign up now for a 30-day free trial
Sign up
Name: Steven Edwards
From: Sussex
Age: 27
Profession: Head Chef
Background: Steven grew up in Windsor, Berkshire and his food journey started with his parents. His dad was a waiter and his mum a housekeeper, meaning he could work with them during the school holidays. Steven did a modern apprentice year aged 17 to gain his NVQ in Professional Cookery and won Sussex Young Chef of the Year in 2010.
Influences: Aside from his mentors Lewis Hamblet and Matt Gillan at South Lodge Hotel, Steven cites the self-taught Sanchez-Iglesias brothers as key inspirations. His two other favourite chefs are Jason Atherton and Ashley Palmer-Watts and his own cooking style is modern British.
Ambitions: Steven wants to own a restaurant in the next ten years while developing his own style of food.
He says: "My most challenging moment in the competition has to be cooking for the best chefs in the country at the Chefs Table. My highlight was going to Italy and cooking with Massimo Bottura, the most enthusiastic and inspirational chef I have worked with."
Name: Scott Davies
From: St Andrews, but born in South Wales
Age: 27
Profession: Head Chef
Background: Scott grew up in a Welsh village and was always involved with the Sunday roasts at home. Some of his family tried to deter him from the cookery path but he became "hooked" after work experience in a local kitchen aged 15. Scott enrolled in catering college straight afterwards and has since worked with some "brilliant and talented chefs".
Influences: Robert Macpherson, Scott Pickett, Sat Bains, Thomas Keller and Rene Redzepi. Scott is "a keen forager" and enjoys using the local game, mushrooms, leeks and garlic from the Scottish countryside. His favoured section is sauces but he also loves pastry.
Ambitions: Scott dreams of becoming the head chef of a country house hotel in Scotland, winning four rosettes and a star.
He says: "My dish during the Show Stopper round at the start of the semis, Summer Punch in the Park, really showcased everything that excites me – flavour, seasonality and textures."
MasterChef: The Professionals -The Final airs tonight at 8pm on BBC2
Join our new commenting forum
Join thought-provoking conversations, follow other Independent readers and see their replies