Metal detectors object to digs by Mackenzie Crook about 'dysfunctional' hobby in BBC4's 'Detectorists'
National club refused to co-operate with new BBC series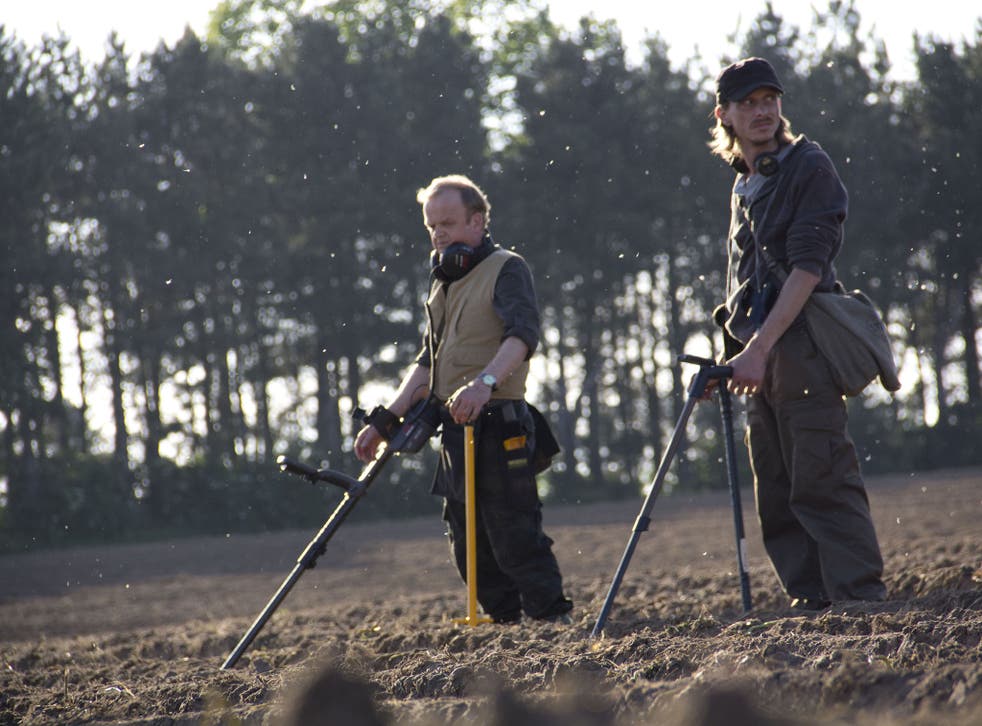 Metal detectors have accused the BBC of portraying them as "anoraks" in a new sitcom that shines a light on those enthusiasts whose lives are dedicated to uncovering a treasure hoard.
Written and directed by Mackenzie Crook, who shot to fame playing Gareth in The Office, Detectorists follows two friends who share a passion for metal detecting and are determined to dig up their very own Saxon ship-burial.
The BBC4 comedy follows Crook, Toby Jones and their eccentric friends at the Danbury Metal Detecting Club as they search for that one big find in Essex.
They are hindered by arch-rivals the Antiquisearchers, a self-important and officious detecting duo, who bear a striking resemblance to Simon and Garfunkel and are affiliated to the local museum.
However the National Council for Metal Detecting refused to co-operate with the BBC when it sought the body's participation in the series because they felt the project intended to mock enthusiasts. In the opening episode, the head of the detecting club sends members to sleep with a tedious talk on buttons.
Trevor Austin, the council's general secretary, said: "They approached us but we didn't want to get involved in a comedy which would belittle detecting and make detectors look anorakish."
Mr Austin added: "Detectors are hobbyists. They don't go out to make a fortune. Any serious metal detector knows there isn't much money in it. And they don't dig without getting a special licence and abiding by the rules."
Mr Austin was also concerned that Crook and Jones were not trained in detection techniques and would not be able to handle the equipment in a credible way on screen. "It's a lot more difficult than it looks," he said.
However Crook said he had thoroughly researched the series, which was intended as an affectionate portrayal of a pursuit that he admired. "I  got a detector and I went out detecting. I found some silver coins. It's a fascinating hobby and the men and women who go out every weekend are so immersed in it."
Access unlimited streaming of movies and TV shows with Amazon Prime Video Sign up now for a 30-day free trial
Sign up
Crook, who starred in the Pirates of the Caribbean films, added: "I never intended to take the mickey out of detectorists. I want them to enjoy the series.
"In this country we take the mickey out of any hobby that isn't sport-related, we see them as anoraks or sad people with no friends. But detectorists have real expertise in archaeology and the fields they study."
Jones has also told The Independent that Crook is "genuinely nuts about metal detecting".
Described as "slightly dysfunctional" in the production notes, Lance, played by Jones, is a font of technical detecting knowledge but his marriage collapsed when his wife left him for the local pizza restaurant manager. Crook said: "The characters are searching for something in their lives, not just gold coins."
The actor does not anticipate returning to the role of Gareth Keenan in a David Brent feature film, tracing the character's progress 15 years after The Office, which Ricky Gervais will shoot next year. "I know as much about that as you do from what's been on the internet. Nobody's been in touch," said Crook.
"If there was a part for Gareth in it, Ricky would obviously have thought very strongly about it and decided that's what he wanted to do with it. To be honest, I can't see it. I certainly don't want to get that haircut again."
Register for free to continue reading
Registration is a free and easy way to support our truly independent journalism
By registering, you will also enjoy limited access to Premium articles, exclusive newsletters, commenting, and virtual events with our leading journalists
Already have an account? sign in
Register for free to continue reading
Registration is a free and easy way to support our truly independent journalism
By registering, you will also enjoy limited access to Premium articles, exclusive newsletters, commenting, and virtual events with our leading journalists
Already have an account? sign in
Join our new commenting forum
Join thought-provoking conversations, follow other Independent readers and see their replies