Michelle Obama asks Lin-Manuel Miranda, Jennifer Lopez, Faith Hill, and more to 'help spread the word' about Covid vaccines
'We all want to get together with our family and friends, and the best way to make that happen is getting the vaccine as soon as it's available to you'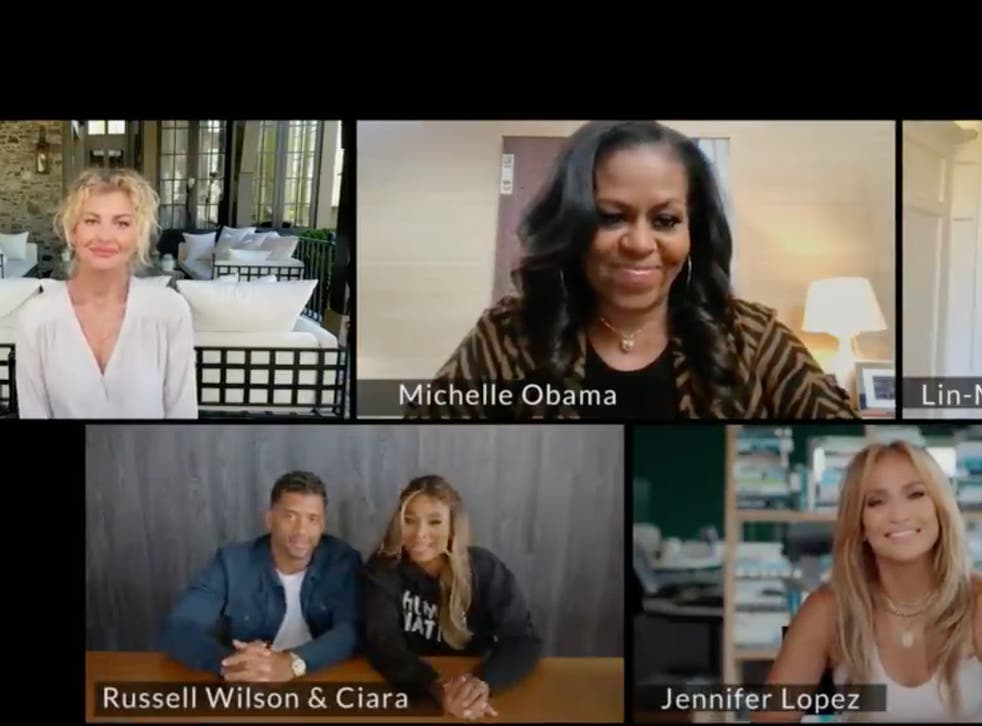 Former FLOTUS Michelle Obama made a special appearance on on Sunday night's televised Roll Up Your Sleeves vaccination special, which also featured appearances from former President Barack Obama, President Joe Biden, Dr Anthony Fauci, and more.
Speaking to a handful of celebrity friends over Zoom, including Jennifer Lopez, Lin-Manuel Miranda, Ciara and husband Russell Wilson, and Faith Hill, Obama urged them to "help spread the word" about how everyone in the US should make sure to get vaccinated as soon as they are eligible.
"We all want to get together with our family and friends, and the best way to make that happen is getting the vaccine as soon as it's available to you," Obama said. "So, I was wondering, would you join me in helping to spread the word?"
"Happy to do it. It feels like we're so close to turning the corner on controlling this virus. We can't stop now," replied Miranda.
"Should we just start going door-to-door and offering people vaccines?" asked Hill.
"Oh my god, I love that. Sign me up," said Lopez.
"I was thinking more along the lines of telling your friends and families that these vaccines were made to save lives, and they're also going to be the thing that gets us back to our loved ones," replied Obama.
The special, presented by NBC in the US, ATTN:, and Walgreens, airs on 18 April at 7PM on NBC in the US. The broadcast is meant to educate audiences about the importance of getting vaccinated against Covid-19.
Join our new commenting forum
Join thought-provoking conversations, follow other Independent readers and see their replies