Midwives bicycle across the pond in Downton Abbey's wake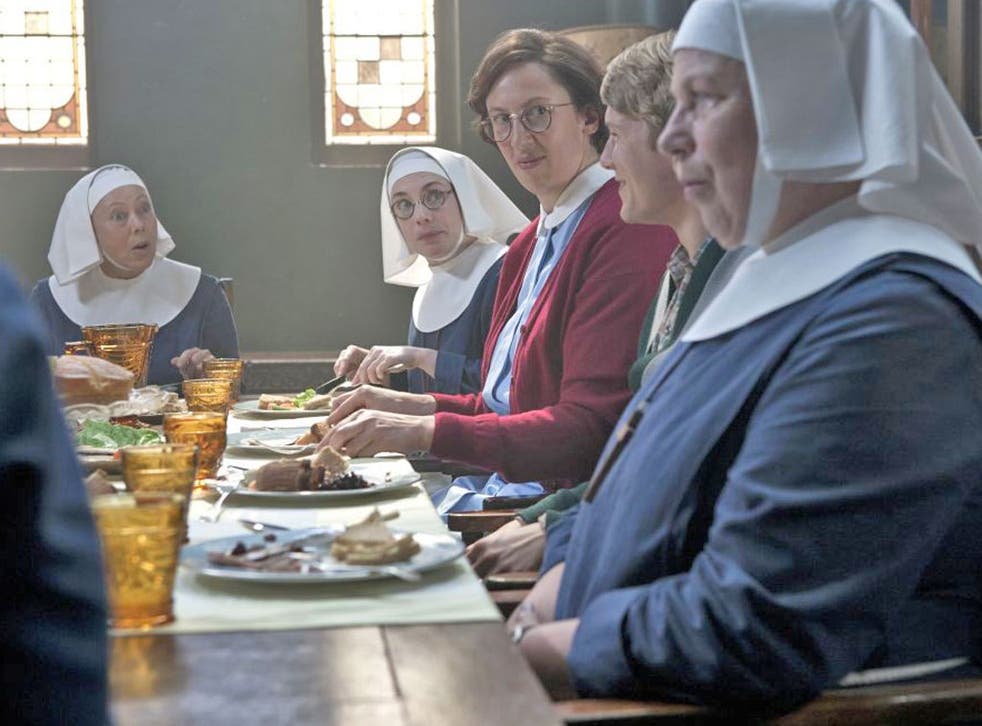 American viewers couldn't get enough of the class snobbery and grandeur of Downton Abbey. But will the misery of the East End's post-war slums prove quite as appealing when Call The Midwife becomes the latest British drama to cross the Atlantic?
The series, about a group of midwives in 1950s London, became BBC1's most popular new drama for more than a decade. It has now been snapped up for a Sunday night prime-time slot by the Public Broadcasting Service (PBS), which scored record ratings when it broadcast Downton Abbey.
American executives believe that the themes of nursing and childbirth, set against a gritty period backdrop, will translate to US viewers despite the lack of glamorous gowns and high-born scheming which has made Downton Abbey an international hit. Adapted by Heidi Thomas from Jennifer Worth's memoirs, the series stars Jessica Raine as Jenny Lee, a young midwife who is attached to an order of nursing nuns and must navigate the teeming East End streets and a culture very different from the English countryside where she was raised.
The series, which attracted nearly 10 million viewers on BBC1, is being sold to international broadcasters by BBC Worldwide, the corporation's commercial wing.
The success of Downton Abbey has prompted renewed international enthusiasm for British period drama. When Downton Abbey aired in the US, fans held dinner parties dressed in 1930s outfits. The series-two finale in February recorded 5.4 million viewers, PBS's highest ratings for two years. PBS will pair Call The Midwife with Upstairs, Downstairs, the BBC's revived version of the Edwardian-era domestic saga, to create a Sunday night "destination" for viewers wanting the best of UK period drama.
PBS is expected to broadcast a special introduction before the midwifery drama, to explain the historical context to US viewers. The actress Laura Linney performed a similar role before Downton Abbey was shown.
Paula Kerger, PBS's president, said: "We look forward to working with our BBC partners to introduce the story and the characters that were so beloved in Britain to the American audience."
Matt Forde, the head of sales at BBC Worldwide America, said: "Call The Midwife has been a phenomenal hit in the UK and we expect that its appeal will successfully cross the pond."
Register for free to continue reading
Registration is a free and easy way to support our truly independent journalism
By registering, you will also enjoy limited access to Premium articles, exclusive newsletters, commenting, and virtual events with our leading journalists
Already have an account? sign in
Register for free to continue reading
Registration is a free and easy way to support our truly independent journalism
By registering, you will also enjoy limited access to Premium articles, exclusive newsletters, commenting, and virtual events with our leading journalists
Already have an account? sign in
Join our new commenting forum
Join thought-provoking conversations, follow other Independent readers and see their replies