New York's 'hippest orchestra' to create Breaking Bad opera
Artisitic director Sung Jin Hong says he'd love Bryan Cranston to get involved
Alice Jones
Friday 18 October 2013 09:04 Comments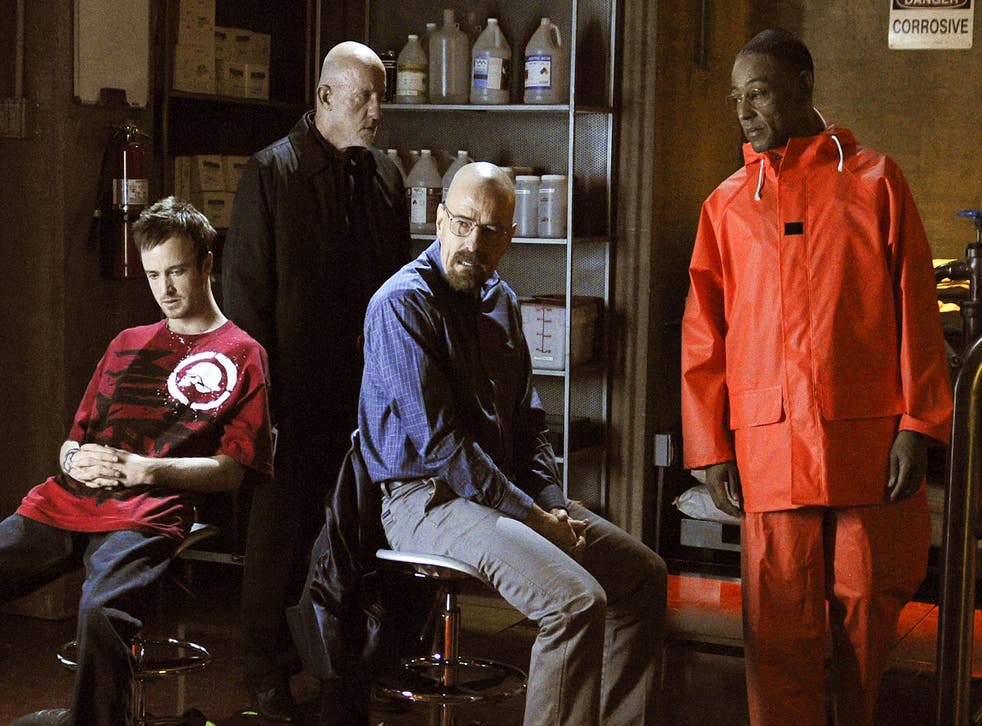 Don Giovanni, Simon Boccanegra… Walt White. It had to happen – Breaking Bad is to be reborn as an opera, which will open in New York next year. Breaking Bad – Ozymandias will be composed by Sung Jin Hong the artistic director of One World Symphony, billed "New York's hippest orchestra", and will draw parallels with Shelley's famous poem, which was used as the title of a seminal episode in the fifth series.
"Similar to the downfall of Ozymandias, Walt White with all his brilliance and power does not foresee his inevitable destruction and demise of all those that surround him," Hong tells me. "Shelley's Ozymandias reminds us that human life and materialistic values are temporary and are bound to end. All are subject to the laws of time. How about the classics - works by Beethoven and Van Gogh? Sometime in the future, will we possibly consider Breaking Bad, a contemporary classic of Greek or Shakespearean magnitude?"
Hong has previously composed work inspired by Paulo Coehlo's The Alchemist and Sylvia Plath. The Breaking Bad mini-opera is still in its earliest stages and Hong has invited fans to make suggestions. At this stage, he is not planning to incorporate the theme music of Dave Porter into his score. "However, I love what he did to serve the drama during all five seasons. As the characters evolved and narratives unfolded, his music did too. During the final season his music became darker, richer, and more tragic, with a more diverse palette of sonorities, without the sentimentality."
The hero will be either Ozymandias or Walt White, or potentially both, adds Hong. "I'm planning to explore all the possibilities in casting the appropriate artists. Opera has been changing and has been influenced by contemporary culture. So, Walter White's 'opera voice' may fuse diverse musical styles. Imagine if Bryan Cranston is available and interested to play the lead? I would be honoured to compose and work with the inspiring artist. Would he be open to Sprechgesang (speech-singing)?"
Now there's a question.
Mother Lowry
The Lowry revolution continues. As Tate Britain's popular exhibition closes, a new play is set to open in the West End. Mrs Lowry and Son by Martyn Hesford will explore the difficult relationship between the artist and his mother and has been backed by Lowry fan Ian McKellen and David Hare, among others, the playwright said.
"I've been trying to get interest in a screenplay for 15 years", says Hesford, who was born in Salford. "People said he's unsexy or too old-fashioned. Now the world has gone mad for him." Hesford, whose Kenneth Williams biopic, Fantabulosa!, starring Michael Sheen was nominated for a BAFTA was working on another play at Hampstead Theatre when his unfinished Lowry script was picked up and fast-tracked onto the stage in the wake of Lowry's re-evaluation by the Tate.
In the two-hander, which opens at Trafalgar Studios on 30 October, Lowry (played by Michael Begley) is 47 and working as a rent collector by day, caring for his demanding, invalid mother (June Watson) by night and trying to paint in what little spare time remains. "She was bed-ridden for 10 years. The only time he could paint was when she was asleep. It was a dysfunctional love", says Hesford. "He wanted so much for his mother to enjoy his paintings but to her they were the ugliest thing in the world. Relatives would visit and offer her a few shillings for one of them and she'd say, 'Just take it'. She would be astounded by his success today."
Jennifer Rubell
The mania of Frieze can get a bit much, so thank goodness for the New York artist Jennifer Rubell who is offering weary art-lovers a place to snuggle up and feel loved. The sculptor has produced an 8m-long fibreglass replica of her own womb and is "actively encouraging" visitors to Stephen Friedman Gallery's stand at the London art fair to climb inside. Rubell made the sculpture when she was 8 months pregnant from scans of her naked body, leaving a void for art-lovers where her baby should be.
Rubell has previously installed a waxwork of Prince William in the window of the gallery and invited visitors to pose as Kate Middleton on its arm. Portrait of the Artist is a gesture of love to her unknown audience, she says: "I will nurture you, I will sacrifice all for you, I will do everything in my power on this Earth to give you whatever it is you are looking for. I will love you, whoever you are, whenever you come, whatever you think of me, forever."
Access unlimited streaming of movies and TV shows with Amazon Prime Video Sign up now for a 30-day free trial
Sign up
It is on sale for US$200,000, a gallery spokesperson adds.
Nina Stibbe
Next month, Penguin publishes the debut book by Nina Stibbe, a former commissioning editor at Routledge. Love, Nina, A Nanny Writes Home consists of youthful letters written by Stibbe to her sister. Why read them? Well, aged 20, Stibbe moved to London from Leicestershire to work as nanny to the two sons of Mary Kay Wilmers, editor of the London Review of Books, and Stephen Frears. Deborah Moggach, Jonathan Miller and Michael Frayn were all part of the neighbourhood gang. And Alan Bennett lived next door, regularly dropping in to offer cooking advice.
"I didn't even think they were that important or grand", Stibbe tells The Bookseller. "Where I'm from really posh people didn't live in a terraced house… I remember phoning my mother and saying, 'Oh, Alan Bennett came for tea; I think he's some sort of playwright."
Register for free to continue reading
Registration is a free and easy way to support our truly independent journalism
By registering, you will also enjoy limited access to Premium articles, exclusive newsletters, commenting, and virtual events with our leading journalists
Already have an account? sign in
Join our new commenting forum
Join thought-provoking conversations, follow other Independent readers and see their replies