Nigella Lawson returns to television in new cookery show The Taste
Team Nigella, be warned. There are two judges out to rival her charisma...
Ellen E. Jones
Tuesday 07 January 2014 13:25 Comments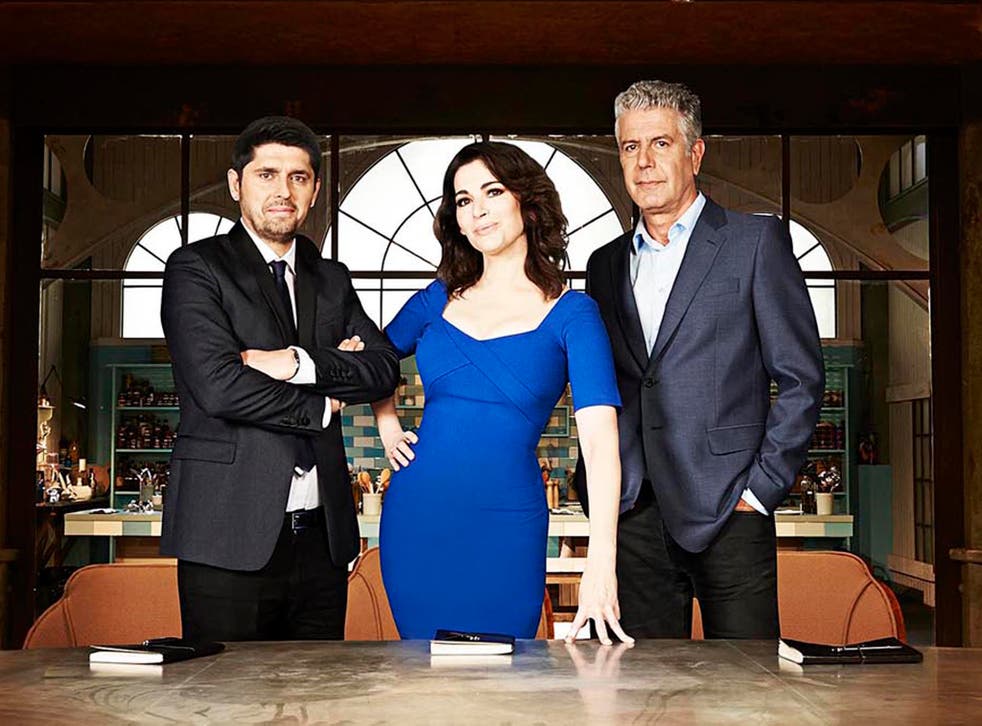 Team Nigella has more reason to celebrate – the Domestic Goddess is back on the box.
Already whipped into a state of devotion by her court appearances, her fan club will be rooting for the queen of cookery porn once more in tonight's first episode of The Taste.
But the programme, which has been adapted from its American format, is no ordinary Nigella Lawson cookery show and no ordinary cookery competition.
The contestants may come from the ranks of professional chefs or enthusiastic home cooks, but all will be judged, sight unseen, on the flavour of a single spoonful.
Our Nigella is joined on the judging panel Anthony Bourdain and Ludo Lefebvre, two equally prestigious cooks who are not as well-known in the UK as they are in America.
Bourdain is the punk-rock New York food writer who used to send busboys out to pick up his heroin from Alphabet City back in his early 80s cheffing days, and he hasn't lost his edge yet.
Ludo Lefebvre, however, is the show's uncontested diva. He stomps and sulks his way through every professional chef stereotype. "He's French," explains Nigella. "He's very French...He's very, very French". You can say that again, Nige.
Tense, flamboyant, and blessed with two more judges who both equal Nigella in charisma, it's already obvious The Taste will be delicious - and from just this single spoonful!
The Taste airs tonight, Tuesday 7 January, at 9pm on Channel 4
Register for free to continue reading
Registration is a free and easy way to support our truly independent journalism
By registering, you will also enjoy limited access to Premium articles, exclusive newsletters, commenting, and virtual events with our leading journalists
Already have an account? sign in
Join our new commenting forum
Join thought-provoking conversations, follow other Independent readers and see their replies