North Korea wants our television: Under Kim Jong-un, TV is pretty grim. But now the Supreme Leader is considering sampling the delights of Top Gear, Tinky Winky and Doctor Who
The decision follows a BBC initiative last year, supported by the Foreign Office, to draw up a list of programmes that the country might consider obtaining
Zander Swinburne
Sunday 06 April 2014 05:27 Comments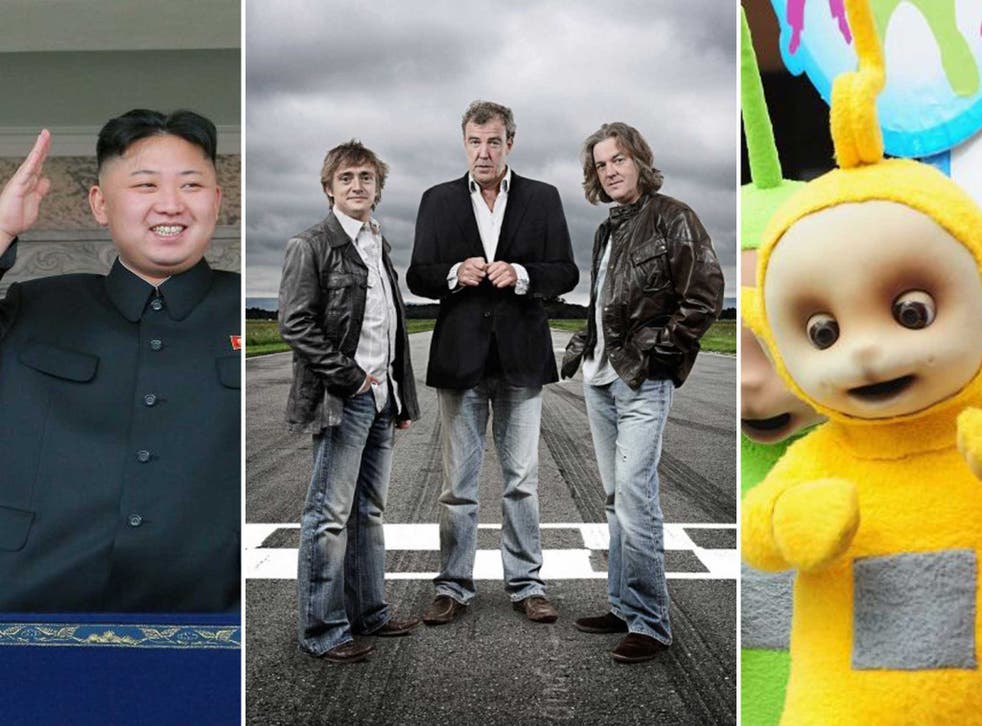 It is the world's most isolated country, a place where the weekly television highlight is It's So Funny, a long-running comedy show in which two uniformed soldiers perform slapstick sketches in between lectures about the greatness of Supreme Leader Kim Jong-un.
Now, however, hope – or at least variety – is at hand for the people of North Korea. After months of negotiations with the British government, the totalitarian dictatorship has finally selected three BBC programmes that the state is willing to consider showing its people: Dr Who, Top Gear and Teletubbies.
"Extensive enquiries have been made about what these three shows involve and if they would be suitable for the [North] Korean people," a Pyongyang insider explained. "Anything too political was not suitable but these are entertainment shows, and one of them is for young children."
The decision follows a BBC initiative last year, supported by the Foreign Office, to draw up a list of programmes that the North Koreans might consider obtaining. At the time, the Foreign Secretary William Hague hailed it as "a good way to improve understanding about the outside world within such a closed society".
Negotiations with the closely controlled state proved tortuous, however. A delegation from the North Korean embassy in London visited the Foreign Office to discuss the proposal, but months were then spent selecting the three shows as worthy of consideration.
A report has been written on each of them to be sent to Pyongyang. No timescale has been given for when an answer is expected, although the British embassy in the North Korean capital is helping to facilitate contact between the BBC's commercial wing, BBC Worldwide, and local broadcasting authorities.
The BBC would not comment on what shows were chosen or why "until or unless an agreement is concluded". But the Doctor Who Appreciation Society had no doubt the timelord's adventures would prove a hit. "If there are children and young adults in North Korea who like the excitement of science fiction and the ability to tell a different story every week," said leading Whovian Antony Wainer, "they'll like Doctor Who."
The country's state broadcaster, Korean Central Television, is only on air for six and a half hours every night. A third of the output is spent praising the government, while another third extols workers to toil harder for the affection of the Dear Leader. Any UK programmes would likely be edited to ensure the removal of ideologically improper elements.
It was reported last month that male university students are being instructed to get the same haircut as Kim Jong-un, though the claim has no reliable source. But the appearance of those on screen is closely regulated, with television news readers required to have specific haircuts and wear certain colours.
Access unlimited streaming of movies and TV shows with Amazon Prime Video Sign up now for a 30-day free trial
Sign up
The watching of non-sanctioned programmes is harshly punished. Eighty people were reportedly shot recently for crimes that included being caught with pirated copies of South Korean programmes. Such penalties have failed to dampen demand, however, perhaps explaining the regime's willingness to consider foreign exports and so make its own channels more popular. Many North Koreans store foreign programmes on USB sticks, which can be pulled out and hidden from police if required.
Register for free to continue reading
Registration is a free and easy way to support our truly independent journalism
By registering, you will also enjoy limited access to Premium articles, exclusive newsletters, commenting, and virtual events with our leading journalists
Already have an account? sign in
Join our new commenting forum
Join thought-provoking conversations, follow other Independent readers and see their replies