One Direction joins Anchorman cast for rendition of 'Afternoon Delight'
The UK group joined Saturday Night Live host Paul Rudd's 'manband'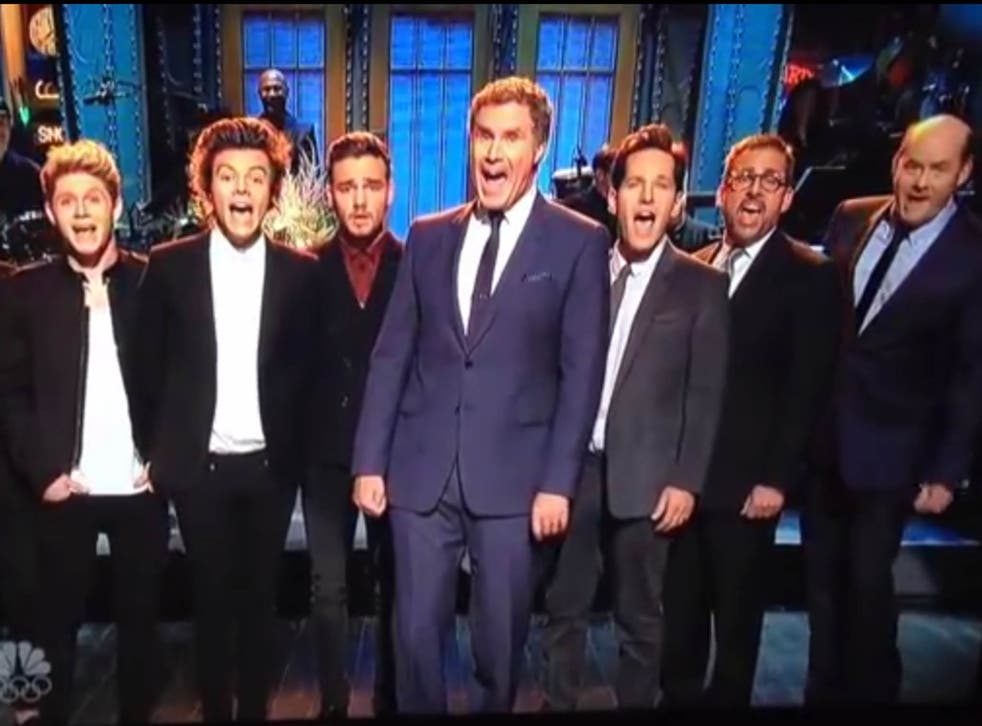 Boy band One Direction have teamed up with the cast of Will Ferrell's comedy phenomenon Anchorman for an a cappella rendition of "Afternoon Delight" on US late-night show Saturday Night Live.
Scroll down to watch the video
The British pop group joined actor Paul Rudd's "manband" - the stars of Anchorman 2: The Legend Continues - for a performance of the 1976 Starland Vocal Band song.
"Afternoon Delight" and its sexually suggestive lyrics featured on the soundtrack to the first Ron Burgundy movie.
But before the show's unique rendition there was plenty of banter shared between One Direction and the Anchorman cast.
"Why don't you go and sit on Santa's lap and ask for a pair of b***s?" Steve 'Brick' Carrell asked the former X Factor contestants.
Earlier in the show, third-time host Rudd had joked with the audience about how glad he was to be presenting without the likes of Paul McCartney or Beyoncé to overshadow him, when One Direction appeared on stage to a loud crowd reaction.
"Don't worry Paul we're not here to outshine you," said Harry Styles, before Niall Horan assured him that the group were quite happy to "just blow kisses and stuff".
Horan appeared to forget some of the words to "Afternoon Delight", but had a chance to redeem himself during One Direction's performance of their latest single "Story Of My Life" and new album track "Through The Dark".
Anchorman 2 in pictures

Show all 11
Register for free to continue reading
Registration is a free and easy way to support our truly independent journalism
By registering, you will also enjoy limited access to Premium articles, exclusive newsletters, commenting, and virtual events with our leading journalists
Already have an account? sign in
Register for free to continue reading
Registration is a free and easy way to support our truly independent journalism
By registering, you will also enjoy limited access to Premium articles, exclusive newsletters, commenting, and virtual events with our leading journalists
Already have an account? sign in
Join our new commenting forum
Join thought-provoking conversations, follow other Independent readers and see their replies