Oprah: A timeline of the career that made her one of America's richest women
A brief look at the career of one of TV's biggest stars
Oprah With Meghan And Harry - trailer
Oprah Winfrey has conducted some high-profile interviews down the years, but few can match the buzz around what's coming tonight: a sit-down with Prince Harry and Meghan Markle.
The interview, which will air in the UK on ITV on Monday 8 March, one day after airing on CBS in the US, will be the royal couple's first in-depth interview since stepping down from their duties as senior royals in March 2020.
US TV network CBS revealed that the special will take the form of an "intimate conversation", and is said to cover "wide-ranging" topics.
Winfrey is one of the world's most famous media personalities, and has a multi-billion-dollar net worth.
Follow Harry and Meghan Oprah interview live: Latest news and updates
Her talk show The The Oprah Winfrey Show, which ran for 25 years until 2011, was one of the biggest daytime talk shows of all time, and saw Winfrey chair memorable interviews with celebrities including Tom Cruise and Michael Jackson.
Here is a brief timeline of Winfrey's career...
29 January 1954: Oprah Winfrey is born
Winfrey was born in Kosciusko, Mississippi, and raised by her grandmother on a farm. She moved to Milwaukee at age six to live with her mother.
She later revealed that she was abused during this time, and ran away from home, moving in with her father in Nashville at age 13.
1971: Winfrey wins the Miss Black Tennessee beauty pageant
Winfrey was named Miss Black Tennessee in the state beauty competition in 1971, and was scouted by a local radio station, WVOL, which hired her as a part-time newsreader.
Winfrey worked at WVOL throughout her final year of high school and during college.
2 January 1984: Winfrey takes over as host of AM Chicago
During the 1970s, Winfrey enjoyed stints as a news anchor on Nashville's WLAC-TV station and Baltimore's WJZ-TV, moving on to host WJZ's local talk show People Are Talking alongside Richard Sher in 1978.
But the move that proved transformative was when she relocated to Chicago to helm the low-rated talk show AM Chicago on the WLS-TV network. Under the auspices of Winfrey, the show quickly grew into a ratings smash.
18 December 1985: The Colour Purple is released in cinemas
Winfrey's profile was given a considerable boost when she took on a sizable role in Steven Spielberg's Oscar-nominated period drama The Colour Purple, based on the novel by Alice Walker.
She was nominated for an Academy Award and a Golden Globe for her performance, ultimately missing out on both.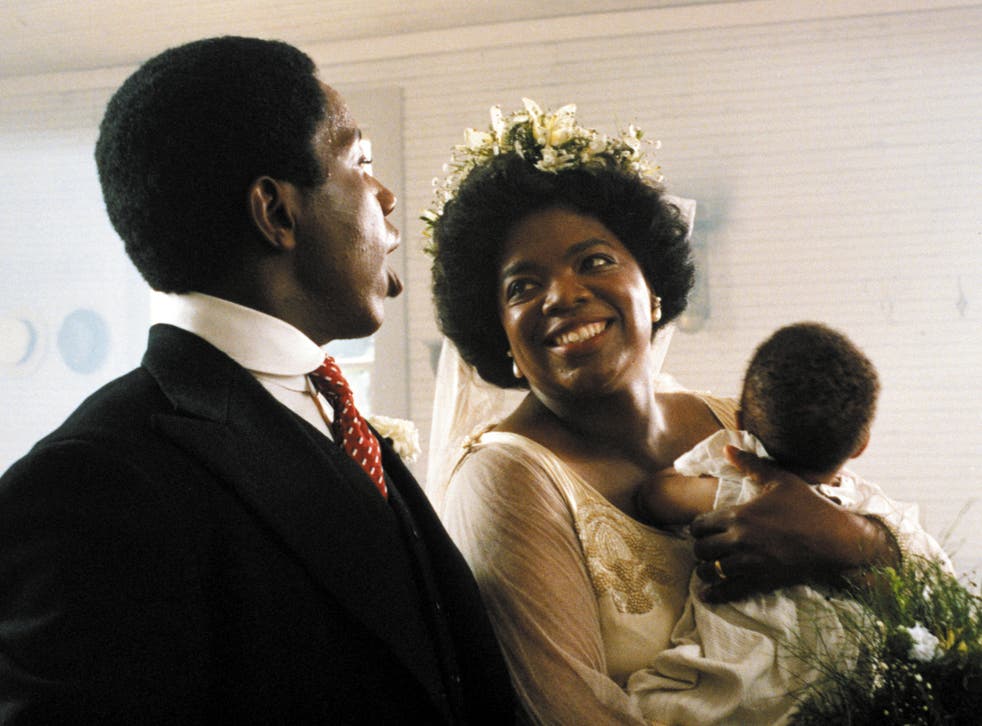 8 September 1986: The Oprah Winfrey Show debuts
Winfrey's revitalised AM Chicago proved a ratings hit, and launched her to state-wide fame; it was soon renamed The Oprah Winfrey Show, expanded to an hour, and syndicated nationally.
The Oprah Winfrey Show usurped The Phil Donahue Show as the highest-rated daytime talk show in the US.
10 February 1993: Winfrey interviews Michael Jackson
In 1993, Winfrey broadcast an interview with singer-songwriter Michael Jackson, in what was his first TV interview for over a decade.
In the US, the special was watched by more than 90 million people. Jackson spoke about childhood abuse and revealed to the public that he had the skin condition vitiligo. It remains one of Winfrey's most sensational specials.
26 February 1998: Winfrey wins legal battle over defamation
In the late 1990s, Winfrey was engaged in a legal battle after Texas cattlemen claimed that her special on mad cow disease had maliciously harmed the US beef industry.
Jurors rejected the multimillion-dollar defamation suit in 1998.
19 April 2000: The first issue of O is published
Having already proved a major power in the publishing world with her televised Book Club recommendations, Winfrey branched out into the world of magazines with the self-branded O, The Oprah Magazine.
It remained in print until 2020, after which the mag moved to online-only.
2002: Winfrey wins the Bob Hope Humanitarian Award
Among Winfrey's many career honours, this holds a special place: in 2002, she became the first-ever recipient of the Bob Hope Humanitarian Award.
The presenter was given the award in recognition of her services to TV and film at the Emmy Award ceremony.
2003: Winfrey becomes the world's first Black female billionaire
Forbes' annual list of the world's billionaires announced that Winfrey had become the first Black woman to be worth more than a billion dollars back in 2003. Since making the list, Winfrey's wealth has more than doubled.
19 October 2006: Winfrey interviews Barack Obama
Winfrey threw her support behind Obama before the senator had announced he was running for president - her endorsement of his 2006 book The Audacity of Hope is often credited for launching it to No 1 on the New York Time's bestseller list.
Obama's appearance on The Oprah Winfrey Show (one of several)is viewed as a significant waypoint in his journey to being elected. Before the 2008 election, Winfrey endorsed Obama as her chosen candidate.
1 January 2011: Oprah Winfrey Network is launched
In 2011, Winfrey celebrated the launch of her own TV network, dedicated to entertainment and lifestyle programming.
25 May 2011: The Oprah Winfrey Show airs its final episode
Winfrey's hugely successful series came to an end in 2011, with the expiration of her contract.
In the years since, she has continued to host talk shows on a number of different platforms, and currently presents The Oprah Conversation and Oprah's Book Club for Apple TV+.
20 November 2013: Winfrey receives the Presidential Medal of Freedom
President Obama recognised Winfrey's philanthropy and work as "one of the world's most successful broadcast journalists" when he awarded her the country's highest civilian honour in 2013.