Peep Show star David Mitchell defends panel shows after attack by Fast Show co-creator Charlie Higson
Panel show regular answers criticism that format crowds out sketch shows
Adam Sherwin
Wednesday 25 September 2013 22:09 Comments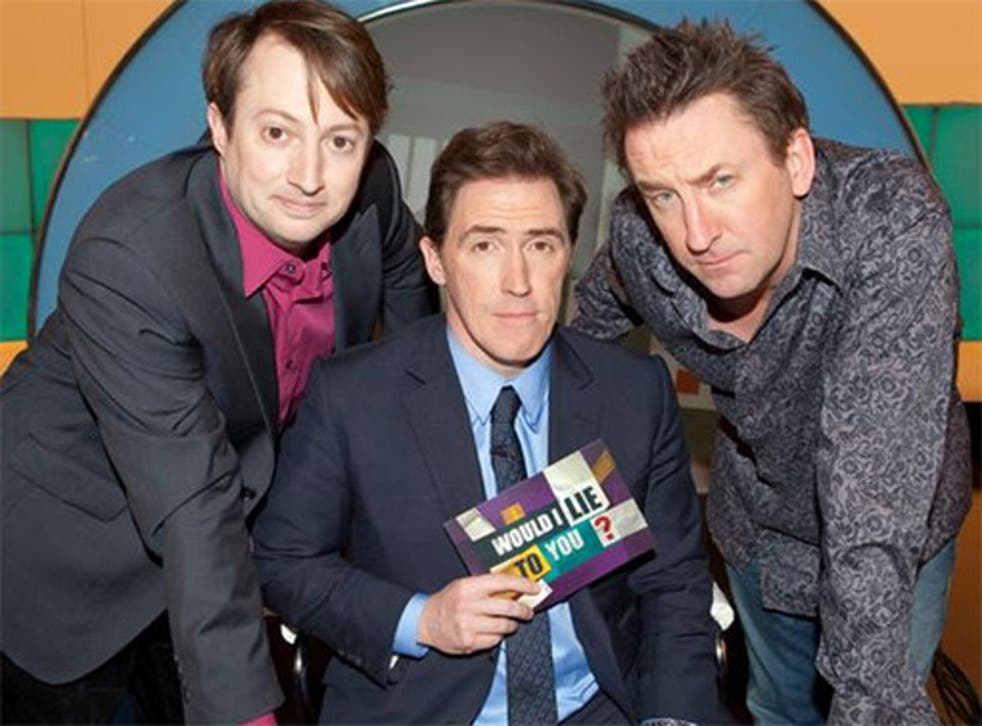 From 8 Out Of 10 Cats to Would I Lie To You?, television panel shows have clogged up the schedules and caused a comedy crisis, according to Charlie Higson.
But now David Mitchell has stepped into the row, arguing that panel-based programmes offer a higher, spontaneous form of wit that sketch shows and scripted series often fail to match.
Higson, the Fast Show star, last week argued that the great catchphrase-creating, British comedy sketch show had been erased from schedules in favour of a plethora of "cheaper" panel shows.
However, Mitchell, a ubiquitous panel show figure, who has appeared on QI, Mock The Week and 8 Out Of Ten and is a team captain on the BBC One series Would I Lie To You?, believes the "bantering comics" format has been unjustly maligned.
Mitchell will host a new Channel 4 panel show Was It Something I Said? in which teams, captained by Micky Flanagan and Richard Ayoade, answer questions based on quotations, tweets and autobiographies.
"There was a quote from Catherine Zeta-Jones about playing golf with her husband Michael Douglas. We essentially all started to imagine the scene of the two of them playing golf and that was very enjoyable and turned into a really fun bit of TV," Mitchell said.
"It is moments like that which, for me, justify the existence of panel shows because no-one would ever have written those words. It purely came out of that combination of people which proves panel shows can produce funny TV in a way you could never write into a sitcom or a sketch show and thereby justifies its place on screen. I think it is a great form of entertainment and we shouldn't lose sight of that."
Despite claims that panel shows are crowding out other forms of comedy, the actor continues to star in new sketch shows and sitcoms with his writing partner Robert Webb - although Peep Show, the long running sitcom which launched their careers, is to be axed by Channel 4.
Was It Something I Said? justified its addition to a crowded panel show universe, he believes, because it is "jolly and irreverent and funny but also a bit informative and interesting. An amusing way of watching some comedians trying to solve a quiz about famous people and vaguely impart some interesting information about them at the same time."
Access unlimited streaming of movies and TV shows with Amazon Prime Video Sign up now for a 30-day free trial
Sign up
Mitchell admitted that "going on a show as a panellist is the easiest fun in my job, you don't have to think about it in advance. Whether hosting or writing or acting it takes a lot more preparation so in a sense it's a lot more like work."
As host for the Channel 4 show, Mitchell tries not to intervene in the banter. "Usually the panellists are people who are bright and want to talk and you need them to keep talking so you can't slap them down hard because they might go quiet and then you're stuck. So it is my policy generally to let them talk and drift... You never know in that kind of comic situation where a chat is going and some of the best material comes when things are allowed to run and breathe."
Higson, a regular Harry Enfield and Paul Whitehouse collaborator, complained that there had been no major sketch show success since Little Britain. "They are quite expensive to make and panel shows are also cheaper," said Higson, adding that comedy often gets harshly dismissed, making it harder for commissioning editors to commit to large-scale projects.
Guesting game: Mitchell's shows
Would I Lie to You?
As a team captain on the BBC1 series it is Mitchell's job to sort the lies from the truth among the tales recounted by celebrities.
The Unbelievable Truth
Mitchell brings inventive wit to chairing role in "truth-and-lies" Radio 4 show, which bears some similarity to I'm Sorry I Haven't a Clue.
QI, Mock the Week, Just a Minute, 8 out of 10 Cats
Mitchell's rise to undisputed panel-show king was built on solid guest performances on television- and radio-schedule fixtures.
The Bubble
BBC2 show hosted by Mitchell in which comedians were tasked to differentiate real news stories from fake ones.
The Big Fat Quiz of the Year
Mitchell has five wins on Channel 4's Big Fat Quiz format, which has paired him with Eddie Izzard, Phill Jupitus and Sarah Millican.
Register for free to continue reading
Registration is a free and easy way to support our truly independent journalism
By registering, you will also enjoy limited access to Premium articles, exclusive newsletters, commenting, and virtual events with our leading journalists
Already have an account? sign in
Join our new commenting forum
Join thought-provoking conversations, follow other Independent readers and see their replies