Pete Davidson's Saturday Night Live sketch parodies Eminem song to explain 'what the hell's an NFT'
NFTs have recently emerged as the latest technology phenomenon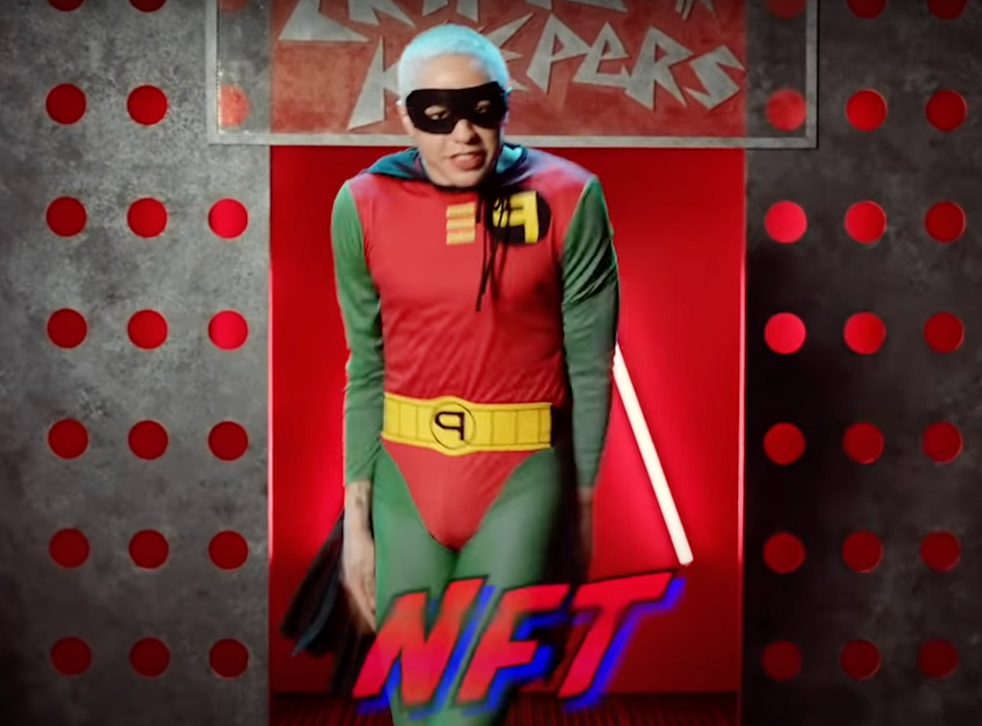 A Saturday Night Live sketch has parodied an Eminem song to explain what an NFT (non-fungible token) is.
Comedian Pete Davidson led the video, which aired on SNL over the weekend. 
Davidson is seen sitting in a classroom wearing a Batman & Robin-style costume identical to the one worn by Eminem in his 2002 music video for the hit track "Without Me".
"Now what the hell's a NFT? Apparently cryptocurrency. Everyone's making so much money. Can you please explain what's an NFT?" Davidson raps in the clip.
The three-minute video also sees the singer Jack Harlow making a guest appearance as a custodian who weighs in on the discussion.
Harlow sings: "Here's the thing about NFTs, it's a non-fungible token you see. Non-fungible means unique: there can only be one, like you and me.
"NFTs are insane, built on a block chain, a digital ledger of transactions. It records information on what's happening. When it's minted you can sell it as art."
As per an explainer on The Independent, an NFT is a unique "non-fungible token" that acts like a digital certificate of authentication, and can be used to prove ownership of a specific piece of music, art, or merchandise, or secure access to live shows.
Read more:
It differs from a normal digital ticket or download file in that it can't be copied.
Over the last few months, NFTs have emerged as the latest phenomenon to grip the art world. Many celebrities including Kings of Leon and Grimes have become involved.
At the beginning of March, Grimes sold a collection of digital artworks for almost $6m (£4.34m) as an endorsement of the NFT craze.
Register for free to continue reading
Registration is a free and easy way to support our truly independent journalism
By registering, you will also enjoy limited access to Premium articles, exclusive newsletters, commenting, and virtual events with our leading journalists
Already have an account? sign in
Register for free to continue reading
Registration is a free and easy way to support our truly independent journalism
By registering, you will also enjoy limited access to Premium articles, exclusive newsletters, commenting, and virtual events with our leading journalists
Already have an account? sign in
Join our new commenting forum
Join thought-provoking conversations, follow other Independent readers and see their replies