Philosophy in psychedelic mash-up as Sir Tom Stoppard meets Pink Floyd, 40 years on
The play Darkside was commissioned by BBC Radio 2 to mark the 40th anniversary of the band's Dark Side of The Moon album
Adam Sherwin
Tuesday 06 August 2013 20:31 Comments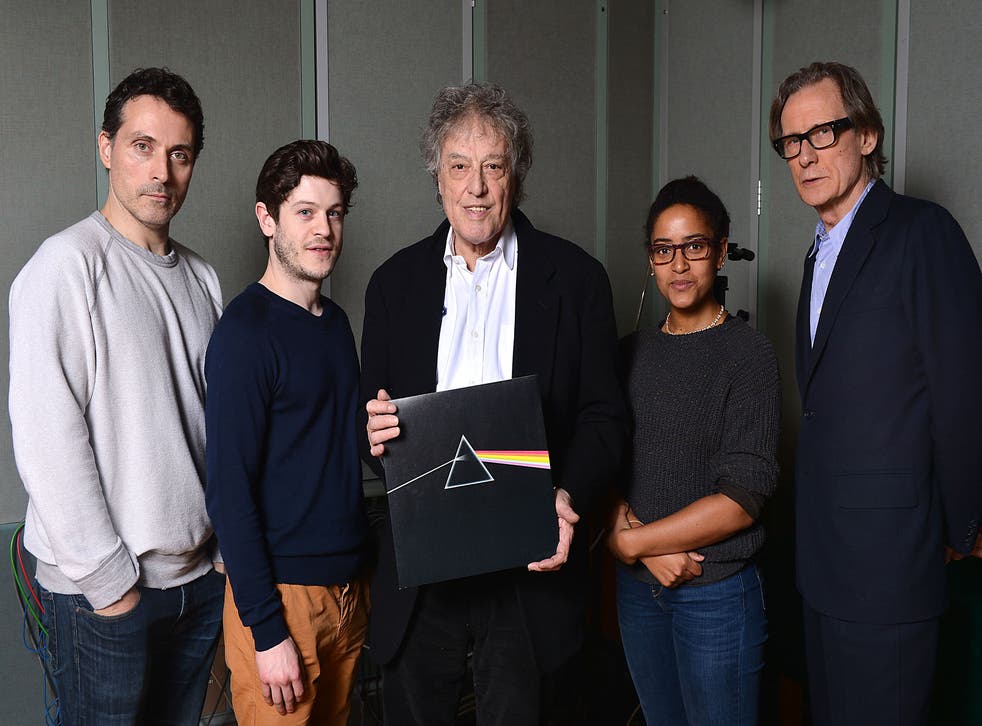 For 40 years, The Dark Side of The Moon has been considered the crowning achievement of the concept album era.
But now Sir Tom Stoppard has transformed the Pink Floyd classic into a psychedelic mash-up of Kantian philosophy, epic rock and John Prescott soundbites after the playwright accomplished a long-held desire to create an original drama around the band's landmark recording.
Stoppard, a long-time Floyd fan, whose plays include Arcadia and Rosencrantz and Guildenstern Are Dead, unveiled Darkside, a new work commissioned by Radio 2 to mark the 40th anniversary of the seminal album, which has sold 50 million copies.
Tracks from the album, including 'Money', 'Breathe' and 'Brain Damage', are woven into an hour-long play, featuring Bill Nighy and Rufus Sewell, which draws out the band's themes of greed, corruption and mental disintegration.
The Independent was invited to join Nick Mason, Pink Floyd's drummer, at a BBC "happening", where guests, including Sir Peter Bazalgette, the Arts Council England chairman, donned headphones to allow listeners to fully immerse themselves in the play, which was accompanied by an appropriately "trippy" light show.
Darkside, a return to the absurdism and debates over moral absolutes of Stoppard's plays such as Jumpers and Rosencrantz and Guildenstern Are Dead, proves to be a dazzling match of high philosophy and Floyd's own angst-ridden, existential questioning.
A challenge to listeners more familiar with Radio 2 fare such as The Organist Entertains, Darkside follows philosophy student Emily as she encounters a series of "thought experiments" which incorporate debates over utilitarian consequentialism, Kant's conception of reason and mankind's inability to spell Nietzsche correctly – all underpinned by Floyd's mournful, atmospheric soundscapes.
'Money' is accompanied by a satirical balloon debate over which should claim the last parachute between a politician and a banker.
A character called the Fat Man declares "the Green Belt is a success – and we're going to build on it", a line initially mangled by John Prescott.
Access unlimited streaming of movies and TV shows with Amazon Prime Video Sign up now for a 30-day free trial
Sign up
Stoppard, whose 2006 play Rock 'n' Roll referenced the late Syd Barrett, also reflects on the mental collapse of Floyd's lost founder.
As the album reaches its melancholy climax with the songs 'Brain Damage' and 'Eclipse', Emily's search for an answer to the question "what is the good?" leads to her own mental breakdown.
Side-stepping an overly-literal, narrative adaptation of its source material, as attempted by the 1982 Floyd film The Wall, Darkside is a mind-expanding hour of boiled-down philosophy, sonic experimentation and classic rock, best appreciated through headphones, just as 70s music fans put on their "cans" to ascertain the truths supposedly concealed within Floyd's concept albums.
Mason was delighted. "I love it," he said. "But I'm tempted to text Tom and tell him it's really great - but there was a lot of actors talking over the music."
Mason, along with Floyd colleagues David Gilmour and Roger Waters had been given an early sight of Stoppard's script. The drummer said: "His imagery is more abstract. There is a lot of abstraction in the album so it is open to a new interpretation.
"We had a story running about pressure and things that bothered us specifically. At the time we made the record we might have heard of Kantian philosophy. We were properly educated so we knew a bit intellectually but this takes it a bit further on."
Sir Tom said: "When Dark Side was a new album in 1973, a friend of mine walked into my room where I was working with a copy in his hand and said 'you really have to do a play about this album'.
"So, when, roughly thirty nine and a half years later, somebody from Radio 2 asked me if I'd like to do some kind of play around the 40th birthday of the Pink Floyd album, it really wasn't a very difficult decision. It became an important record for so many people. It was an important record for me."
A rare foray into scripted drama for Radio 2, which now enjoys a record audience of 15 million listeners, Darkside, to be broadcast over the August bank holiday, was the result of a persuasive phone call to the acclaimed playwright by Jeff Smith, the station's head of music.
Further album adaptations may follow. "We're always looking at original ideas and ways that would help us enhance the distinctive music and drama content we have on the network," a Radio 2 spokesman said.
But Mason warned that the rock-to-radio dramatic crossover must have its limits. "If anyone is going to mess with the crown jewels (of concept albums) I think Tom is a very good choice," he said. "I'm a bit more worried about Led Zeppelin going on The Archers which I understand is the next one."
Darkside, Radio 2, Bank Holiday Monday August 26, 10pm
Register for free to continue reading
Registration is a free and easy way to support our truly independent journalism
By registering, you will also enjoy limited access to Premium articles, exclusive newsletters, commenting, and virtual events with our leading journalists
Already have an account? sign in
Join our new commenting forum
Join thought-provoking conversations, follow other Independent readers and see their replies