Potato famine comedy prompts Irish outrage at Channel 4
Channel commissions sitcom called Hungry from Irish writer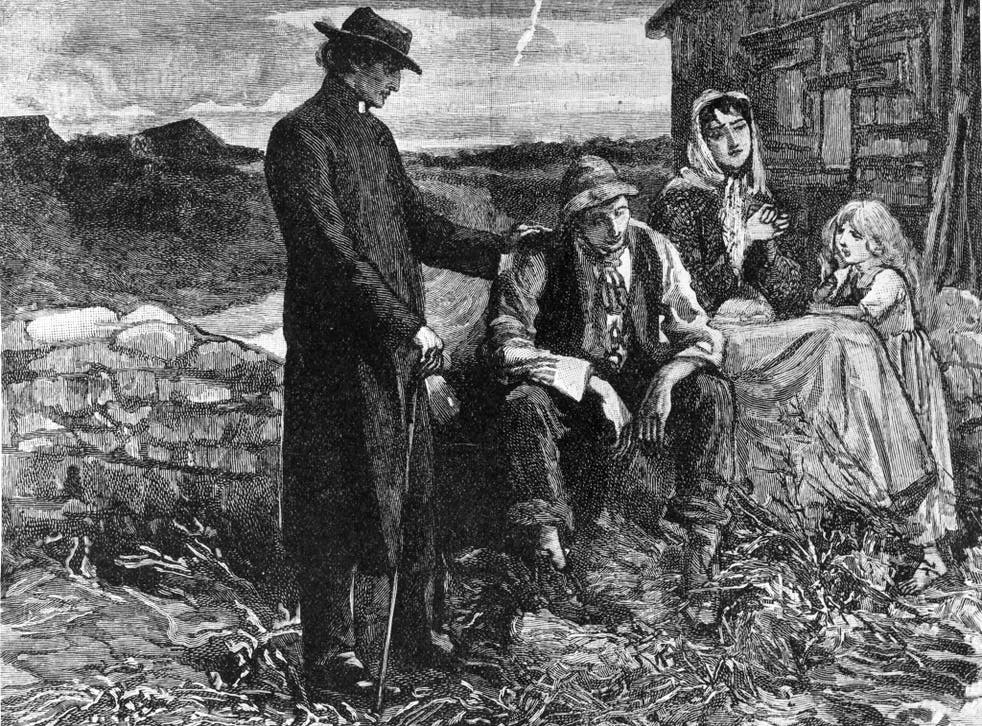 After creating uproar with its coverage of the unemployed in Benefits Street, Channel 4 is generating new outrage after commissioning a comedy series on the Irish potato famine, a tragedy thought to have cost a million lives.
The sitcom, called Hungry, has been revealed by Dublin-based writer Hugh Travers, who told the Irish Times that "we're kind of thinking of it as Shameless in famine Ireland."
News of the project has caused an immediate backlash in Ireland. Dublin councillor David McGuinness claimed the show was intended to "embarrass and denigrate" one of the most painful periods in Irish history.
"Jewish people would never endorse making a comedy of the mass extermination of their ancestors at the hands of the Nazis, Cambodians would never support people laughing at what happened to their people at the hands of the Khmer Rouge and the people of Somalia, Ethiopia or Sudan would never accept the plight of their people, through generational famine, being the source of humour in Britain," he said, calling on Irish broadcasters to shun the project. "I am not surprised that it is a British television outlet funding this venture."
The Great Famine lasted from 1846 until 1851 when Ireland was part of the British Empire, killing one eighth of the population and prompting the emigration of two million people. Niall O'Dowd, of the Irish-American site Irish Central blog, asked: "How about a comedy about Ebola with black kids dying on screen and doctors telling funny jokes about them?"
James Dempsey, of the national Irish radio station NewsTalk, said: "A lot of people have been very quick to be outraged and say this is absolutely insensitive." Others had pointed out that comedies such as Blackadder found humour in dark subjects. He said Travers was not well-enough known in Ireland for people to be able to trust his ability to tread a difficult path.
The best TV to watch in 2015

Show all 13
Some online commentators called on Irish broadcaster RTE to retaliate by making comedies about the London Blitz.
The fact that Hungry is being written by an Irish writer for a British broadcaster added to the consternation. Travers, 31, who is best-known for the award-winning Irish radio drama Lambo, admitted that Channel 4 had given him an "open commission", meaning he could choose "any idea I wanted – which was a massive opportunity and at the same time, seriously daunting."
He selected the famine because "they say 'comedy equals tragedy plus time'," he said. "I don't want to do anything that denies the suffering that people went through, but Ireland has always been good at black humour."
Access unlimited streaming of movies and TV shows with Amazon Prime Video Sign up now for a 30-day free trial
Sign up
Amidst initial anger at the idea of a comedy on the famine, some called for the project to be judged only after it had been viewed. One fan of Channel 4 hit Father Ted noted that a synopsis of a comedy about rural Irish priests might have caused offence. "A funny person thought that three bumbling idiot priests on an Island would be funny. That's enough to piss off the Irish and Catholics but the series managed to be hilarious without being offensive."
Channel 4 said: "We have commissioned a script set in 19th century Ireland by Dublin-based writer Hugh Travers and Irish-based production company Grand Pictures - however this is in the development process and is not currently planned to air."
Register for free to continue reading
Registration is a free and easy way to support our truly independent journalism
By registering, you will also enjoy limited access to Premium articles, exclusive newsletters, commenting, and virtual events with our leading journalists
Already have an account? sign in
Register for free to continue reading
Registration is a free and easy way to support our truly independent journalism
By registering, you will also enjoy limited access to Premium articles, exclusive newsletters, commenting, and virtual events with our leading journalists
Already have an account? sign in
Join our new commenting forum
Join thought-provoking conversations, follow other Independent readers and see their replies