Rick and Morty season 3 episode 2 release date: When will the AdultSwim show return?
'A pickle will rise...'
Christopher Hooton
Tuesday 13 June 2017 09:03 Comments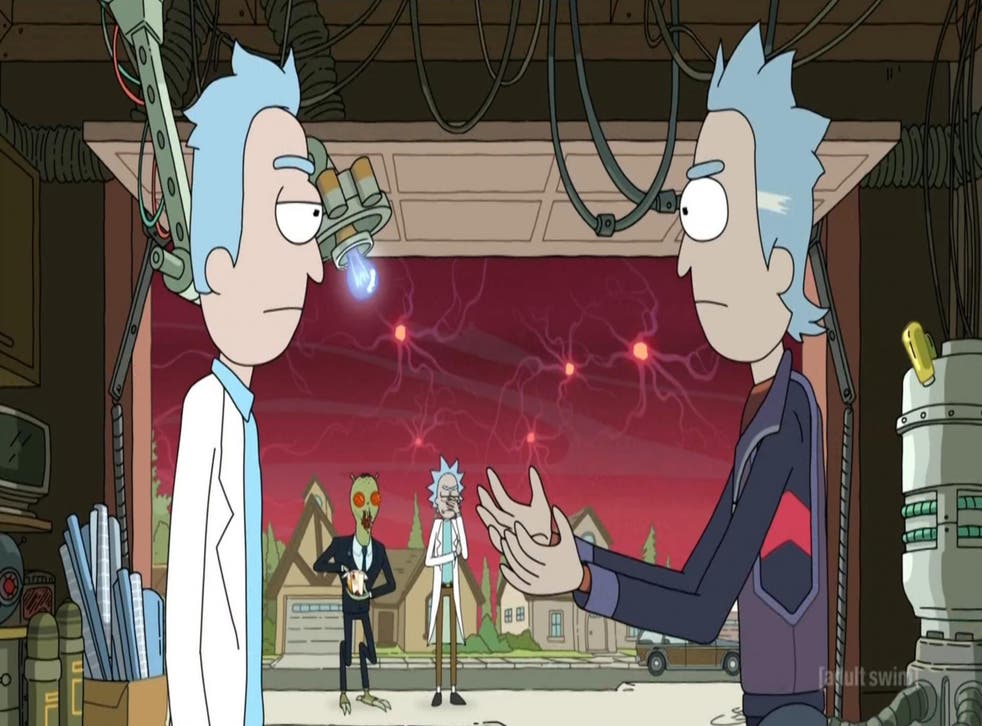 Rick and Morty surprised and delighted fans on April Fools' Day by releasing the first episode of season 3, 'The Rickshank Rickdemption', out of nowhere.
Sadly it wasn't a case of the whole season starting early however, just a taster ahead of the arrival of the rest of it in a few months.
The show's official Twitter account promised more episodes on Adult Swim "this summer" after the first went out, with the previous season having started in July in 2015.
The delay on Rick and Morty season 3 has been down to how difficult its creators find it to write, "struggling not to overthink or underthink [it]" Dan Harmon explained, trying to express "how hard and confusing it can be in a RAM writers room." You can read his comments about the delay in full below.
Episode 1 was released by Adult Swim after a fan simply asked for it on Twitter.
"Happy now mother FUCKA," Harmon joked in response.
The second episode of the new season will be titled 'Rickmancing the Stone', with the season thought to consist of 14 episodes.
Dan Harmon's Rick and Morty Twitter clarification:
"Re: confusion/concern about my comments in Indiewire interview regarding Rick and Morty. The "fights" I refer to aren't "the reason for the delay." The "fights" also aren't what you call a fight when you have one in your home or street. I'm talking about fights like "what joke to do." It's the statements back to back that's confusing: I was saying "the buck stops with me and Justin." It was our usual perfectionism, etc. Then, I was moving on, in trademark rambling, to try to express how hard and confusing it can be in a RAM writers room. Chasing tails.
"I understand and we are flattered that in an information vacuum, with the show so late, any morsel of info is going to have huge weight. But the truth is not dramatic. It's quite boring. We love our show. It's a weird show that we struggle to not overthink OR underthink. As for now, they're drawing it.
"We don't update on exactly where every episode is in pipeline for two reasons (uh oh sub enumeration): One is that we want you harassing the bosses as opposed to hard-at-work artists and editors, or writers that finished months ago. The other is that it is out of our jurisdiction to discuss schedule. That's Adult Swim's biz. Totally unrelated. Hence the info shortage.
Rick and Morty - Season 3 Promo
"So, I'm sorry I can't say "we fractured a creative valve in sector three" or "it's Paul's fault. GET HIM!" No hidden truth. We slow. Sorry. Part of what I was trying to express is that WE would sit and ponder, what's the problem here, how can we write faster, why we so slow? And then we'd go "what made us faster in season one" and then we'd go "we didn't sit here talking about this, let's just do this," etc.
"I tell you, as a self destructively honest guy, Justin and I have literally never fought. Season three isn't late because of "fighting." In fact, ironically, maybe THAT's the delay-cause. We respect and terrify each other and always want the other to be happy."
Register for free to continue reading
Registration is a free and easy way to support our truly independent journalism
By registering, you will also enjoy limited access to Premium articles, exclusive newsletters, commenting, and virtual events with our leading journalists
Already have an account? sign in
Join our new commenting forum
Join thought-provoking conversations, follow other Independent readers and see their replies