SAG Awards: Bryan Cranston, aka Breaking Bad's Walter White, calls cast 'nicest white supremacist Nazis ever'
The show's leading man made the joke during his best actor acceptance speech at the Screen Actors Guild Awards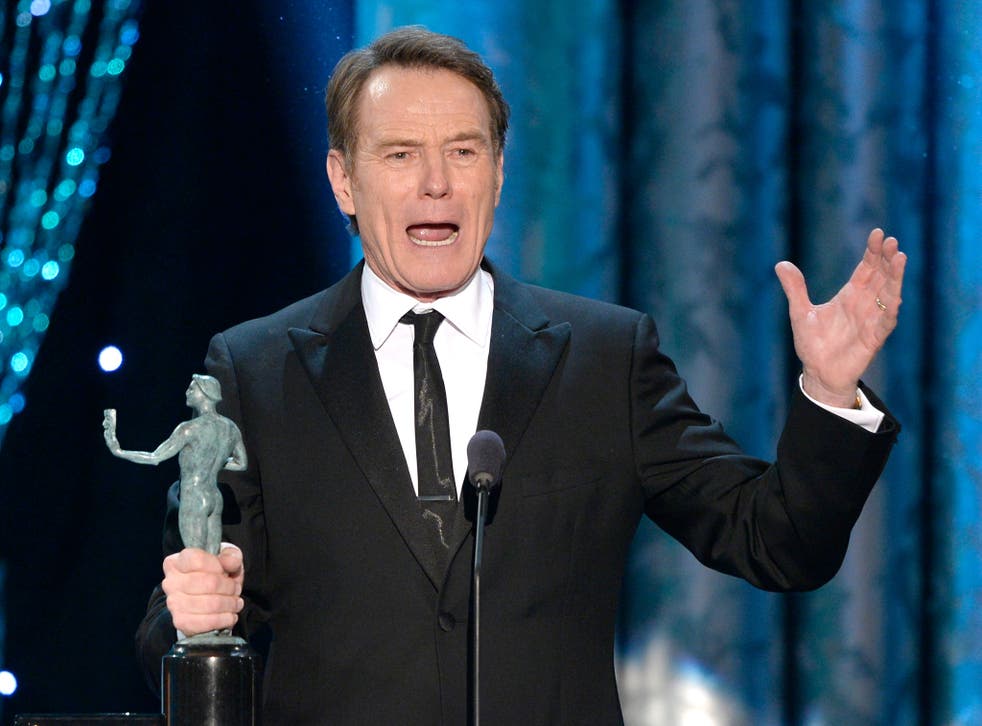 Bryan Cranston jokingly referred to his Breaking Bad castmates as 'the nicest bunch of white supremacist Nazis ever' on stage at the Screen Actors Guild Awards on Saturday night.
The 57-year-old was collecting the award along with the rest of the cast for for best ensemble in a drama series when he made the quip.
Referencing the final season's antagonists - a group of neo-nazis that his character murders - Mr Cranston said: "We have the nicest bunch of white supremacist Nazis I have ever worked with.
"I swear to you I would kill you all over again."
Mr Cranston also picked up the award for best male actor in a drama series for his role as chemistry teacher turned Crystal Meth producer Walter White.
Voted for by members of the Screen Actors Guild union, the top honour - cast in a motion picture - went to American Hustle.
Other winners included Cate Blanchete for her role in Blue Jasmine and Matthew McConaughey for Dallas Buyers Club.
Brit Maggie Smith meanwhile took home the award for best female in a drama series for her role in Downton Abbey.
Here's the full list of winners:
Cast in a motion picture: American Hustle
Male actor in a leading role: Matthew McConaughey, Dallas Buyers Club
Female actor in a leading role: Cate Blanchett, Blue Jasmine
Male actor in a supporting role: Jared Leto, Dallas Buyers Club
Female actor in a supporting role: Lupita Nyong'o, 12 Years a Slave
Male actor in a comedy series: Ty Burrell, Modern Family
Female actor in a comedy series: Julia Louis-Dreyfus, Veep
Ensemble in a comedy series: Modern Family
Male actor in a TV movie or miniseries: Michael Douglas, Behind the Candelabra
Female actor in a TV movie or miniseries: Helen Mirren, Phil Spector
Male actor in a drama series: Bryan Cranston, Breaking Bad
Female actor in a drama series: Maggie Smith, Downton Abbey
Ensemble in a drama series: Breaking Bad
Register for free to continue reading
Registration is a free and easy way to support our truly independent journalism
By registering, you will also enjoy limited access to Premium articles, exclusive newsletters, commenting, and virtual events with our leading journalists
Already have an account? sign in
Register for free to continue reading
Registration is a free and easy way to support our truly independent journalism
By registering, you will also enjoy limited access to Premium articles, exclusive newsletters, commenting, and virtual events with our leading journalists
Already have an account? sign in
Join our new commenting forum
Join thought-provoking conversations, follow other Independent readers and see their replies