Chilling Adventures of Sabrina: Satanic group suing Netflix for $50m over alleged copyright violation
The Satanic Temple, based in Salem, Massachusetts, claims the show ripped off the design of its statue of the deity Baphomet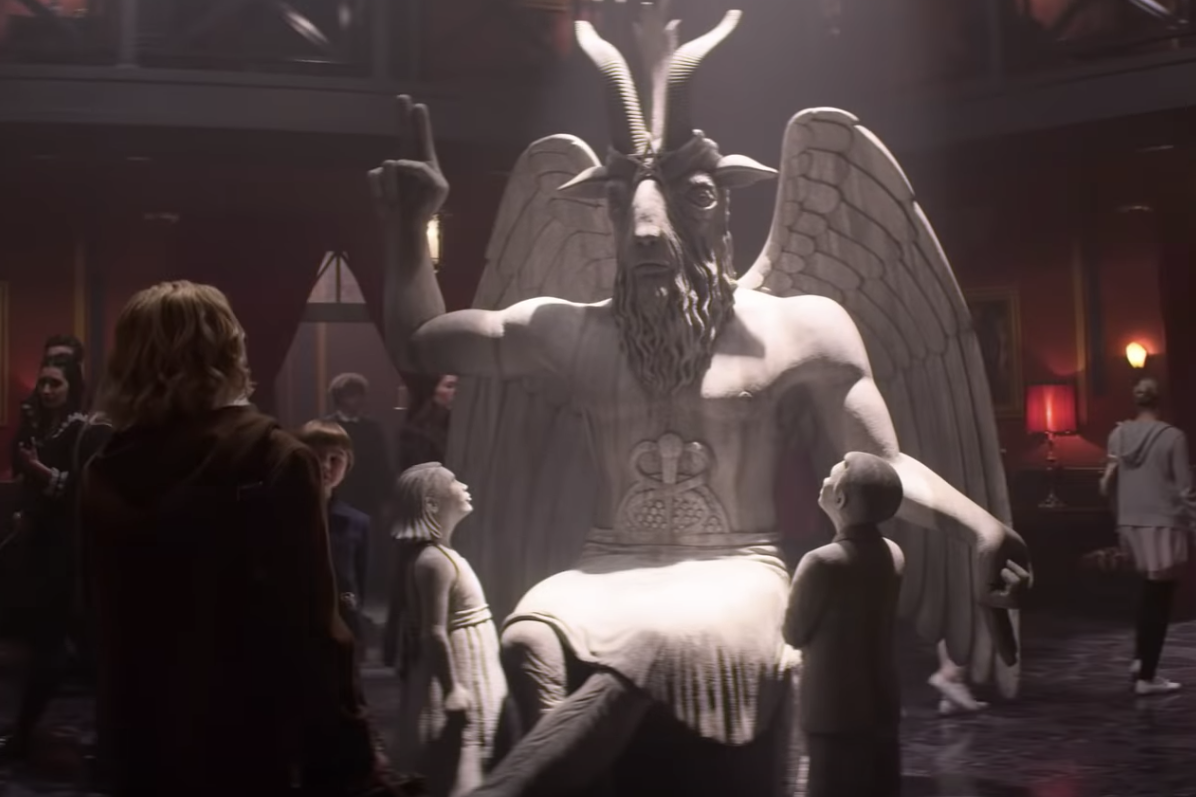 UPDATE: A $50m copyright lawsuit was filed by the Satanic Temple in New York on Thursday.
A Satanic group has announced that it is taking legal action against Netflix's The Chilling Adventures of Sabrina over alleged copyright infringement.
The Satanic Temple, a religious and political organisation based in Salem, Massachusetts, has accused the show of ripping off the design of its statue of the deity Baphomet. In Netflix's reboot of the Archie Comics series, Sabrina Spellman (Kiernan Shipka) attends the Academy of Unseen Arts, a school for witches where Satan – who is most often referred to in the show as "the Dark Lord" – is worshipped.
Lucien Greaves, a co-founder of the Satanic Temple who acts as the group's spokesperson, used Twitter to criticise the design of the statue, which appears in multiple scenes of Sabrina. He accused the show of "appropriating" the group's original Baphomet monument.
"Yes, we are taking legal action regarding #TheChillingAdventuresofSabrina appropriating our copyrighted monument design to promote their asinine Satanic Panic fiction," Greaves tweeted on Sunday.
In a blog post, Greaves said the Satanic Temple isn't claiming rights to the figure of Baphomet, but rather the specific layout of its monument.
"We are claiming copyright infringement for their use of our unique Baphomet monument design in their show as a central icon for a cannibalistic cult," he wrote. "We are not laying claim to Baphomet itself, but rather our original interpretation of Baphomet that has become a central icon to our organisation, much like a corporate logo."
Greaves confirmed to SF Gate that the Satanic Temple's lawyer sent Netflix a letter about the statue.
Both the Satanic Temple's monument and Sabrina's statue feature a horned deity with large wings in its back, with a child on each side of the figure looking up towards it.
Greaves expressed concern that viewers might watch Netflix's show then see the Satanic Temple's monument and think the group copied the horror series.
Access unlimited streaming of movies and TV shows with Amazon Prime Video
Sign up now for a 30-day free trial
Sign up
Access unlimited streaming of movies and TV shows with Amazon Prime Video
Sign up now for a 30-day free trial
Sign up
The 20 best horror films on Netflix
Show all 20
"It's distressing on the grounds that you have to worry about that association being made where people will see your monument and not know which preceded the other, and thinking that you arbitrarily decided to go with the Sabrina design for your Baphomet monument, which rather cheapens our central icon," he said.
He also claims that the show paints Baphomet in an "evil" light and that this could cause viewers to become fearful of the Satanic Temple.
Support free-thinking journalism and attend Independent events
Greaves now wants Netflix to remove the statue from its show entirely.
"I want them to take it out," he added. "It looks like it's a CGI facsimile to begin with. I don't know how much work that takes, but I simply refuse to have our monument used in this way in perpetuity. I don't want our monument to be associated with this."
The Independent has reached out to Netflix for comment.
Join our commenting forum
Join thought-provoking conversations, follow other Independent readers and see their replies