Saturday Night Live: Alec Baldwin returns to SNL as Donald Trump, asks Mike Pence about 'Hamilton'
'I love you, Mike. You're the reason I'm never going to get impeached'
Jack Shepherd
Sunday 20 November 2016 10:12 Comments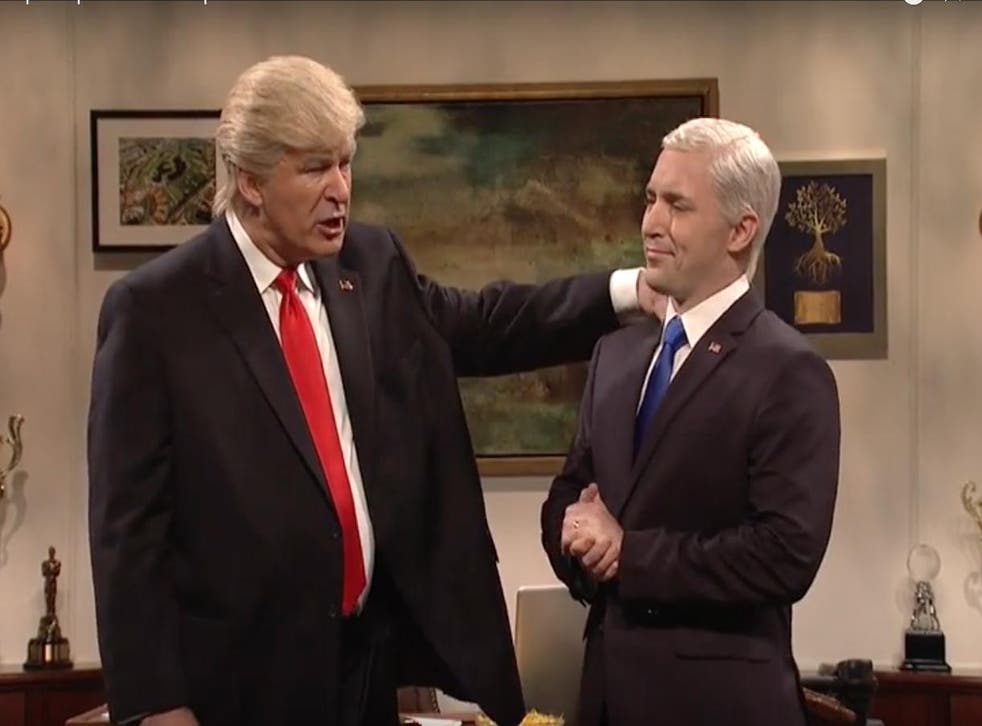 Following Donald Trump being elected the next President of the United States, fans of Saturday Night Live decided to stay positive: at least the show would be graced with another four years of Alec Baldwin's fantastic impersonation.
However, during the first show after the results came through - a show starring Dave Chappell and A Tribe Called Quest - Baldwin was a surprising no-show. Kate Mckinnon starred as Hillary Clinton, but there was no Trump.
Thankfully, Baldwin has returned as the Republic President-elect, just in time to mock the latest cabinet appointments.
"Kellyanne, what are people saying about my cabinet appointments? Do they love them?" asks Balwin's Trump to Mckinnon's take on chief strategist Kellyanne Conway.
She replies: "They're certainly very passionate about them, I just saw one very nice Tweet saying they were 'great for our nation and the future of our children."
"Tremendous, who sent that," responds Trump, to which Conway says: "[Former Imperial Wizard of the Ku Klux Klan] David Duke."
Donald Trump's most controversial quotes

Show all 14
Later on in the sketch, the SNL cast take aim at the recent controversy surrounding Vice President-elect Mike Pence going to the theatre to watch Hamilton.
"I heard you went to see Hamilton, how was that?" ask Trump.
"It was good, I got a free lecture," replies Pence.
"I heard they booed you."
"Absolutely."
"I love you, Mike. You're the reason I'm never going to get impeached." Watch the full clip below, which also feature's Baldwin's Trump having to Google 'What is ISIS'.
Meanwhile, the real Donald Trump recently accused the cast of harassing Pence after the cast made a diversity plea to the VP-elect. Watch the moment here.
Register for free to continue reading
Registration is a free and easy way to support our truly independent journalism
By registering, you will also enjoy limited access to Premium articles, exclusive newsletters, commenting, and virtual events with our leading journalists
Already have an account? sign in
Join our new commenting forum
Join thought-provoking conversations, follow other Independent readers and see their replies