Sherlock's Homes! Fans flock to Bloomsbury address used in BBC's hit show
He strides in and out of 221B Baker Street, but the television sleuth actually turns the key of a door in Gower Street. Oscar Williams meets the neighbours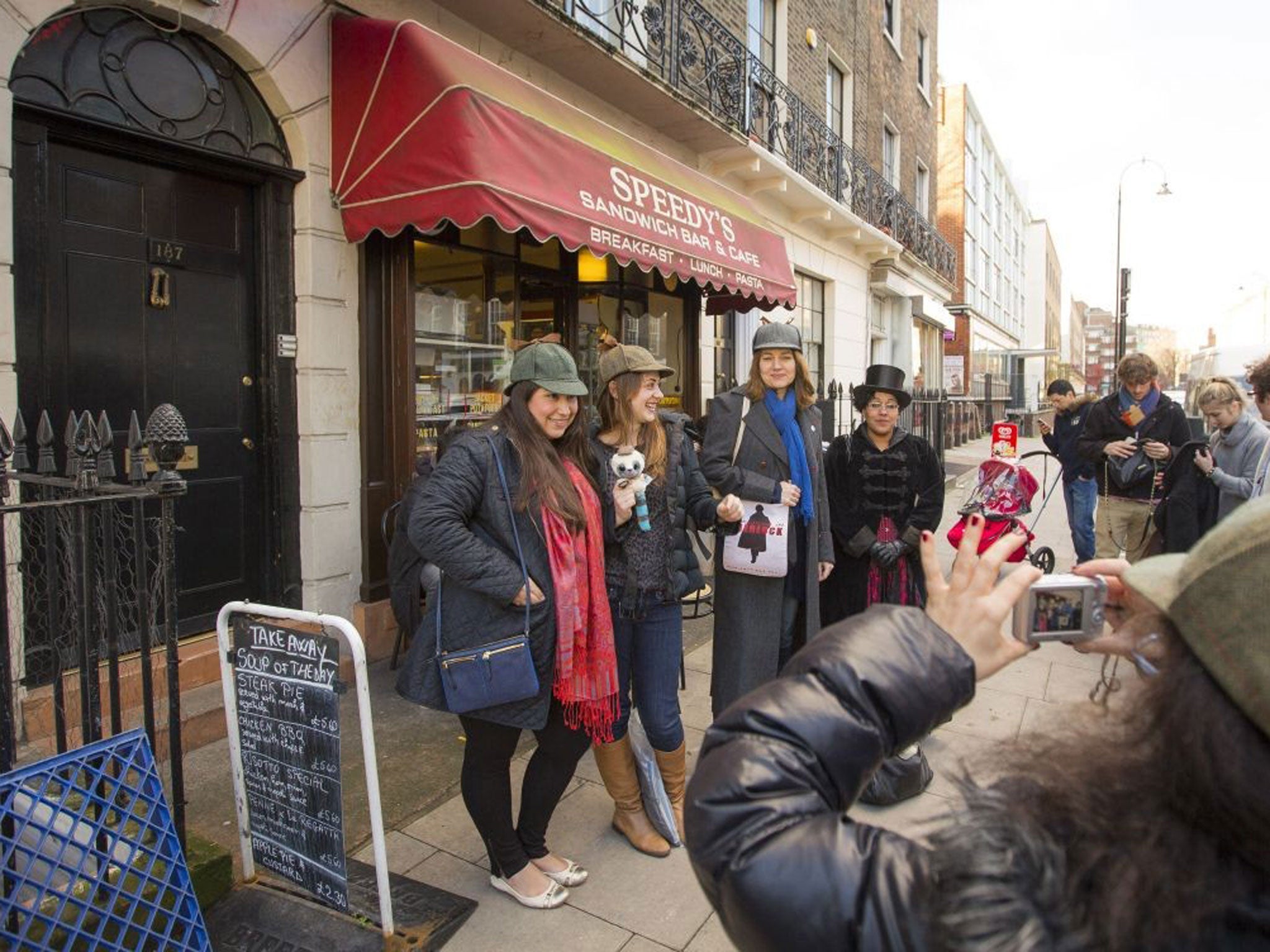 Millions of viewers are expected to tune into the season finale of Sherlock tonight, but Daniel Cosarca, tenant of 187 North Gower Street, London, could be forgiven for not being among them.
The hit BBC television show has made a prime destination of Mr Cosarca's home, used as the exterior of Holmes' 221B Baker Street residence, and prompting the slight inconvenience of gaggles of fans crowding round the front door, and the arrival of a letter for the master sleuth himself.
Mr Cosarca, 22, addresses the situation with good humour and says he hopes the landlord doesn't put up the rent. "Usually we get fans coming at around noon, but it's all day at the weekend," Mr Cosarca, who is completing a masters degree at University College London, told The Independent on Sunday yesterday, as a bunch of tourists from America and France tried to catch a glimpse inside.
"It's pretty funny when you walk out the door and you see fans' expressions," he said. "They look surprised, shocked.... They just stare a bit and then they burst out laughing or pretend they weren't taking any pictures and try to move on."
Fans who knock on the door hoping to pop in for a visit would only be disappointed. The inside of Sherlock's flat is filmed in a studio in Cardiff. But that was no deterrent for one Chinese fan who posted mail to the building last year.
"We had a letter from a fan who thought the actors lived here," the real-life resident said. "They asked us to send back our autographs."
Baker Street, the original location of Arthur Conan Doyle's books, is said to now have too much Sherlock-related signage to be used as a filming location for the show.
Sherlock series three in pictures
Show all 17
Downstairs, meanwhile, Speedy's Cafe, a regular haunt of Watson and Sherlock which is located in No 187's ground floor, has benefited "significantly" from the show, according to owner Chris Georgiou.
"We have had people from Canada, Australia, America, Cyprus, China and Japan," he said. "Customers ask me what it's like, what the actors are like. I've always said they're a lovely crew, lovely actors, lovely people.
Access unlimited streaming of movies and TV shows with Amazon Prime Video
Sign up now for a 30-day free trial
Sign up
Access unlimited streaming of movies and TV shows with Amazon Prime Video
Sign up now for a 30-day free trial
Sign up
"The good thing about it is they work around our hours. We also do them coffee. We give them cake."
Mr Georgiou, 57, says he has had to put the fryer on for the actor, writer and producer Mark Gatiss, who plays Sherlock's brother Mycroft.
"He was very hungry one day, so I said, 'Look, let me do you some chips'," Mr Georgiou said.
The Cypriot, who has run the cafe for 10 years, is now hoping to make an appearance in the show, and says that the producers have said there's no reason why not.
Tonight's show, "The Last Vow", is rumoured to have a darker storyline than the season's two previous episodes, with a new villain, Charles Augustus Magnussen played by Lars Mikkelsen, set to take centre stage.
The first episode of the series, in which Sherlock's "death" was finally explained, was watched by over 12.7 million viewers, which included an extra 3.5 million who watched the show within seven days of broadcast after recording it or using timeshift viewing, making it the most watched show of the Christmas period.
It was confirmed last week, to the delight of millions of fans – none happier than Mr Georgiou – that Sherlock will be back for a fourth season.
Video: Sherlock - Series 3
Join our commenting forum
Join thought-provoking conversations, follow other Independent readers and see their replies