Sherlock series 3: Nearly 10m tune in to watch series three opening episode
The first episode of series three generated more than 300,000 posts on Twitter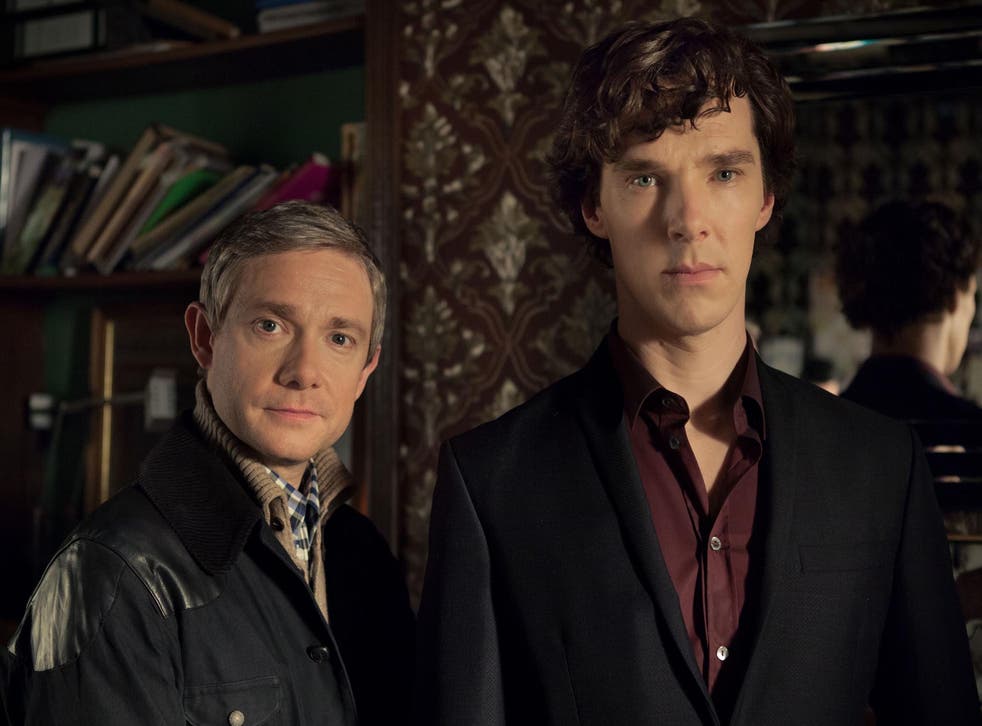 Close to 10 million viewers tuned in to watch Benedict Cumberbatch's hotly-awaited return to BBC drama Sherlock last night.
"The Empty Hearse" opened the new series with an overnight average of 9.2 million viewers between 9pm and 10.30pm on New Year's Day.
It reached a peak of 9.7 million within the first five minutes when Sherlock was reunited with his sidekick John Watson, played by Martin Freeman.
Final figures including iPlayer viewings are expected to be released next week.
The popular detective show returned for a third series after a two-year hiatus. Holmes was last seen plunging from the roof of St Bart's Hospital season two finale "The Reichenbach Fall" in an apparent suicide watched by 9.8 million.
Click here for the Twitter reaction
Also starring Martin Freeman as John Watson, Sherlock attracted the highest television audience of the day, but BBC sitcom Mrs Brown's Boys drew the largest average of the festive period with 9.4 million viewers on Christmas Day.
Sherlock series three in pictures

Show all 17
Last night's figures were the highest Sherlock has enjoyed for an opening episode, after it drew 7.1 million for the debut episode in July 2010 and 8.8 million for the start of series two on 1 January 2012.
Steven Moffat and Mark Gatiss, Sherlock's creators, executive producers and writers commented on the first episode's sucesss.
"Thrilling news on overnight ratings for Sherlock. A tribute to the team who work so hard, and with such pride, on the show, and of course to the genius of Sir Arthur Conan Doyle," said Moffat. "It's proof that audiences will show up if you give them what they want - though we can't throw Benedict off a roof every week."
Gatiss added: "Delighted our loyal audience tuned in on an appropriately bleak and stormy New Year's night! After two years it's fantastic to have this response to Sherlock, John and all the team being back on TV. All this and Dr Watson gets married in three days time!"
Access unlimited streaming of movies and TV shows with Amazon Prime Video Sign up now for a 30-day free trial
Sign up
Fans were expecting the writers to reveal how Sherlock faked his own death, but details surrounding the much talked-about mystery were left ambiguous. Even a cameo from acclaimed illusionist Derren Brown did little to clear matters up, as Sherlock suggested a confusing 13 ways in which he could have eluded death.
There was another cameo appearance from Cumberbatch's real-life parents, actors Wanda Ventham and Timothy Carlton, who played Sherlock's mother and father in the episode.
Social media network Twitter was flooded by posts when "The Empty Hearse" aired on Wednesday evening, with comments ranging from the gushing to the disappointed.
Analyst SecondSync has revealed that over 300,000 tweets were generating during the opening episode of Sherlock series three.
Join our new commenting forum
Join thought-provoking conversations, follow other Independent readers and see their replies