Six Degrees Kevin Bacon discovers his actress wife Kyra Sedgwick is his cousin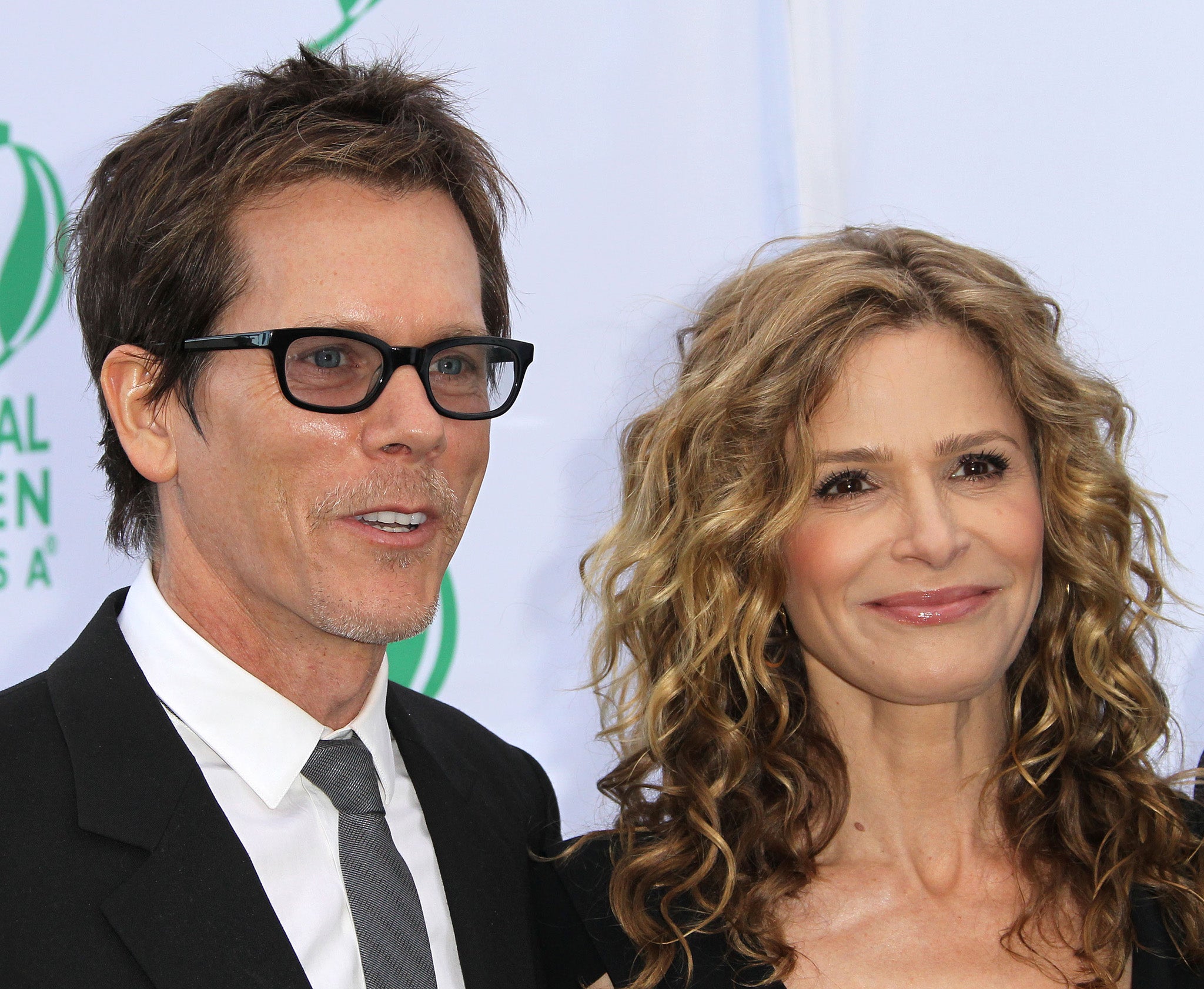 According to the trivia game Six Degrees of Kevin Bacon, anyone on earth is just six connections away from the Hollywood star.
So perhaps the actor should have been a little wary before agreeing to take part in a television show investigating his family ancestry.
However Bacon was stunned to learn that he and his wife, the actress Kyra Sedgwick, are actually cousins.
The revelation is delivered to the Hollywood couple during Finding Your Roots, a PBS America series in which famous Americans are given an insight into their family backgrounds.
In tomorrow night's episode, Bacon, 54 and Sedgwick, 47, the star of Singles and television crime drama The Closer, are shown how their families are intimately linked to key moments in American history, including the Declaration of Independence and the battle to abolish slavery.
However DNA analysis also revealed that Bacon, star of Footloose and serial killer television series The Following, are connected to each other.
Presenter Henry Louis Gates Jr, the distinguished Harvard professor of African-American history, shows Sedgwick a picture of her 9th cousin once removed. "And his name is Kevin Bacon," he says, as her face crumples in horror.
Sedgwick, who expressed a fear at the outset that the investigation would show that the couple, married for 25 years, were indeed related, exclaims: "See. I knew it! I knew it! I knew it! I knew it! I knew it!,"
The "six degrees" game is based on the idea that Bacon's extensive film and TV career means he can be linked to just about any other famous actor.
Access unlimited streaming of movies and TV shows with Amazon Prime Video
Sign up now for a 30-day free trial
Sign up
Access unlimited streaming of movies and TV shows with Amazon Prime Video
Sign up now for a 30-day free trial
Sign up
Gates Jr tells Bacon he is about to play his own version of the game. His family is traced back to Bristol and Bacon learns that King Edward I, the "Hammer of the Scots" who fought William Wallace, is his 22nd great grandfather.
"You and Brad Pitt are 13th cousins twice removed," Bacon learns next.
Then he is told: "You and President Obama share a common ancestor named Anthony Woolhouse. You are 12th cousins, three times removed."
Bacon replies: "No kidding. I knew I wasn't getting enough respect."
Upon learning the bombshell that he and Kyra are related, his actress wife assured her husband: "As long as we're not first cousins, it's fine."
Bacon admits during the programme that he hated the "Six Degrees" game when it first began spreading virally over the internet.
"I wasn't in the headspace to take it as flattery," he said. "I kind of felt like it was a joke at my expense, you know.
"Can you believe that this loser can be connected to one of the great actors in history, you know, like Olivier or something like that in 6 Degrees? So, I didn't look at it as a badge of honour."
Since capitalising on the supposed connectedness of the entire human race in a television advert for the phone brand, EE, he has softened.
"It's a beautiful concept that we are connected," he said. "That we all, essentially, kind of climbed out of the same swamp. It's fun to be at the forefront of that idea."
Bacon was born in Philadelphia, Pennsylvania but his father's line goes back 12 generations to a Quaker named Henry Comly, who was living in Bristol in 1663.
Sedgwick hails from one of New England's most prominent families, whose numbers include statesmen who played a vital role in freeing Massachusetts from British control and the creation of the American Republic.
Finding Your Roots – 8pm, Sunday 3 March on PBS America (Sky 166 & Virgin Media 243)
Join our commenting forum
Join thought-provoking conversations, follow other Independent readers and see their replies