Sky Atlantic series finds it has to take ice to Iceland
Lack of real snow was an unexpected problem while filming Arctic series
Adam Sherwin
Thursday 25 December 2014 17:41 Comments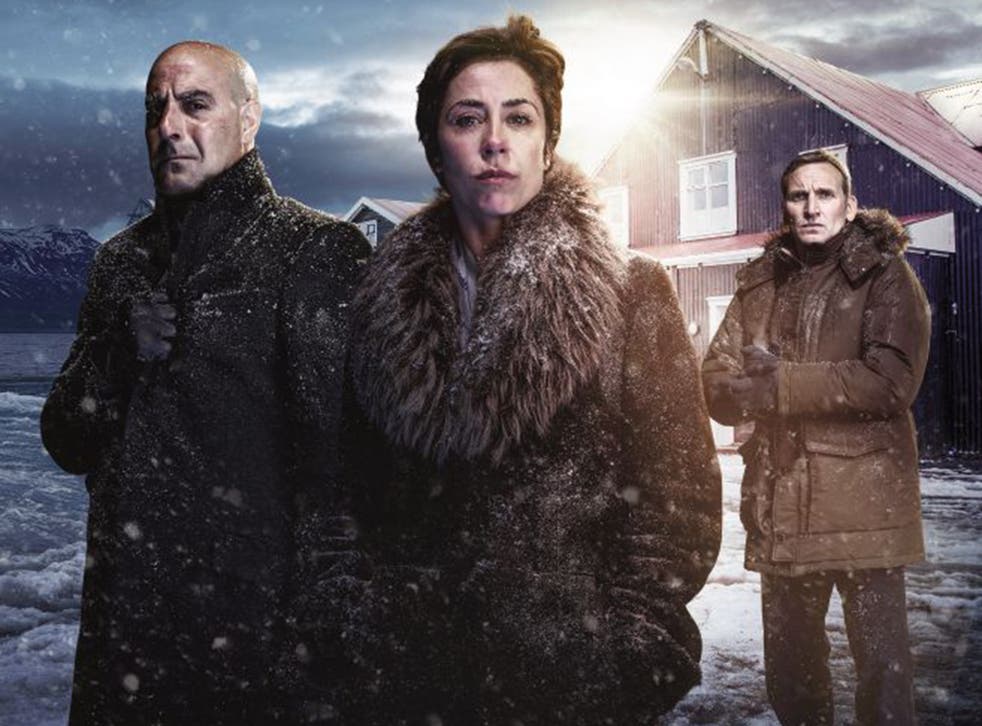 It's a chilling tale of murder and corruption, set amid the savage Arctic landscape.
But when the cameras started rolling on Fortitude, a £25m new drama designed to place Sky's production ambitions firmly on the map, there was just one problem – a complete absence of snow.
The Sky Atlantic channel signed up Michael Gambon, Christopher Eccleston, Sofie Grabol and Stanley Tucci for its most ambitious drama yet, a 12-part series about a murder which shakes an idyllic community living in an Artic town.
After extensive scouting, producers chose Eskifjördur, a remote town in eastern Iceland, to double as Fortitude, an outpost for polar research on the edge of the world.
Patrick Spence, managing director of the producer, Fifty Fathoms, said: "We made a location decision based on statistics that there would at the very least be snow on the ground. But there wasn't."
Sudden rainfall allied to a temperature rise just before filming began was sufficient to wash away what little snow there was. "We had to bring the snow to Iceland," Mr Spence said "We became the world's largest importer of fake snow for the whole of 2014. We had plane loads of canisters coming over from London. We had to re-lay it across our town and mountainsides for take after take. This was the first time since records began, that there was no snowfall – or snow on the ground – during the six weeks we were filming across the winter."
The series, which airs in late January, has been compared to Twin Peaks due to its unsettling plot and supernatural elements. The team hopes "Arctic noir" will become the next hit genre following the recent popularity of Scandinavian crime thrillers.
Simon Donald, the series creator, said: "I was keen to find a place where I could set a dark, twisted thriller that was unlike any location we'd seen recently – and that took us right up into the Arctic Circle. I also wanted to write something set in a very small, pressure-cooker community where people are left to their own devices and have to sort things out themselves when something goes wrong."
A complex, multi-character thriller, Fortitude has been pre-sold to broadcasters across Europe and North America, including Pivot, a new US channel which specialises in programmes with an environmental message targeted at a young audience.
Fortitude appealed to Pivot because cannibalism among polar bears forms a key element in the storyline – the loss of Arctic sea ice has deprived bears of their natural food hunting platforms, forcing them into activities such as cannibalism.
Access unlimited streaming of movies and TV shows with Amazon Prime Video Sign up now for a 30-day free trial
Sign up
Broadcasters are hoping to capture viewers early in the New Year with high-profile drama series. Channel 4 is launching Cucumber, writer Russell T Davies's frank new series exploring the passions and pitfalls of 21st century gay life, 15 years after the groundbreaking Queer As Folk.
ITV is hoping that the second series of Broadchurch will repeat the success of the 2013 crime drama, starring David Tennant and Olivia Colman. The BBC will unveil its dramatisation of JK Rowling's The Casual Vacancy, a co-production with HBO.
Eccleston, who plays an environmental scientist in Fortitude, said he hoped British television drama was learning from the success of American series such as Breaking Bad. "Over the last 15 or 16 years, America has really led the way in terms of what TV can do. It's become the long-form novel. You really get opportunities to examine a character in a way that you're never going to get in a film where you're just another special effect. That's what a lot of the actors get in Fortitude: an opportunity to really examine their characters in detail."
Register for free to continue reading
Registration is a free and easy way to support our truly independent journalism
By registering, you will also enjoy limited access to Premium articles, exclusive newsletters, commenting, and virtual events with our leading journalists
Already have an account? sign in
Join our new commenting forum
Join thought-provoking conversations, follow other Independent readers and see their replies