'South Park' censored after death threats from Islamists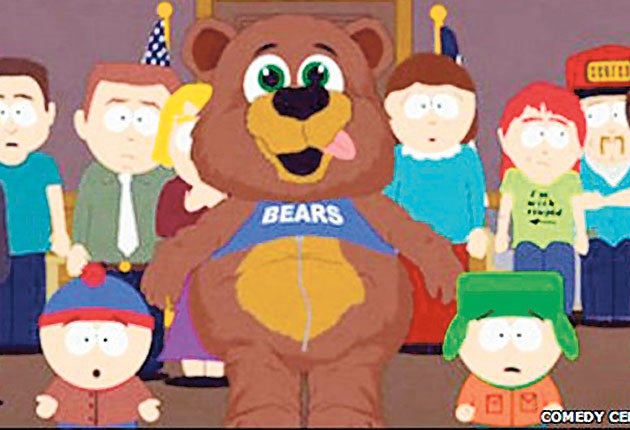 In the 200th episode of South Park, which was broadcast last week, a proposal to bring the Prophet Mohamed to town is met with short shrift at a community meeting. "Are you nuts?" one character says. "If Mohamed appears in South Park we get bombed!" "We don't know that," another replies. "Maybe enough time has passed that now it's OK to show Mohamed."
As it turned out, that hope was a forlorn one. The American broadcaster Comedy Central this week censored the programme after the episode's depiction of the Prophet Mohamed dressed as a giant teddy bear drew a warning on an Islamist website that the show's creators, Matt Stone and Trey Parker, would be murdered.
The warning was posted on the New York-based website Revolution Muslim. In an article that suggested that Parker and Stone would "probably wind up like Theo Van Gogh for airing this show", a writer calling himself Abu Talhah al-Amrikee listed the addresses of Comedy Central's New York office as well as Stone and Parker's production office. He also posted a link to a piece giving details of the house that the two rent.
So Comedy Central broadcast the next programme, which concludes the plot of the anniversary edition, with several crucial speeches bleeped out. In Wednesday's episode, Mohamed's appearances were covered with a giant "censored" label, while he was replaced in the bear suit by Santa Claus.
Some branches of Islam consider the depiction of Mohamed to be blasphemous.
The 200th episode, a celebration of the show's rich history of causing offence, begins with a piqued Tom Cruise rallying a large group of his fellow celebrities – including Mel Gibson, George Lucas, George Michael, and Barbra Streisand as a berserk giant robot – to bring a class-action lawsuit against the eponymous town.
The only thing that will stop their suit, Cruise tells the townsfolk, is if they arrange for him to meet the Prophet Mohamed. "Mohamed has a power that makes him impervious to being made fun of," he explains to his fellow celebrities. "What if we could harness that power?"
After detailed negotiations with Jesus, a cocaine-snorting Buddha, and the founder of Mormonism, Joseph Smith, the South Park residents manage to persuade Mohamed to come to town – dressed in a giant bear costume to prevent his appearance bringing the same violent retribution that greeted cartoons of his likeness in a Danish newspaper in 2005.
The show has featured the Prophet Mohamed before, as part of Jesus' troop of religious superheroes called the "super best friends". Mohamed appeared as "the Muslim Prophet with the powers of flame".
But that, Matt Stone said in a recent interview, "was before the Danish cartoon controversy, so it somehow is fine. Then, after that, now there's a new normal. We lost. Something that was OK is now not OK."
Access unlimited streaming of movies and TV shows with Amazon Prime Video
Sign up now for a 30-day free trial
Sign up
Access unlimited streaming of movies and TV shows with Amazon Prime Video
Sign up now for a 30-day free trial
Sign up
Stone was speaking to the website Boing Boing, along with Trey Parker, during the production of the 200th episode. "If they would let us show it, that would be great," Parker said. "We'd be so hypocritical against our own message, our own thoughts, if we said, 'OK, well let's not make fun of them because [then] they won't hurt us'."
The Revolution Muslim website frequently praises jihadi violence. Al-Amrikee has recently posted messages praising the suicide bombers who struck in Moscow and celebrating the Polish aircraft crash that killed 96 people, including the country's president.
He later told the Associated Press that the message was not intended as a threat but as a warning. Asked if Parker and Stone should feel threatened by it, he said: "They should feel threatened by what they did."
Artistic differences
* In a 2005 episode, Tom Cruise becomes convinced that one of the children in South Park, Stan, is the reincarnation of L Ron Hubbard, the founder of Scientology. When Stan tells Cruise he is a bad actor, the star is so upset that he locks himself in the closet in Stan's room. Nicole Kidman then arrives to try to persuade Cruise to leave. "Come out of the closet, Tom," she says. "You're not fooling anyone." Another Scientologist, Isaac Hayes, pictured, who voiced the character Chef, was apparently so upset by the episode that he quit the show.
* In the episode that first featured Mohamed, Jesus and Buddha as superheroes, David Blaine persuades the children to join his cult, "Blaintology". On the brink of joining in a mass suicide, they are rescued by the superheroes.
* In an episode entitled "Bloody Mary", the townsfolk discover a statue of the Virgin Mary appearing to menstruate. Pope Benedict XVI arrives but declares that it is not a miracle. Some Catholic groups tried to have the episode pulled.
Join our commenting forum
Join thought-provoking conversations, follow other Independent readers and see their replies