Star Wars: The Last Jedi: What next for Princess Leia following Carrie Fisher's death before filming Episode 9
**Spoilers for The Last Jedi ahead**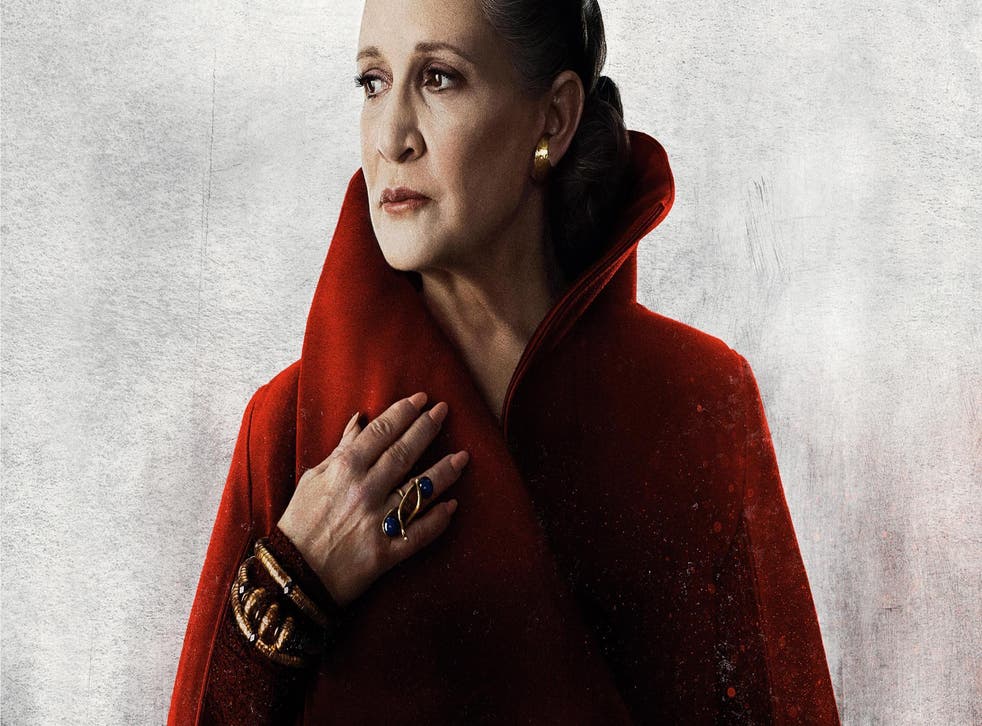 After an eternity of waiting, Star Wars: The Last Jedi has finally reached cinemas. while fans have been celebrating, there has been some sadness, the blockbuster featuring Carrie Fisher's last appearance as Princess/General Leia Organa.
So, what happens to Leia during The Last Jedi, and what does that mean for Episode IX? Well, there's a fair amount to discuss, so let's take a SPOILER FILLED deep dive.
**Yes, that means SPOILERS Ahead**
First off, let's talk about the flying Leia scene. Towards the first third's conclusion, Kylo Ren almost shoots down his mother before disengaging, only for two other destroyers to blow up the ship's bridge. Leia's then thrown out, and — using the Force — floats back into the ship, only to be knocked unconscious for the next hour of the movie.
After a little while, Leia comes back, only to discover the Resistance on the brink of annihilation. Eventually, after a brief and touching reunion with Luke, Leia escapes Kylo and the First Order on the Millennium Falcon with everyone else.
Debbie Reynolds and Carrie Fisher

Show all 9
The Last Jedi seemingly sets up General Leia to have a huge role come Episode IX, something that LucasFilm CEO Kathleen Kennedy and Mark Hamill have both previously confirmed.
"I know they're going to try and find a way to close her story in [Episode IX] that gives her the respect she deserves," Hamill said, "because [Han Solo] was more prominent in VII, Luke's a little more prominent in VIII, and certainly Leia was meant to be more prominent in IX."
Disney CEO Bob Iger also previously confirmed that nothing in Last Jedi was changed following Fisher's death, saying: "We had to deal with tragedy at the end of 2016. Carrie appears throughout VIII. We are not changing VIII to deal with her passing."
With Leia setup for such a huge role come IX and no amends having been made during VIII, then how will they change the story?
First off, LucasFilm has confirmed Leia will not be brought back using CGI, despite the company having done so with Peter Cushing for Rogue One. "We want to assure our fans that Lucasfilm has no plans to digitally recreate Carrie Fisher's performance as Princess or General Leia Organa", they said in a statement.
Kathleen Kennedy has also previously spoken about how the writers of Episode IX had to "pretty much started over" following Fisher's death. That could perhaps go somewhat into explaining why original director Colin Trevorrow was kicked off the project, replaced by JJ Abrams.
Really, we can only speculate on what will happen during Episode IX. Many fans believe there will be a large time jump as to account for Leia's death happening in-between the movies. With Luke, Han, and Leia gone, the final chapter in the sequel trilogy will therefore focus on the newcomers, particularly Kylo Ren and Rey.
Unfortunately, whatever the case, we're going to have a long time to wait until the next instalment, Episode IX reaching cinemas 20 December 2019 rather than the original 24 May 2019 date.
Join our new commenting forum
Join thought-provoking conversations, follow other Independent readers and see their replies