The Independent's journalism is supported by our readers. When you purchase through links on our site, we may earn commission.
Super Bowl 2018 commercials: From Morgan Freeman, Keanu Reeves, to Chris Pratt - here's every ad so far
Companies are pulling out all the stops to come up with the most celeb-studded, inventive, and spectacular commercials possible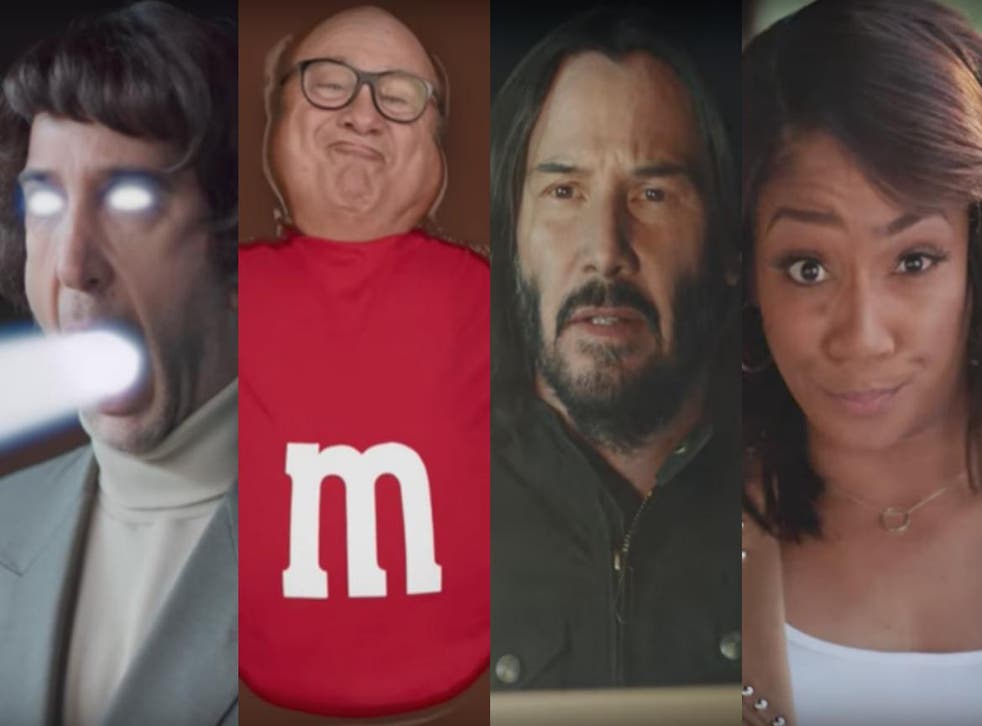 Super Bowl 52 is swiftly incoming - with the New England Patriots taking on the Philadelphia Eagles.
Sure, the main attraction of the event is obviously meant to be the sports, but we all know there's a small sliver of viewers who might actually be more excited by the other attractions set to entertain us over the course of the game.
First, there's Justin Timberlake's curiously-anticipated return to the Super Bowl, a controversial choice given the infamous incident in which the singer ripped Janet Jackson's top and exposed her nipple, with Jackson bearing the brunt of the criticism - she was even banned from presenting at the Grammy Awards the week after.
Then, of course, there are the commercials: the one time of the year - apart from from when everyone sits around waiting for that Coca-Cola commercial that allows us to finally start celebrating Christmas - when people are actually excited to have various products shamelessly pitched to them by a string of celebrities - with this year bringing the likes of Morgan Freeman, Keanu Reeves, Tiffany Haddish, Danny DeVito, and David Schwimmer.
You can check out all the Super Bowl ads released (so far), and a few teasers for ones which will be first aired during the game.
Pringles - feat. Bill Hader

​Febreze

Lexus LC/ Marvel Studios' Black Panther

Budweiser

Avocados from Mexico

M&M's - feat. Danny DeVito

Groupon

Doritos - feat. Morgan Freeman, Busta Rhymes, Peter Dinklage, and Missy Elliot

Squarespace​​

Bud Light

Skittles - feat. David Schwimmer

Hyundai
Stella Artois - feat. Matt Damon

Amazon

Tide - feat. Terry Bradshaw and David Harbour

KFC

Kia - feat. Emerson Fittipaldi

Michelob ULTRA - feat. Chris Pratt

Universal Orlando Resort - feat. Peyton Manning

Diet Coke - feat. Gillian Jacobs

Kraft

[yellow tail]

Tom Clancy's Jack Ryan

Beats by Dre - feat. Tom Brady

Sprint

Follow Independent Culture on Facebook for all the latest on Film, TV, Music, and more.
Register for free to continue reading
Registration is a free and easy way to support our truly independent journalism
By registering, you will also enjoy limited access to Premium articles, exclusive newsletters, commenting, and virtual events with our leading journalists
Already have an account? sign in
Register for free to continue reading
Registration is a free and easy way to support our truly independent journalism
By registering, you will also enjoy limited access to Premium articles, exclusive newsletters, commenting, and virtual events with our leading journalists
Already have an account? sign in
Join our new commenting forum
Join thought-provoking conversations, follow other Independent readers and see their replies