Saturday Night Live: Dwayne 'The Rock' Johson's 'child molesting robot' sketch elicits mixed response
The Baywatch star went very dark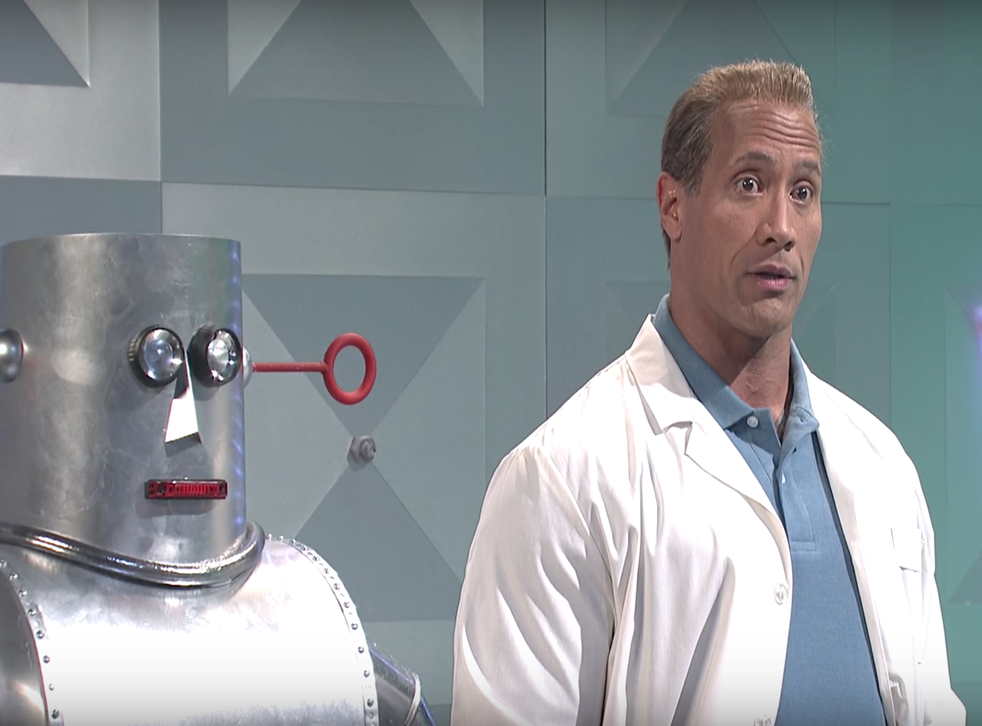 Dwayne 'The Rock' Johnson once again impressed on Saturday Night Live, the season finale proving that — even after five times hosting — the ex-wrestler was born to perform.
After announcing he'll be running for President of the United States in 2020 alongside Tom Hanks, Johnson launched into a rather dark comedic sketch.
Dressed as mad scientists, the cast were tasked with creating the 'most evil invention in the world'. The first offered a shrink ray, saying the invention could make the Eiffel Tower small enough to fit on a key chain. The second has invented a freeze gun.
The third was Johnson, who showed off his invention, a "child molesting robot" that can "molest twice the number of children as a human molester in half the time".
Of course, the other scientists look on in disgust, Johnson's definition of evil — taken from the Webster's dictionary — being very different to their own. Watch below.
Some fans at home didn't approve of the sketch, saying jokes shouldn't be made of something like child molestation — although, no harm was shown on screen whatsoever.
"What were you thinking with robot child molester skit?" one fan wrote directed to Johnson on Twitter (via Uproxx). "Not funny. You can do better."
On the opposite end of the spectrum, some viewers thought the sketch was one of the night's best, AV Club writing: "SNL rarely goes this dark, but this one works, and that's even before the ending, which turns into an inexplicable White Castle commercial so abruptly that it's either a stroke of absurdist brilliance or the most ill-advised shoehorning of product placement ever."
The TV shows you'll be bingeing in 2017

Show all 27
Also on the episode, Alec Baldwin appeared as Donald Trump alongside Scarlett Johansson as complicit Ivanka Trump.
Register for free to continue reading
Registration is a free and easy way to support our truly independent journalism
By registering, you will also enjoy limited access to Premium articles, exclusive newsletters, commenting, and virtual events with our leading journalists
Already have an account? sign in
Register for free to continue reading
Registration is a free and easy way to support our truly independent journalism
By registering, you will also enjoy limited access to Premium articles, exclusive newsletters, commenting, and virtual events with our leading journalists
Already have an account? sign in
Join our new commenting forum
Join thought-provoking conversations, follow other Independent readers and see their replies