The Simpsons apologise to Judas Priest after the show describes them as 'death metal'
A scripting error saw the heavy metal band misclassified in an earlier episode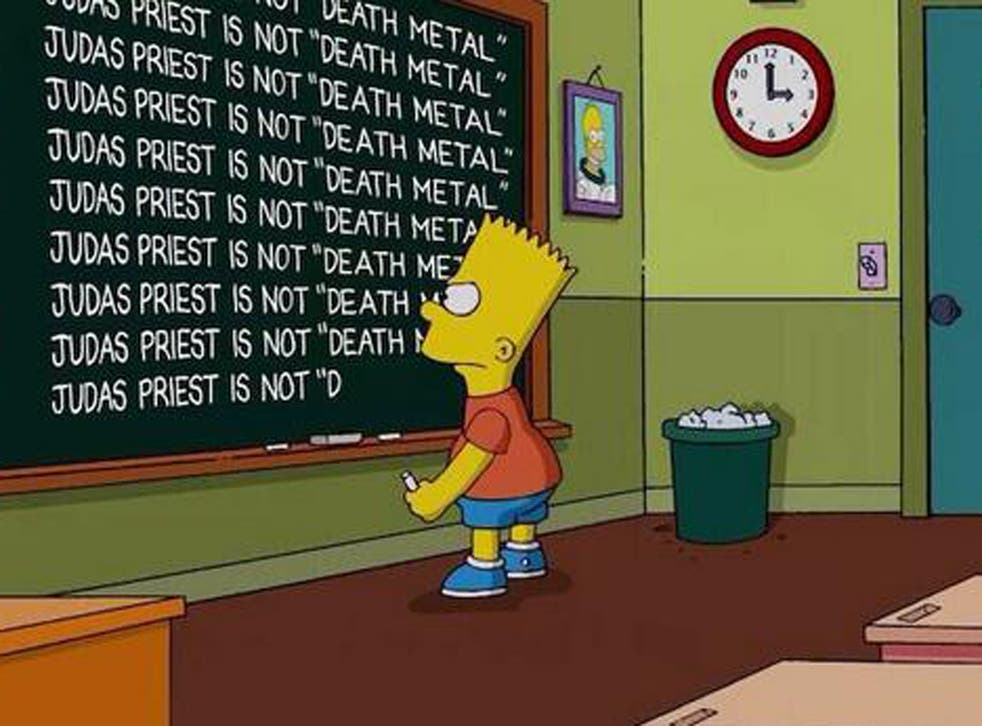 Bart Simpson has apologised to heavy metal band Judas Priest after a recent episode of The Simpsons referred to them as "death metal".
The iconic character used the detention blackboard from the show's opening credits on Sunday night to chalk "Judas Priest is not 'death metal'" in an effort to calm their fans' wrath.
"Steal This Episode", which aired on 5 January, saw the British group perform a rendition of their song "Breaking The Law" as they tried to lure Homer Simpson out of Springfield's Swedish embassy, where he is hiding from the FBI after illegally downloading films and screening them in his backyard.
But a scripting error left Judas Priest supporters offended when the police officer pursuing Homer said: "There's only one surefire way to get fugitives out of a foreign building. Blasting death metal!"
The band themselves have not commented on the inaccurate genre description but fans posted online messages to complain.
A tweet from the Metal Insider website read: "Judas Priest were called "death metal" on The Simpsons, which is like calling The Simpsons a documentary."
The most scathing attack came from Stereogum's Michael Nelson. "I don't care if you want to have fun at metal's expense but if you brazenly mix up black metal and death metal – and the essence of the joke hinges on getting that reference right – well, that's just lazy writing and it deserves to be called out and mocked relentlessly," he wrote.
"Not only do Judas Priest predate death metal by a solid decade, they sound absolutely nothing like any bands in that entire genre."
Other guest stars on "Steal This Episode" included Seth Rogen, Will Arnett, Paul Rudd and Channing Tatum.
Musicians including Smashing Pumpkins, The White Stripes, U2, Red Hot Chili Peppers and Lady Gaga have all featured on The Simpsons in the past.
Register for free to continue reading
Registration is a free and easy way to support our truly independent journalism
By registering, you will also enjoy limited access to Premium articles, exclusive newsletters, commenting, and virtual events with our leading journalists
Already have an account? sign in
Register for free to continue reading
Registration is a free and easy way to support our truly independent journalism
By registering, you will also enjoy limited access to Premium articles, exclusive newsletters, commenting, and virtual events with our leading journalists
Already have an account? sign in
Join our new commenting forum
Join thought-provoking conversations, follow other Independent readers and see their replies