The Simpsons compares Kellyanne Conway to Hitler's head of propaganda
'I think it's inspiring how now a woman can be Joseph Goebbels,' says character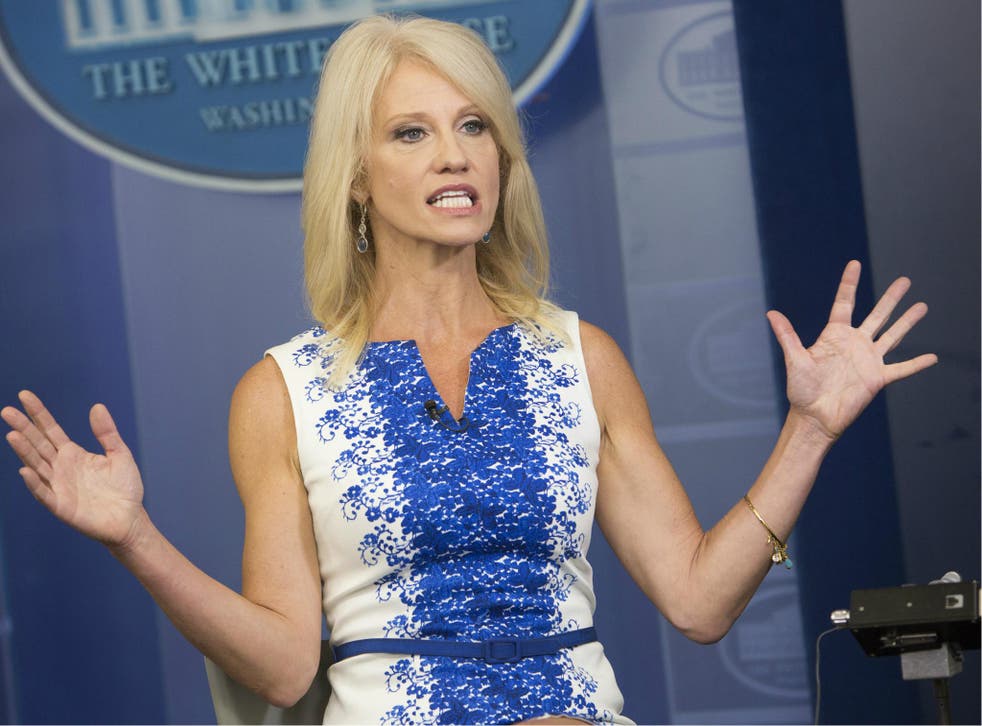 The Simpsons has not struggled to come up with new creative material during the Trump presidency and has relished in mocking President Donald Trump as and when it can.
In its most recent episode, the animated sitcom has compared White House advisor Kellyanne Conway to Nazi propaganda minister Joseph Goebbels.
During Sunday's episode, Marge Simpson is elected as the first female mayor of Springfield. Her team of political advisors is trying to come up with ways to lift her popularity when a political advisor opts to use her husband Homer Simpson to improve her image.
"I'll be the Kellyanne Conway of this thing!" the adviser says.
"Kellyanne Conway! I like how she always looks like she just woke up," a woman in a focus group says.
"I think it's inspiring how now a woman can be Joseph Goebbels," another woman replies.
Goebbels, one of Adolf Hitler's most committed followers and a key member of his inner circle, was Reich Minister of Propaganda of Nazi Germany from 1922 to 1945.
During the final hours of the Nazi regime that caused the mass murder of six million Jews, Goebbels, who is famed for his virulent anti-Semitism, poisoned his six children before he and his wife Magda killed themselves in Hitler's bunker.
White House advisor Ms Conway coined the now infamous phrase "alternative facts" and has made a number of gaffes during her defences of President Trump.
Most recently, she defended the US president's tweet branding Kim Jong-Un "short and fat," claiming he only insulted the North Korean dictator because Kim had "insulted him first."
"I think that was the president just responding the way he does to somebody who insulted him first," Conway said on ABC's This Week.
Access unlimited streaming of movies and TV shows with Amazon Prime Video Sign up now for a 30-day free trial
Sign up
Other blunders include using a TV interview to invent a terrorist attack that never happened termed the "Bowling Green massacre", making a sales pitch for Ivanka Trump's line of products on live TV, and claiming National Security Advisor, Michael Flynn, had the "full confidence" of President Trump hours before he was fired.
Protest in Manila against Donald Trump's visit to the Philippines

Show all 14
Since Mr Trump has become President, The Simpsons has repeatedly taken aim at the Republican via a number of online shorts.
The cartoon's take on Mr Trump's first 100 days saw press secretary Sean Spicer hanging himself in the conference room, with Ms Conway commenting: "I am not replacing him."
Rather ironically, The Simpsons made Mr Trump president 16 years ago as a plot device to make the US "as bad as it possibly could be".
On 19 March, 2000, 17 years before America elected the billionaire property developer to become their president, the animated sitcom aired an episode in which Mr Trump is elected president.
'Bart to the Future' turned out to be bizarrely telepathic with Bart seeing a vision of his life in which his sister Lisa is president and forced to pick up the pieces from a Trump presidency.
"As you know, we've inherited quite a budget crunch from President Trump," Lisa tells her staff at one point who inform her the country is in tatters due to his time in the White House.
Register for free to continue reading
Registration is a free and easy way to support our truly independent journalism
By registering, you will also enjoy limited access to Premium articles, exclusive newsletters, commenting, and virtual events with our leading journalists
Already have an account? sign in
Register for free to continue reading
Registration is a free and easy way to support our truly independent journalism
By registering, you will also enjoy limited access to Premium articles, exclusive newsletters, commenting, and virtual events with our leading journalists
Already have an account? sign in
Join our new commenting forum
Join thought-provoking conversations, follow other Independent readers and see their replies